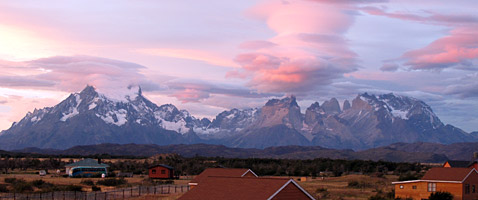 IMG Patagonia Trek Gear List
This equipment list is meant to help you compile your personal gear for a mountaineering expedition. Most items are required. Please consider each item carefully and be sure you understand the function of each piece of equipment before you substitute or delete items. Keep in mind that this list has been carefully compiled by the expedition organizer. Don't cut corners on the quality of your gear.
Gear
[ ]
40-50L Pack (rain cover optional)
[ ]
Trekking Poles


Upper Body (torso)
[ ]
Short-sleeved synthetic or wool base layer t-shirt (x1)
[ ]
Long-sleeved synthetic or wool base layer t-shirt (x1)
[ ]
Softshell jacket
[ ]
Gore-Tex rain shell jacket
[ ]
Lightweight Insulated jacket (down or syn. filled 'puffy)
[ ]
Fleece pullover or sweater to change into at the huts. (Evening attire, but functional while trekking).


Lower Body (legs)
[ ]
Lightweight long underwear synthetic or wool (optional)
[ ]
Softshell pants or convertible nylon trekking pants
[ ]
Gore-Tex pants
[ ]
Lightweight quick drying pair of shorts (optional)


Feet
[ ]
A pair of mid-weight Gore-Tex hiking boots that have been worn and tested
[ ]
3 pair of socks (and liners if you wear sock liners)
[ ]
A lightweight pair of sandals/shoes for around the refugios
[ ]
Lightweight gaiters (optional)


Hands
[ ]
Mid-weight softshell or fleece gloves (x2)


Sleeping
[ ]
Down or synthetic sleeping bag rated 20°F up to 45°F.


Misc.
[ ]
Sunscreen & lip balm
[ ]
Small first aid & toiletry kit for simple personal care (TP, blister care, small cuts, etc.) Required: a general antibiotic (azithromycin "Z-Pak")
[ ]
1 wide mouth water bottle
[ ]
Earplugs
[ ]
Watch with alarm
[ ]
Small pocketknife or Leatherman.
[ ]
Camera (extra battery); USB for sharing photos with team
[ ]
Headlamp with fresh batteries
[ ]
2 trash bags
[ ]
Shower shoes (flip flops)
[ ]
Small Towel (towels are not always readily available in the huts)
[ ]
Snack food — a small assortment of pre-packaged snacks that you enjoy. No meat, cheese or fruit products.