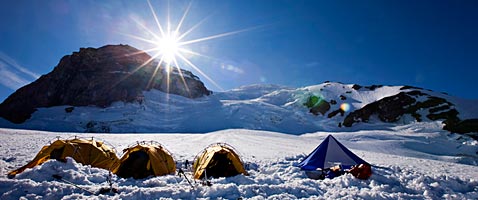 Mt. Rainier Camp Muir Guided Dayhike Itinerary
Meet at IMG Headquarters in Ashford, WA at 7 am on Day 1. Your lead guide will take you through a quick gear check before heading to Paradise in the IMG van. If you need to rent any gear, it can be taken care of during this portion of the program, no need to reserve in advance.
Once at Paradise, your training will begin with efficient use of packs, poles, and full shank mountaineering boots. Practice your movement skills and all-day pacing as we rest step our way up the Muir Snowfield — a technique that will serve you well on the upper mountain. Plenty of time is available for questions about gear, Mt Rainier, the Disappointment Cleaver and other routes, and for tips, tricks, and stories from your guide.
Snap some pictures and enjoy the view from Camp Muir — halfway to the top — before we descend to the waiting van at paradise. Plan to return to IMG HQ in Ashford at 5pm depending on the speed of the group.