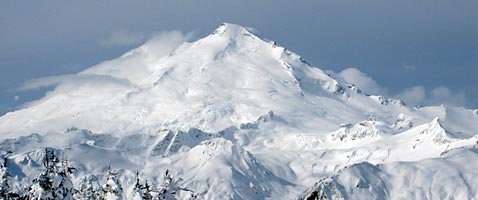 Mt. Olympus Climb Frequently Asked Questions
This information should answer many of your initial questions and also guide you through the next stages of preparing for the expedition. If you have any questions, please feel free to contact us: This e-mail address is being protected from spam bots, you need javascript enabled to view it
What skills do I need to attempt the Mt. Olympus climb?
On the climb we will be carrying our full load of gear in to high camp. We will utilize lightweight tents, cook gear and food for the trip, but expect to carry 15 pounds of group gear in addition to your personal equipment. Total load for your pack will be as much as 60 pounds depending on how light you are able to keep your personal gear. All participants must be in excellent physical condition.
The need to train for this climb cannot be overstressed! For several months prior to the start of the climb, training should include lots of long, slow distance runs (or bike rides, or hikes) over hilly terrain, an hour or more in duration. Add additional weekend outings carrying an increasingly heavier pack (35-60 lbs.) up steep hills or stairs. These sessions should eventually gain 2-3,000 feet over 3 to 5 miles one way. Come prepared to hike 10 miles of flat terrain with your full pack on the very first day!
Prior experience with crampons, ice axe and roped glacier travel is recommended, but a short review will be conducted prior to and during the summit day. The glacier terrain is moderate in angle with some belayed rock scrambling up the final steep, exposed rock ledges near the summit.
How many people will be on our team?
IMG's Mt. Olympus climb will have a maximum group size of 6 climbers with 2 guides, for a small, compact team.
How do I get there?
International Mountain Guides has worked for many years with the staff at CTT Destinations to provide professional travel service for participants in our programs. For help with your plans, we urge you to contact Pirjo at CTT Destinations: 800-909-6647 or img@cttdestinations.com
What kind of insurance do I need?
We invest in insurance coverage for commercial liability and medical and disability insurance for our employees while participating on our programs. We cannot insure you for your personal needs, but we do expect you to be as fiscally responsible as we are. We require that you insure yourself against potentially expensive difficulties that may arise. First, Trip Cancellation Insurance may provide financial relief should you be forced to withdraw from the program before it even happens. Next, make sure you have adequate Travel Insurance for coverage should you have a problem during the trip. Medical care and evacuation in remote locations can be expensive. For more information, please see our page on Trip Cancellation and Travel Insurance.
What's included in the trip cost?
Cost Includes: dinners and breakfasts during the climb and all group equipment including shared tents, stoves, climbing ropes and safety gear.
Cost Does Not Include: personal clothing and equipment, transportation to the trailhead, lodging the evening prior to the start of the climb or the last night of the trip, or meals other than breakfasts and dinners on the program.