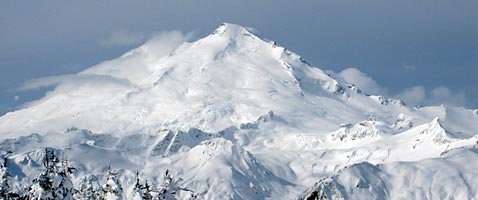 Mt. Olympus Climb Frequently Asked Questions
This information should answer many of your initial questions and also guide you through the next stages of preparing for the expedition. If you have any questions, please feel free to contact us: office@mountainguides.com
What skills do I need to attempt the Mt. Olympus climb?
The Blue Glacier is a novice climbing route well suited to beginners with no previous mountaineering experience. Guides will conduct some technical training of the skills you need to be successful on this program. Prior experience hiking and backpacking is a plus and will allow you to be more comfortable and confident on this trip.
While this program is suited for novice climbers, Mt. Olympus is still a strenuous climb. All participants must be in very good physical condition and have significant cardiovascular fitness. Each day (except summit day) will require climbers to carry a heavy backpack (45-50 lbs) over at least 10 miles. For several months prior to the start of the climb, training should include many long, slow runs or hikes over hilly terrain, an hour or more in duration. Add additional weekend outings carrying a heavy pack up steep hills or stairs, ideally gaining 3,000 feet over 3 or more miles. Aim to move consistently at a moderate pace, with breaks approximately every hour.
For training suggestions please review the information provided on our Training for Rainier page.
ADDITIONAL TRAINING CONSIDERATIONS
For those looking to extend their stay in the mountains and gain some extra climbing experience, consider our Baker Rainier Seminar which combines two iconic Washington volcano climbs, Mt. Baker and Mt. Rainier. This program includes in-depth training, more time for acclimatization, and the opportunity to "warm-up" on the lower Mt. Baker before tackling Mt. Rainier.
The IMG Mountain School is a course for aspiring climbers or for those looking to refresh on their glacier climbing skills. Spend three days with IMG guides learning everything from cramponing to anchor building to team crevasse rescue. After this course climbers should be prepared to be able to utilize their skills on a rope team.
How many people will be on our team?
IMG's Mt. Olympus climb will have a maximum group size of 6 climbers with 2 guides, for a small, compact team.
How do I get there, and where do I stay?
The Hoh River Ranger Station is in a pretty remote area of Washington, thus it is far away from any close motels or Airbnbs. If you are looking to stay close to the trailhead, guests are able to find lodging in Forks, WA which is about an hour NW of the Visitor Center. Other options include the larger cities of Port Angeles, Hoquium, and Aberdeen each about two hours away. Tacoma/Olympia/Seattle are each about 4-5 hours away. Please ensure you have adequate drive time if coming from further away as the roads on the Olympic Peninsula are two lanes. Please note that you are responsible for lodging the night prior to the trip and the night of Day 5.
Plan to return to the trailhead by 4 pm on Day 5. Due to the variable nature of mountaineering, return time can vary significantly. We do not recommend attempting to fly out of Seattle the same day you get down from the climb.
What kind of insurance do I need?
Trip cancellation and interruption coverages are strongly recommended as all fees are non-refundable and non-transferrable. Be sure the policy you select covers mountaineering activities. You can find more information on our Travel Insurance page.
What's included in the trip cost?
Cost Includes:
IMG guides
All training curriculum and instruction
Dinners, breakfasts, and hot drinks during the climb
Group equipment including tents, stoves, climbing ropes and hardware
Climbing permits
Cost Does Not Include:
Lodging and food the evening before the trip
Lodging after the trip
Lunches and snack foods
Meals before and after the program
Personal clothing and climbing equipment found on the Gear List
*The insurance requirement does not apply to IMG customers on programs within the contiguous USA (excluding Alaska) but is strongly encouraged.