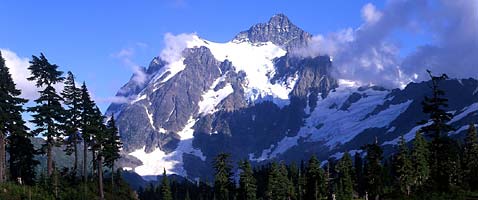 Mt. Shuksan Climb Frequently Asked Questions
This information should answer many of your initial questions and also guide you through the next stages of preparing for the expedition. If you have any questions, please feel free to contact us: office@mountainguides.com
What are the routes like?
The Sulphide Glacier route is a novice route well suited to beginners with no previous mountaineering experience. The program will include training that will cover ice axe arrest, cramponing, and rope travel, the skills you need to be successful on this program. Prior experience hiking and backpacking is a plus and will allow you to focus on practicing your mountaineering skills.
The Fisher Chimney is an intermediate route well suited to climbers with some prior climbing experience. Climbers must be familiar with basic mountaineering skills such as cramponing, ice axe self-arrest, and rope travel. Additional skills such as belayed climbing, lowering, and rappelling will be taught. Prior experience hiking and backpacking is a plus and will allow you to focus on practicing your mountaineering skills.
What skills do I need?
While these programs is suited for novice and intermediate climbers, Mt. Shuksan is still a strenuous climb. All participants must be in very good physical condition. For several months prior to the start of the climb, training should include many long, slow runs or hikes over hilly terrain, an hour or more in duration. Add additional weekend outings carrying a heavy pack (40-45 lbs.) up steep hills or stairs, ideally gaining 3,000 feet over 3 or more miles. Aim to move consistently at a moderate pace, with breaks approximately every hour.
ADDITIONAL TRAINING CONSIDERATIONS

Want to get more out of your time in Washington? Take your climb to the next level. We offer several options to enrich your experience and increase your preparedness to summit.
For those looking to extend their stay in the mountains and gain some extra climbing experience, consider our Rainier and Baker Seminar which combines two iconic Washington volcano climbs, Mt. Baker and Mt. Rainier. This program includes in-depth training, more time for acclimatization, and the opportunity to "warm-up" on the lower Mt. Baker before tackling Mt. Rainier.
IMG also offers Custom North Cascades Climbs such as El Dorado Peak, Forbidden Peak, and Sahale Peak. If you find that you really enjoyed alpine rock, these climbs are perfect for you to continue learning and gaining confidence in this terrain in a flexible climbing schedule.
How do I get there, and where do I stay?
You are responsible for your own for lodging the night prior to the start of the climb.
There are several hotels in the town of Sedro-Woolley and in nearby Burlington. While small, these towns have a variety of good restaurants and places to stay.
Plan to return to Sedro-Woolley by 6pm on Day 4. Due to the variable nature of mountaineering, return time can vary significantly. If you are spending the night in Sedro-Woolley, don't forget to make a reservation for the last night of the program.
We do not recommend attempting to fly out of Seattle the same day you get down from the climb.
What kind of insurance do I need?
Trip cancellation and interruption coverages are strongly recommended as all fees are non-refundable and non-transferrable. Be sure the policy you select covers mountaineering activities. You can find more information on our Travel Insurance page.
What's included in the trip cost?
Cost Includes:
IMG guides
All training curriculum and instruction
Dinners, breakfasts, and hot drinks during the climb
Group equipment including tents, stoves, climbing ropes and hardware
Climbing permits
Cost Does Not Include:
Lodging and food the evening before and after the trip
Lunches and snack foods
Meals before and after the program
Transportation to/from the trailhead & Sedro-Woolley
Personal clothing and climbing equipment found on the Gear List