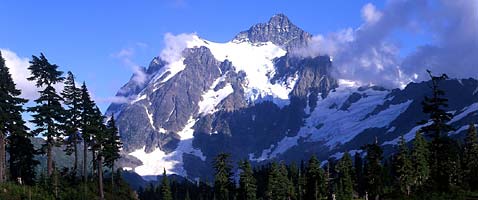 IMG Mt. Shuksan Climbs Itineraries
Mt. Shuksan Sulphide Glacier Route Itinerary
Day 1
The group meets at the Sedro Woolley Ranger Station in the North Cascades at 8:00 a.m. After check-in and a final pack check and issue of team equipment the group drives together to the trailhead. The trailhead is approximately 2,500 feet in elevation. The climb starts in dense forest and climbs up into the alpine zone to camp at approximately 6,000 feet on the edge of the Sulphide Glacier. A long day with 50 lb. packs, 5-7 hours in duration, probably the hardest day of the trip.
Day 2
Training day. After a leisurely breakfast, the team heads out to the nearby slopes for a day of training in crampon skills, ice axe arrest, roped glacier travel, snow anchors and crevasse rescue. A full and informative day.
Day 3
Summit day. Up before first light, cramponed, harnessed and roped up and then off we go up the rolling slopes of the Sulphide Glacier. The glacier is generally moderate with some navigation around crevasses required. The team will often break at the base of the summit pyramid and gear up for the final 600 foot push to the very top. This final ascent involves steeper (30-40 degree) steps kicked in snow or some sloping slabby 3rd class rock to scramble up belayed by the rope. A full day getting to the summit and back, perhaps 6 hours up and half that time in descent.
Day 4
Up after dawn and a casual pack up of camp, then hike back down to the trailhead in an easy three hours. The team can make plans for lunch at the nearest town, then back to greater Seattle by early afternoon.


Mt. Shuksan Fisher Chimneys Route Itinerary
Day 1
Meet at the Glacier Ranger Station at 8:00 a.m. for group registration. After a gear check and issue of group gear, the team will drive up to the Mt. Baker Ski Area. Hike up to Lake Ann at 4800'. This is the first option for camping. The group often elects to hike up further up to the Fisher Chimneys for a first camp.
Day 2
Move up to a high camp above the Chimneys. There are good options for training in appropriate skills this day on both rock and steeper snow/ice slopes.
Day 3
Normal summit day. Continue climbing up snow/easy rock to a steeper slope of snow/ice. Cross the upper Curtis Glacier and then ascend the Sulphide Glacier to the base of the summit pyramid. To gain the 600 foot high summit there is an option of easy rock scrambling or a 5.0 rock ridge ascent to gain the summit pyramid and the narrow summit with a vast panoramic view of Mt. Baker and the North Cascades. Descend back to high camp.
Day 4
Descend the route back to the trailhead and waiting cars.