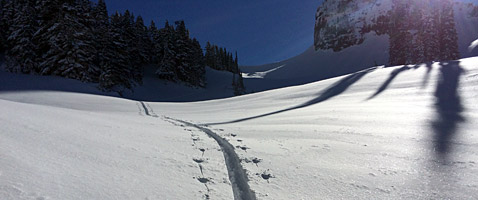 IMG AIARE Avalanche 2 Course
Are you ready to take your backcountry travel to the next level? Are you interest in the "why" behind avalanche problems? Let IMG's team of avalanche professionals guide your experience with an American Institute for Avalanche Research and Education (AIARE) Level 2. Our level 2 builds on the foundation of the AIARE Level 1 Decision Making in Avalanche Terrain. In this more advanced course we'll discuss:
Being a leader within your travel group
Traveling without the support of an avalanche bulletin
Traveling in complex avalanche terrain
Our emphasis will be on understanding and analyzing snow stability to determine safe routes of travel to our objectives in the mountains.
Course Content
AIARE Level 2 Course: Analyzing Snow Stability and Avalanche Hazard, is a 4 days course covering a wide array of topics relevant to backcountry recreationist. Student learning outcomes include:
Advance understanding of avalanche terrain, particularly from the perspective of stability analysis.
Discuss how the snowpack develops and changes over time; and discuss the factors that contribute to spatial variability.
Learn standard observation guidelines and recording formats for factors that influence or indicate snow stability. SWAG MODULE.
Advance understanding of avalanche release and triggering mechanisms.
Introduce a snow stability analysis and forecasting framework.
Improve companion rescue skills including multiple and deep burials
Perfect Venue
We all know that learning about snow and avalanches needs to take place in the mountains. IMG wants to maximize our learning time in the field by including field segments each day of the course. With IMG's headquarters located at the base of one of the most iconic mountains in the world, we'll take advantage of our close proximity to Paradise Park on the South Side of Mt Rainier. Paradise is the highest year-round trailhead in the state, allowing our teams to access a variety of terrain and snowpacks to maximize learning. Day one and two will be a mixture of inside learning, group exercises, and field time, while days three and four will focus on solid tour planning, group management, and terrain evaluation spending nearly all day in the field.
Lodging and Transportation Included
Lodging at IMG's headquarters will be provided for all students. We'll travel together from IMG to our field locations each day in IMG's vans. Meals are not provided, but a fully equipped kitchen is available for your use at IMG.
Lowest Instructor to Student Ratio
IMG has always focused on providing the best experience and learning environment for its students. Our avalanche courses will be taught at a 1:5 Instructor to Student ratio. Such a low ratio allows more instructor-student interaction, allows more opportunities for students to lead group environment, and allows a more tailored educational experience.
Training and Fitness
To learn more about training for this course, please read our Training Suggestions for Mt. Rainier.