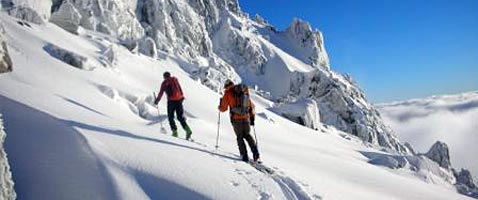 Mt. Rainier 2-Day Backcountry Ski Touring Add-on
Do you want to take the your skiing or snowboarding beyond the boundaries of the ski area? To explore the pristine untraveled snow and mountains that blanket the Northwest during the winter? Let IMG's team of guides and avalanche experts help you develop the skills needed to plan your winter adventures to find the best snow with our backcountry touring seminar designed as an add on to an IMG AIARE Level 1 avalanche course. Taking your skiing/riding skills from the resort to the backcountry is our goal. This is the ideal way to learn and practice responsible backcountry touring, planning and route finding after learning about avalanche hazard evaluation, all under the watchful eye and targeted instruction of our educational staff.
Course Content
IMG's 2-Day Backcountry Ski Touring Add-on is the package to start you off in the mountains with the right set of skills to enjoy the winter mountains on your skis or snowboard.
The course will also focus on:
Packing for the Objective
Tour Planning
Route Finding/Navigation
Efficient Uphill Travel and Track Setting
Travel Techniques for Uphill and Downhill Travel
Group Management
Special Considerations for Winter Travel
Course Venue
With IMG's headquarters in Ashford, WA, we are nestled right at the foot of iconic Mt Rainier and Washington's highest year round trail head Paradise Park 5440'. We will capitalize on the excellent access to world class ski terrain in a variety of topographic and snowpack settings. Learning how to identify and travel in avalanche terrain below, at, and above treeline, will give us the skills we need to plan and carryout exciting safe backcountry tours. IMG's headquarters will serve as our base of operations with access to local weather and avalanche information. We can take full advantage of our base facilities to focus on tour planning and efficient learning. You can't ask for a better place to learn the skills needed to explore the mountains during the winter.
Lodging and Transportation INCLUDED
Lodging is provided at IMG's headquarters in Ashford, WA for each night during the program. Group transportation to the trailhead will be provided each day. Meals are on your own, but a fully equipped kitchen is available at IMG.
Lowest Instructor to Student Ratio
IMG has always focused on the highest quality experience for its students. With an instructor to student ratio of 1:3 you'll receive the best possible educational opportunity.
Training and Fitness
To learn more about training for this seminar, please read our Training Suggestions for Mt. Rainier.