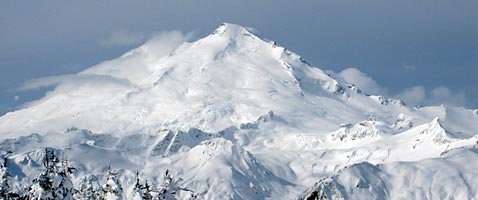 Mt. Baker Climb Frequently Asked Questions
This information should answer many of your initial questions and also guide you through the next stages of preparing for the expedition. If you have any questions, please feel free to contact us: office@mountainguides.com
What skills do I need to attempt the Mt. Baker climb?
For the Easton Glacier and Coleman-Deming Glacier Routes, there are no specific climbing prerequisites for this program. All that is required is an eagerness to learn, a significant base of cardiovascular physical fitness, and previous experience carrying an overnight pack. You will be expected to carry this weight over the course of many hours each day. For training suggestions please review the information provided on our Training for Rainier page. This is a novice climb for those interested in learning elements of travel on big, glaciated mountains. Technical training is conducted during the pre-climb orientation and continually throughout the climb.
The North Ridge Mt. Baker route is an advanced climb requiring previous glacier climbing experience. All participants must have prior alpine climbing experience on Rainier or other similar glaciated peaks and be familiar with basic mountaineering skills including cramponing in firm ice and snow conditions as well as efficient travel in steep icy terrain. As with all IMG programs, a review of basic climbing skills is incorporated into this program's itinerary. Additional skills will be taught including multi pitch belayed climbing, lowering, and rappelling. Previous experience on multi day backpacking trips is highly recommended. This is a strenuous and more technically demanding summit climb, and is not for first time climbers.
What are the routes like?
Our route up the Easton Glacier is a direct and relatively moderate route up the south side of the mountain with the fewest technical difficulties and is the perfect introduction to glaciated climbing or a comprehensive refresher course for those with previous experience. It should be noted, however, that the summit day is long (a 10 hour round trip) and glaciated (roped glacier travel all the way) and adequate physical preparation is required. The broad expanse of the Easton Glacier provides a moderate ascent at an angle of up to 30° before reaching the summit crater, which provides a spectacular view of the surrounding Cascade Range. Training during this program involves use of crampons, ice axe, ice axe arrest, roped glacier travel and a brief review of the principals of crevasse rescue.
The Colman-Deming route on Mt. Baker is the most popular route on the mountain and a great way to summit Mt. Baker for the first time. The views from the upper mountain stretch north up to Canada and west over to the San Juan Islands. Mt Baker is as big a landmark in the North Cascades as Mt. Rainier is to the greater Seattle area. This route is suitable for first time climbers, but is slightly more demanding than the Easton Glacier route. There are more crevasses to skirt on the upper mountain and a bit steeper terrain in slightly steeper. As with the Easton Glacier route, instruction will be provided in use of the ice axe, cramponing skills and roped glacier travel. In addition, as time permits the guides will offer training in steeper cramponing skills and perhaps ice climbing, taking advantage of the terrain at hand.
The North Ridge of Mt. Baker is an iconic climb with multiple pitches of steep alpine ice and snow. This route is much more challenging than our standard programs and will provide exciting new challenges for the more experienced climber looking to broaden their skills. With various glaciated terrain, rock scrambling, and technical ice climbing, Baker's North Ridge will inspire you. The ridge is not continuously difficult, but it does climb steeply throughout and offers several crux pitches of ice climbing, generally up to 70°. Conditions vary widely, and often approaching the ridge itself can be one of the more demanding sections of the route: crossing the broken Coleman Glacier and then gaining the ridge can be circuitous. Once up on the ridge proper, the scenery is breathtaking and the climbing exhilarating.
What is the guide ratio?
IMG's Mt. Baker climbs have a ratio of one guide for every three climbers.
How do I get there?
International Mountain Guides has worked for many years with the staff at CTT Destinations to provide professional travel service for participants in our programs. For help with your plans, we urge you to contact Pirjo at CTT Destinations: 800-909-6647 or img@cttdestinations.com
What kind of insurance do I need?
The Travel Insurance requirement does not apply to IMG customers on programs within the contiguous USA (excluding Alaska) but is strongly encouraged. The trip cancelation insurance protects your financial investment in the climb if you need to cancel, as all IMG fees are non-refundable. The earlier you purchase your insurance, the more options available.
When are my trip fees due?
Mt. Baker Programs Fee Payment Schedule
Due
Payment
At registration, if > 120 days of Trip Date
Application Fee $500
At 120 Days Prior to Trip Date
Balance of Fees*
At registration < 120 days of Trip Date
Total Fees*
*Please refer to individual trips for program fees. If program cost is less than $500, full fees are due at time of registration.
What's included in the trip cost?
Cost Includes:
IMG's world-renowned guide staff
All training curriculum and instruction
Round trip transportation from IMG Headquarters to the start/end of the climb. *Note that this is subject to change based on Covid restrictions
Group equipment including tents, stoves, fuel, climbing ropes and group hardware
National Park entrance and climbing permits
Hot meals (breakfast and dinner) and hot drinks (coffee, tea, cocoa). *Note that this is subject to change based on Covid restrictions
Cost Does Not Include:
Personal gear (see the Mt. Baker equipment list for full details)
Lodging the evening prior to the start of the climb or after the end of the program
Lunch food and mountain snacks. Please refer to our food suggestions page for more details.