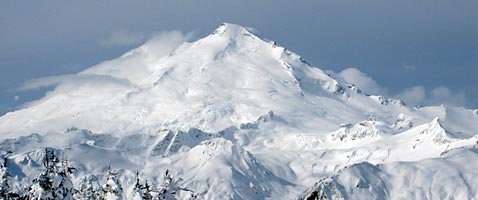 IMG Mt. Baker Summit Climbs Itineraries
Easton Glacier Route

| | |
| --- | --- |
| Day 1 | The group meets at the Sedro Woolley Ranger Station in the North Cascades at 8:00 a.m. Car pooling is encouraged by IMG from the SeaTac airport for all who are coming from out of town. A team roster and contact information is shared with the group several weeks in advance to facilitate this. After gathering at the Ranger Station the guides will conduct a final pack check and issue of team equipment. We drive together on to the trailhead. The trailhead at Schreiber's Meadow sits at 3,200 feet in elevation. We hike up into the alpine zone to camp at approximately 5,500 feet on the edge of the Easton Glacier. This is a good hike with up to 50 lb. packs, approximately 4 hours in duration. |
| Day 2 | Training day. After a leisurely breakfast, we will head out to the nearby slopes for a day of training in crampon skills, ice axe arrest, roped glacier travel, snow anchors and the elements of safe team crevasse rescue. A full and informative day. |
| Day 3 | Summit day. Up before first light, crampons on, harnessed and roped up and then off we go up the rolling slopes of the Easton Glacier. The glacier is generally moderate with some navigation around crevasses required. We'll reach the crater rim and then continue on to the true summit for a breathtaking view of the North Cascades. A full day getting to the summit and back, perhaps 6 hours up and half that time in descent. After a brief rest, the group will pack up camp and head down to the trail head, arriving by late afternoon. |




Note: on some climbs, the guides may determine it is more favorable to climb on day two due to weather, route conditions or team ability. In this case, the guides will conduct essential training the first afternoon with additional training during the course of the ascent. On the final day, there will be time for additional skills training prior to descent for those who are interested.
Coleman-Deming Glacier Route

| | |
| --- | --- |
| Day 1 | The group meets at the ranger station in Glacier, WA in the North Cascades at 8:00 a.m. Carpooling is encouraged by IMG from the SeaTac airport for all who are coming from out of town. The drive from Seattle takes a little under 3 hours. A team roster and contact information is shared with the group several weeks in advance to facilitate carpooling. At the ranger station the guides conduct a final pack check and issue of team equipment. The group then drives on together to the trailhead. The Heliotrope Ridge Trailhead is approximately 3,700 feet in elevation. We hike up the well maintained trail up into the alpine zone where the path turns into a climber's trail that leads to the base of the Coleman glacier and camp at approximately 5,900 feet. A good hike with up to 50 lb. packs, approximately 3-4 hours in duration. |
| Day 2 | Training day. After a leisurely breakfast, we will head out to the nearby slopes for a day of training in crampon skills, ice axe arrest, roped glacier travel, snow anchors and the elements of safe team crevasse rescue. A full and informative day. |
| Day 3 | Summit day. Up well before dawn, a quick instant breakfast of hot cereal and drinks, harnesses, helmets and crampons on, roped up into teams and up onto the Coleman Glacier. The route heads up to a saddle between the summit and Colfax Peak. Continuing generally eastward, the group heads up and onto the upper Deming Glacier. This climbs more steeply up towards the summit plateau. After crossing the plateau to its northeast edge, the team reaches the true summit. Summit day takes a total of 6-8 hours up, with half that time heading back down again. After a brief rest, the team will head down to the trailhead, reaching the cars by mid to late afternoon. All that is left is the 3 hour drive back to Seattle. |