2014 Cho Oyu Expedition Coverage
Led by: Mike Hamill • Expedition directed by: Eric Simonson
October 6, 2014 • IMG's 2014 Cho Oyu Expedition is Officially Over
It is official!
Jangbu and Mike have checked in. The tents are all hanging in Kathmandu with care (to clean and dry out). Our Sherpa team is sleeping with care (they earned it!)
The Cho Oyu 2014 Team had their celebration dinner at the Rum Doodle in Kathmandu. The Rum Doodle is a legendary restaurant in Thamel. The walls are covered in signatures and cardboard Yeti feet. The signatures on the wall represent Everest Summiteers. The Yeti feet are everywhere with names and notes of different teams who want to leave their "footprint" at the Rum Doodle.
If you are not familiar with the story, you can read "The Ascent of the Rum Doodle." The story takes us through an expedition of the tallest mountain in the world... this mountain stands at 40,000 and ½ feet tall!
With early morning flights and ready to get home, many of the climbers are already in the air.
A few of the Team have another day in Kathmandu. Rumor has it there is a golf outing scheduled.
—Greg Vernovage, IMG Senior Guide
October 4, 2014 • Back to Kathmandu!
The team has made it back to Kathmandu. It was a good adventure getting back. Nothing unexpected along the way. Time, pressure and patience.
They did it! The Sherpa were up early getting the gear across the border and the team helped out and got through as well. A bus ride and then the mud slide crossing, and then into Kathmandu!
Next thing up is a good hot shower, some food and changing a few plane tickets home.
Nice job everyone!
—Greg Vernovage, IMG Senior Guide
October 3, 2014 • Heading Home
The Cho Oyu Team began their journey back to Kathmandu. All is well and they have arrived to the border town of Zhangmu.
Both Phunuru and Mike have arrived with the climbers and the gear.
Tomorrow morning they will be up early to cross the border back into Nepal.
One more big day for them. Crossing the border with all the gear requires some strength and patience. All of it will cross the Friendship Bridge by porter and our Sherpa team will help and supervise. You may be curious as to why we don't have a photo or two of the bridge... well, photography is not allowed here.
Once across the border, the team will load back up and head towards Kathmandu. Let's not forget, we are not quite done with this expedition yet. Remember on the way in, the team had to cross the landslide due to the monsoon. The road has still not quite been cleared yet, so we will have to get out and "hoof it" one more time. I think they will be able to manage this.
Let's keep them moving and get them back to Kathmandu!
—Greg Vernovage, IMG Senior Guide
October 2, 2014 • The Yaks Arrive!
The yaks have arrived at ABC. Break down the camp completely and become friends with the big beasties.
Here is the great and interesting anecdote about this reunion of climber and yak. We as climbers are all psyched up to hear and see the yaks roll into camp. And by roll into camp, I mean they come in and take over camp. Where once stood a supply tent with a nice platform, now rest a few yaks. I think they look at us with the same interesting gaze as how we marvel at the size and strength of them. This is a huge and powerful animal.
To watch our Sherpa team work with them is amazing. All of our guys grew up around the yaks and know how to work with them and load them. My rule, let the professionals take care of it! As much as I want to help, it is best to stay out of the way.
The ironic part of the yaks arriving at ABC is that we get excited and know that once loaded in the morning, we are out of there. The catch is that the yaks wear these big bells around their necks.
They will sleep next to your tent, and all night, you get to listen to a bell that sounds very much like a reef marker in the ocean. Best part about that problem is that you don't have to climb up hill, you simply have to load up and head downhill with your new best friends!
So off they go heading back to Kathmandu!
—Greg Vernovage, IMG Senior Guide
October 1, 2014 • Summit Cake and Packing for Home!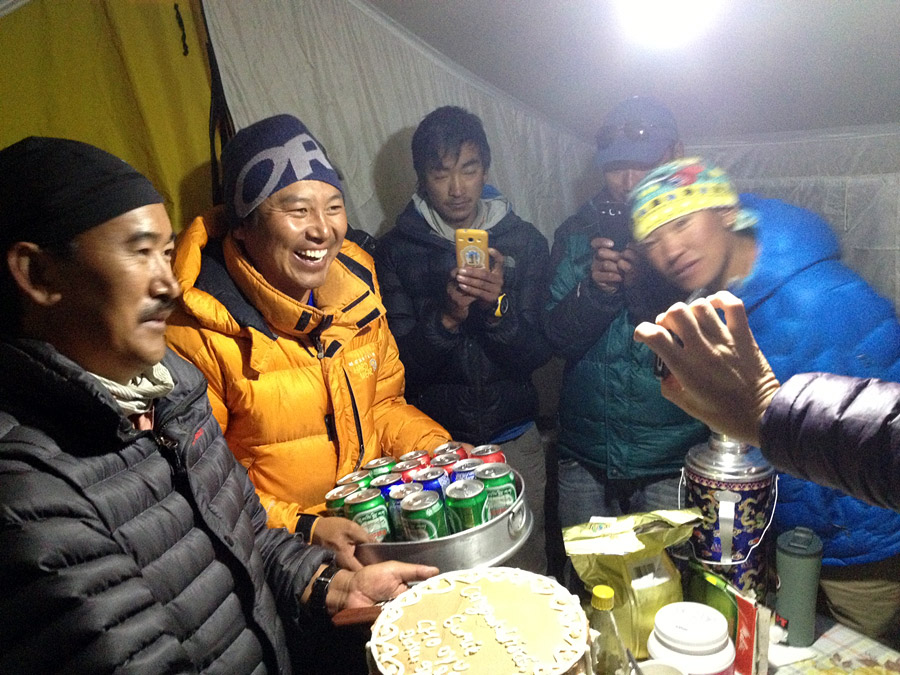 Today at ABC on Cho Oyu, the team will celebrate with a cake made by Kaji.
Cooking a cake at 18,500 feet is no easy task. Kaji has perfected the art. (Those cinnamon rolls are delicious!) A little cake a refreshments served by our Sirdar, Phunuru. Do these faces look happy? I think so!
Today will be spent packing up and preparing loads for the Yaks arriving tomorrow morning. The last of the gear will be brought down from Camp 1. Tomorrow morning, the last of ABC will get taken apart and loaded onto the yaks. Our team will head towards the Friendship Bridge and thicker air.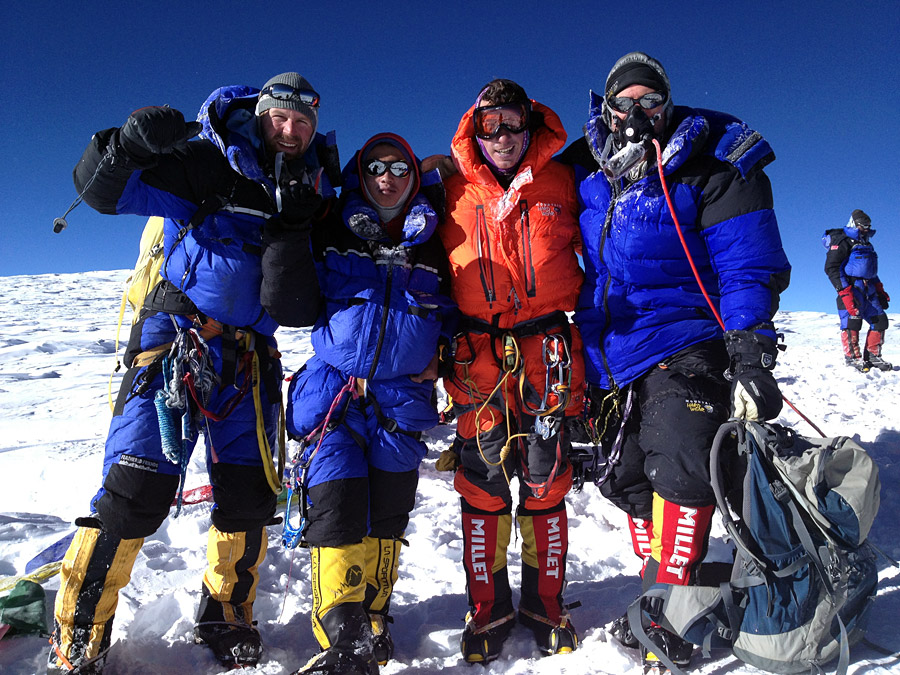 Mike was able to get a summit shot of a few of them on top.
Some High Fives and back slaps are in order for everyone on the team.
—Greg Vernovage, IMG Senior Guide
September 30, 2014 • All Climbers Safely Down to ABC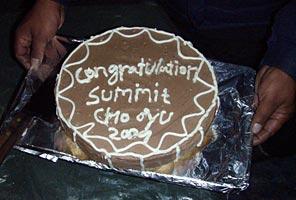 All of our Cho Oyu climbers are back at ABC now.
They did a great job up there and will now have a good dinner and sleep. I bet Kaji makes them a summit cake!
The plan for tomorrow is to rest and pack up camp. This seems like a pretty easy thing to do, but I can tell you, after the summit rotation, we all tend to move just a little slower. The team will sit outside and laugh and talk about the day and periodically, someone will put something in their duffle bag.
A great sense of accomplishment and a lot of back slaps and "Way to go's."
The day after tomorrow, the yaks will come up, and the team will head down valley to Base Camp, then load the trucks for the ride back to Zhangmu. On the 4th, they will be back in Kathmandu.
Congratulations to everyone!
—Greg Vernovage, IMG Senior Guide
September 29, 2014 • 15 Cho Oyu Summits for the IMG Team!
The IMG Team made it to the summit of Cho Oyu: 2 IMG guides, 7 climbers, 6 sherpas = 15 summits. Well done, team!
Our team reached the summit just after the sun came up. It was a beautiful day on top with great views and very little wind. On the summit of Cho Oyu, the sixth tallest peak in the world, our team has a great view of both Nepal and Tibet. To the east, less than 20 miles away, our team got an incredible view of Mount Everest and Lhotse at eye level!
Everyone is doing great and have now descended to at least Camp 2. Tomorrow everyone will continue downhill and be back at ABC and celebrate their success!
—Greg Vernovage, IMG Senior Guide
September 28, 2014 • Climbers at C3 and Ready to Go
The stage is set.
The team made it to Camp 3 in good time. Phunuru and Mike called in to let us know that they are planning on walking by 1 am.
Camp 3 is set on a steeper slope. There is not much room to walk around, and to be honest, you don't want to anyway. Pulling into Camp 3, you simply sit down, take in the views, eat and drink. The sherpa team will be hard at work getting O2 organized and making water. Climb in the tent and start sucking on the O's. It is a welcome feeling. Oxygen warms you up and also helps the team recover from the steep climb up to Camp 3.
They are in position now!
Tonight, they will gear up and climb. Systems are dialed and the route is fixed. The route up from Camp 3 starts with a steep snow climb into the Yellow Band. The Yellow Band is a bit awkward I guess would be the word for it. The gang needs to concentrate on their technique and breathe while looking for those small steps. If they try to muscle their way through this section, it is easy to get fatigued.
Then the rock section, weaving their way up. Clip and unclip, remember, safety first! On the fixed line they are climbing, they have a safety line and their ascender. Clip that safety above the anchor before they move their ascender up.
Through the rock section and onto the stair master to the summit plateau. From the summit plateau, steady walking towards the summit!
Photos from the summit? One step at a time everyone! We are all pulling for the Cho Oyu 2014 Team!
—Greg Vernovage, IMG Senior Guide
September 27, 2014 • Climbers Reach Camp 2
Everything is going as planned on Cho Oyu. The Team moved to Camp 2 today, the Sherpa carried loads and are staying at Camp 1 tonight.
Good news from the fixing team as well. The rope has been fixed to just below the summit ridge.
The weather is continuing to trend in a good direction with winds dropping.
The plan for tomorrow is to have the entire team tackle the Camp 3 hill! It is a bit of a grind up to Camp 3 but the views are simply amazing from up the wide open slope.
Step by step up the hill and then round the corner into Camp 3. Our sherpa make it look easy!
We will work hard tomorrow. They will have the excitement of summit night getting close and will be psyched to plug into some O's!
—Greg Vernovage, IMG Senior Guide
September 26, 2014 • On Their Way!
Phunuru called in to let us know that all is well and they are leaving ABC for Camp 1.
As the team had breakfast and did some final packing, the fixing team was working hard above Camp 2. One of the great things about Cho Oyu is that you can watch progress higher on the mountain from ABC.
Mike and Phunuru reported that the rope fixing team was moving well. "Clear skies and a little windy up high."
The weather report has little to no precipitation and lower winds during the next 4 to 5 days.
Our Sherpa Team is a group of All-Stars, plane and simple. The guys are moving all the gear up the mountain. Tomorrow, the Sherpa Team will leave early in the morning and go all the way to Camp 3 with gear and come back to Camp 1. It is a great feeling to have our Sherpa around. During the summit rotation, they are a championship team. Setting up camp and making sure the gear is where it needs to be.
Thanks for all the hard work guys!
—Greg Vernovage, IMG Senior Guide
September 25, 2014 • Summit Push Begins Tomorrow
The Team will be out the door in the morning!
Let's get the summit rotation moving. Mike has decided that one more rest day will benefit everyone. The team wants to make sure that the rope fixing team has plenty of time to get the rope in. The extra day will also allow some teams to head for the summit and "kick in" the route.
So, tomorrow the team will move uphill. As a reminder, tomorrow on Cho Oyu is tonight, here in the USA.
The plan is to move up to Camp 1 on the 26th. That steep, rocky trail up to Camp 1 will be much easier for the team this time.
On the 27th, they will climb the Ice Cliff and move into Camp 2 and from here, look up the slope towards Camp 3.
That climb to Camp 3 is something else! When you get on that hill, you want to find your pace and get in a good rhythm. Step and breathe. This is where all the climbing and training the team has done before the trip shows up. The move to Camp 3 is a tough day but getting to the oxygen bottle is a good incentive.
At Camp 3, the team will eat, drink, rest and get psyched up for summit day. Plugging into O2 is a great feeling. The team will get a great look at the Yellow Band as well.
That is the plan for the next few days!
—Greg Vernovage, IMG Senior Guide
September 24, 2014 • Looking for the Summit Window
Mike checked in from ABC this morning. With the team getting stronger and the O2 clinic complete, the IMG team is now looking for their summit window. The IMG Sherpas are working their way to Camp 3 with rope, oxygen and tents.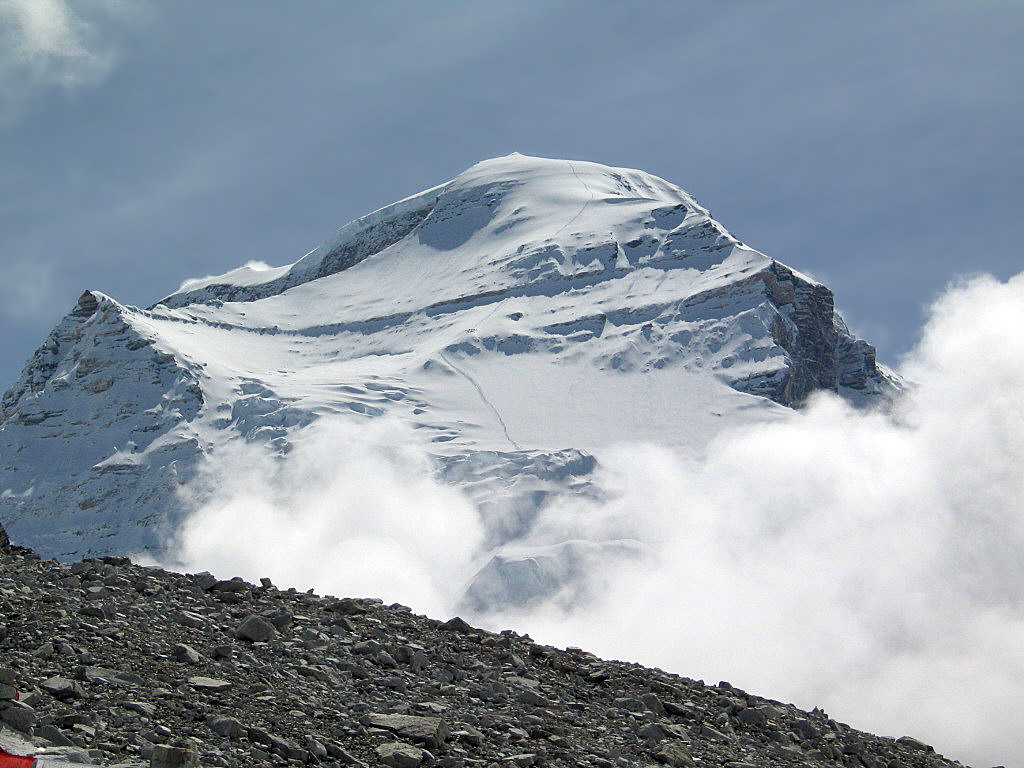 Mike, Phunuru and Josh are now waiting for the right time to begin their summit bid. What will the team be looking for? They want to find a summit window with a good climbing route, fixed with rope, and a favorable weather forecast. Favorable weather means low wind and good visibility.
The team has worked hard in the weeks leading up to this time and have put up with some early season clouds and snow, but all reports are that the mountain is now in great condition for climbing. Mike said, "We are looking at the 29th for a summit bid."
Get your body bullet proof and be ready to roll. We are getting closer now. Once Mike feels like the team and mountain are ready, he will say the word and the team will head up hill!
—Greg Vernovage, IMG Senior Guide
September 23, 2014 • Preparing for the Upper Mountain
Word from Cho Oyu today is that everything is moving along well.
Weather is looking better up high. The winds are starting to diminish. Time to fix the rope from Camp 2 to the summit!
As the IMG Team rests and gets strong at ABC, our sherpa will be working to get the rope in and Camp 3 established for a Summit push. Our Sherpa are working hard! We had five sherpa take O2 and gear up to Camp 2 and return to ABC.
Rest days at ABC. We have to put our thinking hats on during these days. Dot the "i's" and cross the "t's." The team will be all eyes on Mike, Josh and Phunuru.
The Oxygen bottle, mask and regulators come out and get assigned to each member of the team. Demonstrations and practice. Practice, practice, practice.
We will know the O2 system inside and out for the next rotation.
Mike and Phunuru said that the team is looking at Monday for a possible summit.
—Greg Vernovage, IMG Senior Guide
September 22, 2014 • Like Nothing Else: The Tibet Experience
The trek team departed Rongbuk Base Camp at Everest and crossed the famous Pang La pass on the way to Shegar (Xegar). This pass has the all-time big view of the Himalayas... world class!
Then, they continued on and overnighted in Shigatse (Xegatse). This is the second largest city in Tibet and is the home to the famous Tashilumpo Monastary. From there it was on to Lhasa via the old city of Gyantse and the drive around the gorgeous Yamdrok Lake. Before entering the Lhasa valley, they cross the famous Tsangpo River (which continues around the east end of the Himalaya and becomes the Brahmaputra in India).
Lhasa has grown and modernized a lot over the years since I first visited it in 1982. With four days for exploring, the team has been able visit many famous sights including the Potala and Norbulinka palaces, Jokhang temple and Barkhor street, and also take a side trip to Sera and Drepung monastaries. It is sure nice to visit Lhasa at the end of a trip when you are well acclimatized and feeling good!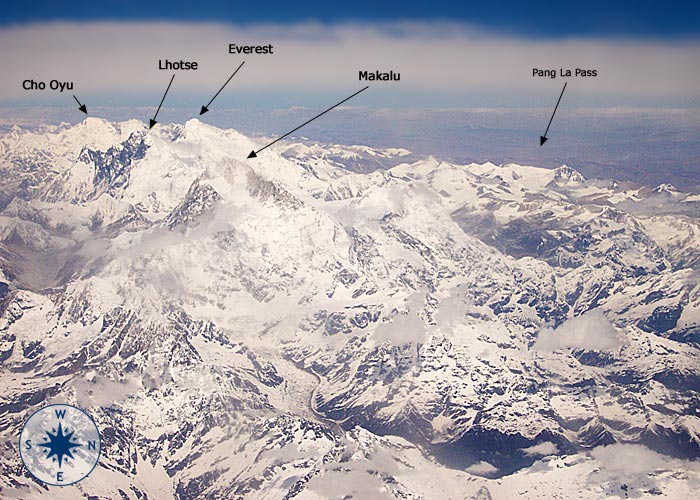 Tomorrow, they will head back down to the Tsangpo valley and then drive east to the Lhasa Gonggar Airport (LXA) which is at 11,700 feet. This airport boasts a 13,000 foot runway... it takes a long time at these elevations to get airborne. From here, the team will have a spectacular flight in a 757 back across the Himalaya to Kathmandu.
—Eric Simonson, IMG Director
September 21, 2014 • Back in ABC After Camp 2
Mike called in from ABC after a successful Camp 2 rotation.
The team came all the way back to ABC and are doing well. From the sounds and look of things, in good time. Reports from higher on the mountain are that it is starting to snow.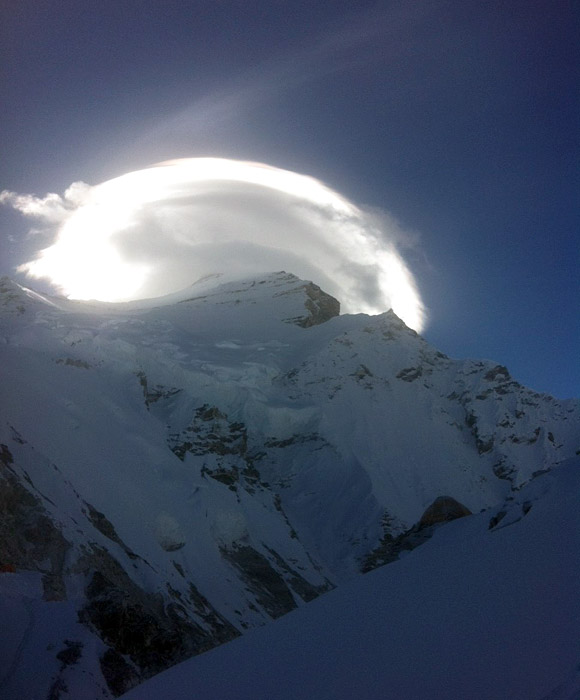 There is a big cap on the summit now as well. The best part about all of this is that we have our rotation finished and have earned a few days rest at ABC.
Mike and the team will catch their breath and begin to organize food and gear for the summit rotation.
Phunuru and the sherpa team will gather loads and start moving gear into Camp 3.
Work hard and put yourself in the best position you can for a summit push! The team has done just that.
Way to go!
—Greg Vernovage, IMG Senior Guide
September 20, 2014 • IMG Climbers Reach Camp 2
Mike checked in from Camp 2. All is well. This is a tough day of climbing on Cho Oyu. Mike said there were a few clouds but no snow. That is alright because then it won't get too hot.
The team will spend the night at Camp 2. Drink a lot of water and continue to dial their systems for the next time they go up. It is always good to know what you want to eat and drink a lot. Some tossing and turning from all of the heavy breathing but a great camp because there is an area where they can walk around and get their heart rates up.
Tomorrow, the team plans to head downhill. They will go all the way back to ABC. Getting the Camp 2 rotation in the books is a huge accomplishment!
Down in Lhasa, our trekkers will enjoy the town and get an up close look at the Potala Palace!
—Greg Vernovage, IMG Senior Guide
September 19, 2014 • Climbers in Camp 1; Trekkers in Lhasa
Mike called in from Camp 1 to let us know that all is well.
The team had a good night at Camp 1 and took a walk up towards the Ice Cliff to stretch their legs.
The plan is to wake up early and head up hill tomorrow to Camp 2. This will be a good test. Slow and steady.
The route will take the team up a few rolls and then to the Ice Cliff. Above there, they will hike up another steep hill and bend around a long corner. Camp 2 sits on a big flat area of the mountain where the team will be able to look up the mountain and evaluate the route to Camp 3 and above.
The Sherpa team has been hard at work. They have been up to Camp 2, bringing gear and heading back to ABC. The plan for the Sherpa will be to head back up to Camp 1 and help with the move.
The trekkers are moving into Lhasa today. Driving downhill into Lhasa, the team will get their first look at the Potala Palace. This is a great look at history!
—Greg Vernovage, IMG Senior Guide
September 18, 2014 • IMG Team Climbs to C1 on way to C2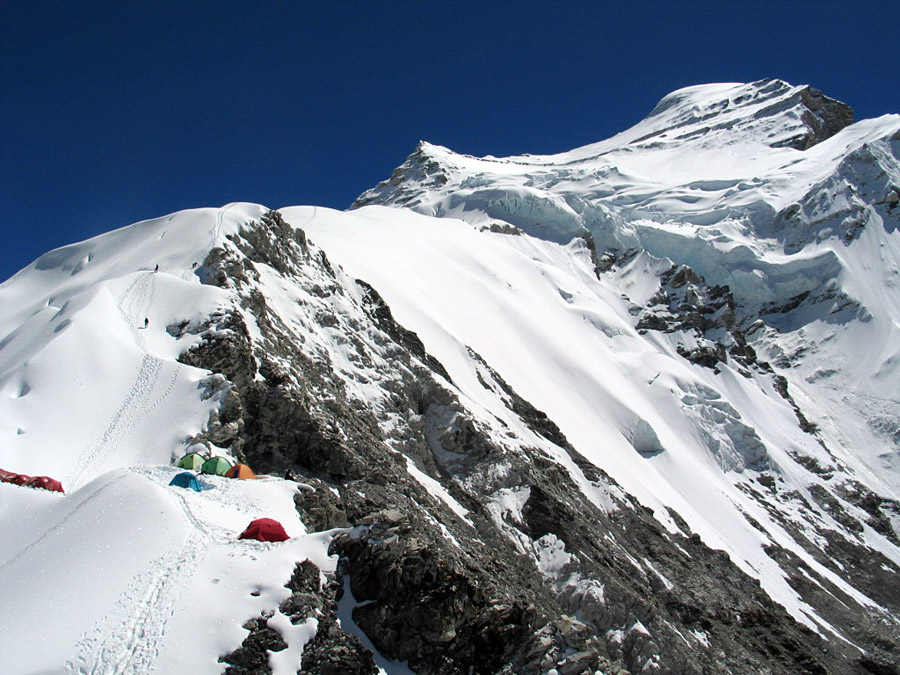 With the weather looking good and the route fixed to Camp 2, our Cho Oyu Team decided to move up to Camp 1 today.
They will spend an active rest day at Camp 1 and then move to Camp 2 the day after tomorrow. This rotation is a good test for the climbers. The climb between Camp 1 and Camp 2 has a few steep sections that will require them to use their training and work their lungs.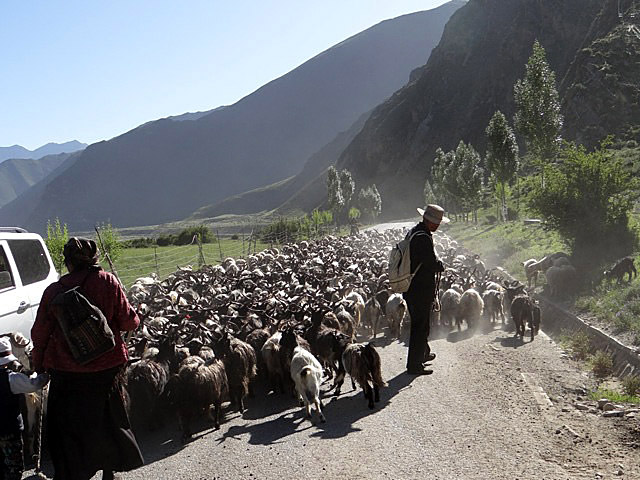 Our Trekking Team is heading towards Lhasa. They will overnight in Shigatse before heading over the high pass and down and into the city.
All is well in Tibet!
—Greg Vernovage, IMG Senior Guide
September 17, 2014 • Climbers Resting up for Camp 2 Rotation
Our Trekkers are at the North Side of Everest today. They will trek for the day around Base Camp and the Rongbuk monastery. There is history everywhere around them. It can be a bit cold in this valley.
On Cho Oyu, the team took another rest day, and the weather has been great. The rope fixing to Camp 2 has been going smoothly and as planned.
The team will wake up and see how they feel. When they are ready, it will be time to head uphill for the Camp 2 rotation.
The team is on schedule now. Stay strong and get ready to work hard on their next rotation. Keep the good weather coming our way.
All is well in Tibet!
—Greg Vernovage, IMG Senior Guide
September 15, 2014 • Resting Up for the Ice Cliff with Bocce Ball
We got a good email from Mike this morning.
Mingma Tenzing II reported that the rope fixing went very well above Camp 1. Good snow conditions and a "smooth" route up the ice cliff.
What is this Ice Cliff we continue to talk about?
It is the next objective for our team as they head up the mountain. The team will climb up from Camp 1 for about 45 minutes and be at the base of the cliff. The route moves up a steeper slope from right to left and then it gets steep. It is about technique on this section and can be awkward with footwork. What are the keys to getting through the Ice cliff? Small steps, moving your ascender and breathing. Another key is to unclip and clip efficently while moving through the anchors — safety first!
So, what is the team doing at ABC on their rest day? Bocce Ball! Mike sent in a picture of a few of the gang posing. Hilarious! I am calling it an action shot of the Highest Bocce Ball game. Who won? From the looks of these guys, they are all winners. Smiles all around.
Tomorrow the Sherpa team will continue fixing up to Camp 2, and it'll be another rest day for our climbers. Another rest day will have the team ready to roll. "Bullet proof" we like to say.
—Greg Vernovage, IMG Senior Guide
September 15, 2014 • Resting After C1; Trekkers Heading Home
Mike Hamill checked in from ABC today.
Our trekkers are heading out as well. They said "so long" to Cho Oyu and moved downhill for Tingri where they will spend the night. Tomorrow, they will drive to the Rongbuk Hotel (North Side Everest Base Camp).
There we go! Sherpas moving up, Trekkers moving down and Cho Oyu climbers resting at ABC.
The weather is said to be improving over the next few days so we will be able to make progress up to Camp 2!
—Greg Vernovage, IMG Senior Guide
September 14, 2014 • All Well at Camp 1
The team is doing well at Camp 1. Phunuru called in to say that there is a light snow tonight on Cho Oyu but not much accumulation.
The IMG team has Camp 1 to themselves tonight. After their first night's sleep above ABC, the team will eat breakfast and head back down.
There is no sign of anyone climbing above Camp 1 so far. The next objective on the mountain is to get the fixing team put together and work up to Camp 2. A rope-fixing meeting is scheduled, and it looks like the weather is in their favor.
Our Sherpa team worked hard today, carrying loads and setting up Camp 1 for the team. Nice job guys! They will take a rest day tomorrow and get ready to move higher as well.
Some tossing and turning and heavy breathing will keep the team busy tonight at Camp 1. It might be a little chilly, so when the sun goes down, be ready to jump in your tent. From there, it's time to catch up with your tent mate. One of my favorite things to do is laugh on a first night at a new altitude. Laughing is a great tool up high. It brings that O2 deep in the lungs and gets you through the night. Sip on water and snack on anything!
In the morning, the team will head back to ABC and some Kaji cooking!
—Greg Vernovage, IMG Senior Guide
September 13, 2014 • Training in ABC and Planning for C1
Mike checked in this morning to tell everyone that they had a good day of training at ABC.
The team did some fixed line training at ABC and dialed-in their systems for moving up the mountain. Putting the harness on and getting the ascender set up and ready to roll is great. It allows the team to focus on what they have in front of them and double check their set up.
We have three tents already set up at Camp 1, and the Sherpa will take another load of gear up tomorrow as well.
Mike said, "We're ready to roll in the morning. We plan to spend one night at C1, climb above C1 the following day and descend to ABC."
Great plan. Get some more acclimatization in and check out the new views from Camp 1.
The team is moving up the mountain!
—Greg Vernovage, IMG Senior Guide
September 12, 2014 • Team Puja in ABC
It was a busy day on Cho Oyu today.
Nima Karma and Mingma Tenzing II went to Camp 1 yesterday to claim our normal site just below the start of the fixed line. The sherpa team is feeling strong and working hard already.
The team had their puja (blessing ceremony) this morning with light snow coming down according to Phunuru. Another great Puja!
After the Puja, the team took a hike to Lake Camp. More acclimatization and a chance to check out the route. Mike and our Sherpa report that the route is in great shape all the way to Camp 1!
A rest day tomorrow is in order. Everyone has been working hard and acclimatizing well. Time to give their bodies a chance to catch up and continue to get strong.
—Greg Vernovage, IMG Senior Guide
September 11, 2014 • IMG Team Acclimating and Exploring
Expedition Leader, Mike Hamill, called Jangbu from ABC on Cho Oyu:
All is well as we went for a walk around ABC today.
The team is psyched to have the Puja tomorrow morning! One of our Tibetan cook staff, Rinzing, has his brother in camp to perform the puja. Chuldin is a Tibetan monk, and we are excited to have him again.
After the Puja, the team is planning on taking a hike up to Lake Camp. This will take a few hours on their first time. Slow and steady and breath hard.
The team is in a great place right now with the residual effects of the monsoon still around: afternoon clouds and a little snow. This makes for some good training and great scenery. It also makes for some "championship" napping in the afternoons!
I wonder if there will be a bocce ball tournament in the future on a rest day?
—Greg Vernovage, IMG Senior Guide
September 10, 2014 • IMG Team Settling in at ABC
Mike Hamill checked in to let us know that all is well at ABC.
The team is setting into ABC and finding the lay of the land. The Sherpa team is organizing food and gear and Kaji, our Head Chef, is keeping everyone hydrated and well fed.
More teams are trickling into ABC now and the team had some afternoon snow which usually evaporates early the following day.
What is the plan for the next couple of days?
Tomorrow, the team will take a short walk around ABC to stretch their legs and familiarize themselves with the terrain a bit more.
Friday is the Puja! The Puja will take place in the morning with the entire team. After that, the team will take a hike up to Lake Camp. The trail to Lake Camp is over rocky/glacial moraine. It is a gentle gain in elevation as the team weaves their way through tall ice pinnacles and over rock. It is a great hike to get a better look at conditions of the route on the lower mountain.
Lake Camp is a great stopping point for the team as they are now breaking out the climbing boots. Work out the kinks and let some of that excitement run. At Lake Camp, they will look up the steep hill which leads them to Camp 1. From now until they go up for the summit rotation, the team will get stronger and stronger.
Step by step!
—Greg Vernovage, IMG Senior Guide
September 9, 2014 • IMG's Cho Oyu Team Reaches ABC!
This is one of many great feelings for the Cho Oyu Team. Mike called early this morning from ABC.
All is well and the team is feeling good. As predicted, the group had a few clouds as they hiked over the moraine on their way into camp.
The feeling of pulling into ABC is just awesome. You are now at the staging place for your climb of Cho Oyu. Take a few deep breathes and relax for a minute. The team will find all their gear and get familiar with camp.
This is another milestone for the climbers and trekkers. ABC is at 18,500 feet and the team will take some time to acclimatize and train.
Mike and Phunuru are looking ahead and hope to see the sun shine tomorrow. Some gear sorting, training and a lot of water and tea will be consumed.
I just love pulling into ABC. You get your own tent to sleep and arrange your gear! Spread out and look at the mountain. Nangpa La is off to the right. This pass is one of the oldest trade routes in the world. The people of Tibet use this pass at over 19,000 feet to visit Namche.
Way to go!
—Greg Vernovage, IMG Senior Guide
September 8, 2014 • IMG Cho Oyu Team on the Move
The team had a good hike to Intermediate Camp (IC) today. Mike said they got a small amount of precipitation in the afternoon but nothing that slowed them down.
The plan is to spend one night at IC and get up early for their hike into ABC. The hike into ABC should take the team 4-6 hours, depending on the condition of the trail. The early start will give the team plenty of time to hike and get into Camp before any lingering afternoon precipitation.
Intermediate Camp is just exactly how it sounds. Get in feeling good and get out the next day. The team is excited to get to ABC. It is a great feeling to finally be at Advanced Base Camp. We get to find our tent (home for the next few weeks) and settle in with the dining tent.
—Greg Vernovage, IMG Senior Guide
September 7, 2014 • BC Bocce Ball with Sights on ABC
So, what does the team do at Base Camp on a rest day?
How about a little Bocce Ball on the Tragmar Plain (Cho Oyu Base Camp)? The ground is perfect for Bocce Ball. Soft and level. The amount of physical exertion is right on the money... next to none.
Mike sums the day up perfectly:
"We're having a good rest day here at base camp. The team is enjoying playing Bocce Ball and watching TV shows. The Sherpa made it in to ABC yesterday and have set up the base station. We have good coms with them. They fixed the trail in to ABC yesterday which took them a few hours, but they said it should be fine for us. We have our usual spot at ABC. Teams are starting to move up to ABC and several should be heading up with us tomorrow to Gyaplung. We plan to get an early start in the morning."
—Greg Vernovage, IMG Senior Guide
September 6, 2014 • Acclimating and Stocking ABC
The Cho Oyu team had another good day of hiking at Base Camp. Everyone is feeling great!
While the team was out for the hike, Phunuru and the sherpa loaded a truck with more gear for ABC. Mingma Tsering, Mingma Dorjee and Mingma Tenzing took the truck to Gyaplung, and then used 37 yaks to get the first load of supplies to Advanced Base Camp.
That is a lot of yaks! In the fall, one yak can carry about 50kg. They are stronger in the fall after grazing. In the spring, the Yaks can only carry 40kg.
Gyaplung is the last Chinese checkpoint below the Nangpa La pass. The yaks will return to Base Camp tomorrow for a little rest before heading back uphill with the expedition members in a couple days.
—Greg Vernovage, IMG Senior Guide
September 5, 2014 • Acclimatizing and Yak Watching in BC
Mike checked in this morning from Base Camp on Cho Oyu.
The team took a hike today and is acclimatizing well. Short hikes and hard breathing are important for the next few days.
Their job is to stay healthy and build red blood cells. A few more teams have pulled into Base Camp, and the yak drivers are loading up and heading to ABC.
An important part of the expedition is getting gear where it needs to go. It is a lot of work for Phunuru and the Sherpa team. They will weigh gear and divide loads for the Yak drivers. The gear is then loaded onto the Yaks and moved uphill.
It is a great pastime for our climbers to watch all of this! At home, we sit around on a summer morning, drink coffee and do some people watching. Well, at Base Camp on Cho Oyu, the team can hang with some tea and do some Yak watching.
We are in good position with other teams arriving. Gear is on the move, and our team is acclimatizing well.
—Greg Vernovage, IMG Senior Guide
September 4, 2014 • IMG Team Reaches Cho Oyu Base Camp
This is a great milestone for the team as they arrive at Cho Oyu Base Camp!
At 15,000 feet, the team has moved away from the towns and moved into their tents. Base Camp is another stop on the way to Cho Oyu that is incredibly valuable for acclimatization. The four days they have at Base Camp will be spent hiking, resting and eating. Mike said that there are a couple other teams already there and he expects a few more to come in over the next day or two.
There are some hills to hike that will give everyone a great view of Cho Oyu. The key is to take it slow and steady. Now is the time to set themselves up for success on the mountain. Everyone will want to acclimatize well at Base Camp because from there on up, they will be on foot. The route to Intermediate Camp is up a road, but we have found it better to hike this section for acclimatization purposes.
Phunuru and Mike are planning to send 26 yaks and 3 Sherpas directly to ABC the day after tomorrow (September 6th) which sounds great.
—Greg Vernovage, IMG Senior Guide
September 3, 2014 • Cho Oyu Team Acclimatizing in Tingri
From: Michael Hamill
Sent: Wednesday, September 03, 2014 4:01 AM
To: Eric Simonson
Subject: Tingri Update
Eric,
We had a good hike outside of Tingri today. The Team is all healthy, happy and pretty fit. There's a new restaurant here at the Hoo Ha Hotel, and they've cleaned up the town a bit so things are improving.
I talked to Phunuru last night and the IMG Sherpas made it to Cho Oyu base camp with the gear truck without issue and were working on setting up camp. Phunuru checked the loads and said that everything was accounted for. He said there are only three teams of Sherpa at base camp now. We plan to head in to base camp tomorrow morning.
—Mike Hamill, Expedition Leader
September 2, 2014 • Cho Oyu Climbers and Trekkers reach Tingri
Mike Hamill reports that the team finished up their acclimatization day in Nyalam with some fun with the local fashion. Today they were back on the road, for a spectacular drive from Nyalam up and over the Tsong La pass and down to the Tingri plains and the old town of Tingri (4,348m/ 14,268ft). From the pass they had nice views of Shishapangma, and from near Tingri they got their first views of Cho Oyu and Everest. When they see those big peaks everything starts to become very real!
The team will spend two nights here, with more acclimatization hiking tomorrow before moving to Base Camp. Tingri is an ancient village, linked to Namche Bazaar in the Khumbu (Nepal) by the trade route over the Nangpa La pass. The Cho Oyu team's route to Advanced Base Camp will take them quite close to this pass. After spending many nights in this town myself, over the years, my recollection is mainly about all the dogs!
—Eric Simonson, IMG Director
September 1, 2014 • Cho Oyu climbers Enjoy Nyalam
The Cho Oyu climbers and Tibet trekkers had a good drive yesterday from Zhangmu (2300m, 7500ft) up the deep canyon of the Bhote Kosi river gorge to Nyalam (3,750 m, 12,300 ft). This is a very steep and windy road, which has been improved a lot over the years. It is only 35km between the two towns, but there is a huge difference in the geography. Zhangmu is down in the sub-tropical forest zone, perched on a steep hillslope above the Friendship bridge. Nyalam is right on the edge of the Tibetan Plateau, surrounded by mountain peaks, but the terrain is starting to open up. The team will spend two nights in Nyalam, for acclimatization.
Mike Hamill reports that today the team went for a nice hike up the valley towards Shishapangma south face BC and that everyone is healthy and acclimatizing well, and that the weather has been good. The plan for tomorrow is to continue on to Tingri, which will require them to cross the Tsong La (pass), at over 17,000 feet (this will give them their first big views of the Himalayas and the 8000m peak Shishapangma).
—Eric Simonson, IMG Director
August 30, 2014 • Cho Oyu Team Reaches Tibet
The IMG Cho Oyu climbers and sherpas crossed the Friendship Bridge, went through the Chinese immigration and customs, and are now in Tibet. It sounds like their 4am start paid off, as they were able to reach the landslide early enough to take the shortcut trail which crosses directly through the debris field where the road is being rebuilt (later in the day this route is closed by the Army to keep people away from the construction work).
Phunuru was able to send some photos, and Mike Hamill reports: "the landslide was HUGE, and there's a lake behind it now. All the Sherpa are here. Everything is going smoothly so far. We're moved in at Zhangmu planning to make the drive to Nyalam tomorrow".
—Eric Simonson, IMG Director
August 29, 2014 • Cho Oyu Team Hits the Roasd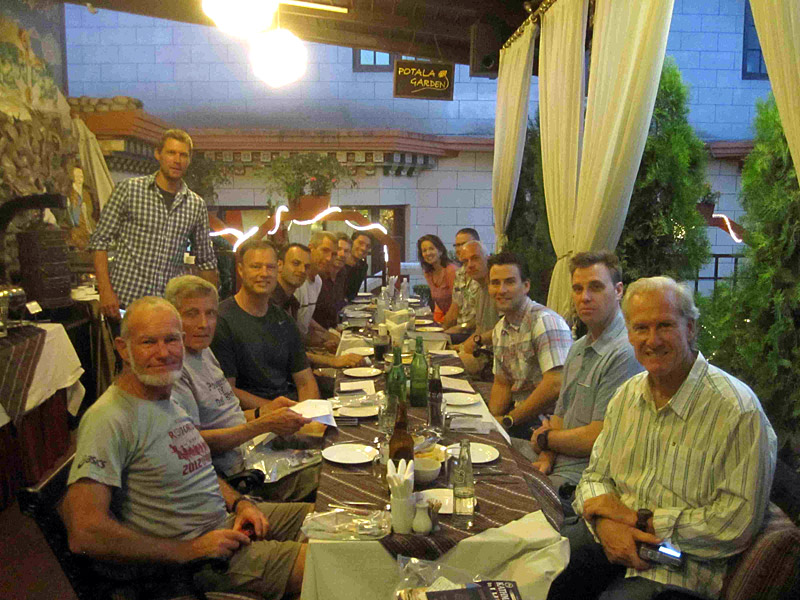 Good news from Nepal on several fronts. In Kathmandu, the Cho Oyu climbers and Tibet trekkers and all their luggage have arrived safely, so that is a great way to start the trip. After completing gear checks, the team received their visas at the Chinese Embassy today. This evening they had a team meeting and dinner, and are all set to depart at 4am tomorrow. Expedition leader Mike Hamill reports that he visited and had a nice chat today with Elizabeth Hawley, the famous Himalayan historian.
Closer to the Tibet border, Ang Jangbu reports that the IMG Sherpas reported that they safely reached Kodari with all the luggage from both trucks. Sounds like it was a bit of a muddy epic, but with the help of porters they were able to get past the big landslide area.
Hopefully the team will reach Zhangmu tomorrow, or if they are delayed, then the next day. We are now in touch with our Chinese Liaison Officer who is in Zhangmu waiting for them to arrive. Once they get there and pass Chinese immigration and customs, they will move all the gear from the Nepal trucks to Chinese trucks, and then head to the local noodle restaurant for some good home cooking. So far so good!
—Eric Simonson, IMG Director
August 27, 2014 • IMG's 25th Cho Oyu Expedition Ready to Begin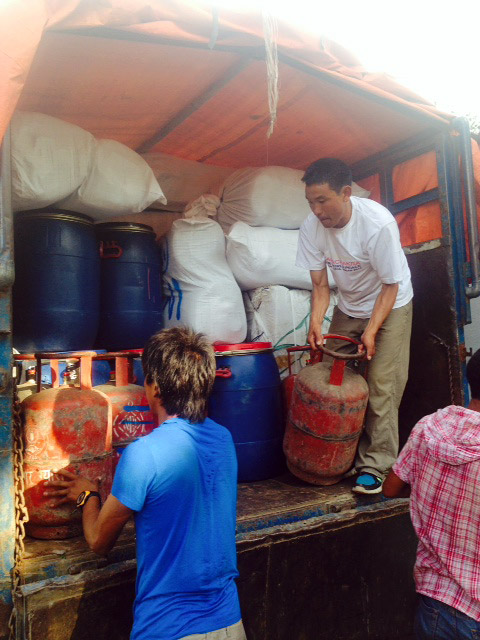 We have been doing Cho Oyu since 1995, and since then have done 24 trips (22 of them with IMG summits) to the world's 6th highest peak. This year marks our 25th expedition, and we are looking forward to getting started. IMG guides Mike Hamill and Josh McDowell are now in Kathmandu to receive the team and do gear checks. Every year the trip is a bit different, and for 2014, traveling to Base Camp in Tibet is complicated by a massive landslide that wiped out some of the road (and killed over 150 people) near the Nepal town of Barisbise on the way to Kodari (the Nepal town on the Tibet border). The road is not yet rebuilt, so the IMG team and all their gear will need to travel on foot through this area.
Ang Jangbu reports that the plan is to get all the gear to Kodari ahead of the members. The sherpa team loaded the truck this afternoon for an early morning departure to Lamosangu with Nima Karma, Ang Karma and Fura Gyalzen. They are being met by Raju from Kodari with porters and they will start portering to Barabise and on to Kodari on different truck from Barabise. The first truck will then return to Kathmandu tomorrow afternoon and we will load the remaining loads on the truck including member base camp duffels tomorrow evening and depart early next morning with 2 other sherpas, Mingma Chhiring and Mingma Tenzing.
The team will do their group dinner at Hotel Tibet on the night of the 29th, and will then depart at 4am Saturday morning for Lamosangu with Mingma Dorge, Kaji, and sirdar Phunuru. It will take them 3-4 hours to walk past the landslide area to Barabise and then get on another bus to Kodari. Hopefully they will reach the border by 2:30pm before Chinese immigration closes down. If they are delayed and don't get to the border before Chinese immigration/customs shuts down, then they might end up spending the night at Kodari.
—Eric Simonson, IMG Director