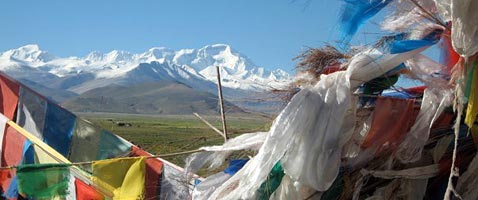 Tibet Trek to Cho Oyu and Everest Base Camps with International Mountain Guides
If you are interested in joining the Cho Oyu expedition but not interested in climbing an 8,000m peak, we've added a very unique trek option for fit and adventurous travelers. The Trekkers will travel with the climbing team from Kathmandu to Lhasa by air and will return to Nepal via the newly open road via Kyirong, Tibet and Dunche, Nepal. Three nights in Lhasa allow for exploration of the Potala, Johkang, Barkhor, and other sites. Then, it is off to Shigatse and Tingri via Landcruiser. After a couple of days of acclimatization hiking, you move up to the Cho Oyu Base Camp (about 15,000'). After several more days at Base Camp, with hiking each day for good acclimatization, we move up to Advanced Base Camp (about 18,500') with the team and the yaks. It takes at least two days of rugged hiking to get to ABC, which is near the famous Nangpa La (an old trade route leading to the Khumbu and Namche Bazaar in Nepal).
Trekkers stay at ABC for several days for acclimatization and exploration. If desired, you can join the climbers on their first trip up to Camp 1 (over 20,000 feet or 6000m) on rugged but non-technical terrain. You are right at the base of the mountain, surrounded by the big Himalayan peaks. It is awesome scenery!
Rongbuk Everest Base Camp
After leaving Cho Oyu ABC, the trek team will head by jeep to Rongbuk (Everest Base Camp). We have one night at Rongbuk (Everest BC) which will allow our well acclimatized trekkers to enjoy views up the Rongbuk Glacier and the North Face of Mount Everest.
From Rongbuk, the trek team will head to the Kyirong border and onto Kathmandu. You may elect to drive back to KTM or take a short helicopter flight. Driving is nice but the helicopter is much more comfortable and will get you back to KTM and a hot shower and good meal much faster. Please let us know and we will be happy to help organize this option for you.
This trip was a 15 year dream in the making and it was everything I had hoped for, and more. The trip started out to be Everest ABC, but the Tibetan people and their culture soon became as exciting and interesting... Our drivers, guides, and sherpas were as friendly and helpful as they could possibly be. Our accommodations were great — be it hotels or tents — and the food could not have been better... You run a 1st class organization, and I credit the staff and the planning for adding to our success...

Note on Dates
Dates are listed starting with the arrival day to Kathmandu to the arrival day back to Kathmandu at the end of the trip. The ending date for the Tibet Trek is fixed. The ending date for the Cho Oyu Climb is flexible, depending on weather and conditions. It would be normal to add at least 7 extra contingency days on the itinerary for the climb. If necessary, climbers will change their departure flights from Kathmandu when they know exactly when the expedition is going to end.
International Mountain Guides (IMG)
IMG is the oldest and most respected high-altitude climbing service in the world and its Himalayan mountaineering programs are organized and directed by Eric Simonson. Their teams include a group of professionals and Sherpas who are the best in the business. Since 1990, we have conducted over 60 Himalayan 8000 meter expeditions and over 800 IMG team members have summited the world's classic 8,000-meter peaks, including Everest, Lhotse, Cho Oyu and Shishapangma.