2010 Cho Oyu Expedition Coverage
Led by: Eric Remza • Expedition directed by: Eric Simonson
Meet the Team (lower on this page) »
May 20, 2010 • Team in Kathmandu; The Expedition is Officially Over
The IMG Cho Oyu team reached Zangmu on schedule, spent the night, then crossed the border this morning. They were met at the Friendship Bridge by our Nepal staff who were waiting with a bus and van for the trip back to Kathmandu. The team has now arrived to

the hotel in Kathmandu, and they will be departing for home in the next day or two. All's well!
—Eric Simonson, IMG Director
May 18, 2010 • IMG Team Safely Down to ABC and Heading for Home
IMG guide Eric Remza reports from ABC that everyone is down safe. The camps are all removed, the gear is all packed up, the yaks have arrived, and the team is ready to depart in the morning for Zhangmu with arrival back to Kathmandu the following day.
Thanks again and congrats to all the people who have worked hard to help make this expedition successful. So far no other climbers have summitted on Cho Oyu this year, but several groups remain on the mountain, so best wishes to them. We'll be back in the autumn with the IMG expedition to be led by Mike Hamill.
—Eric Simonson, IMG Director
May 17, 2010 • Team Safely Back Down to Camp 1
IMG leader Eric Remza called on the sat phone from Camp 1 with some more information. The climbers left Camp 3 at 2am and reached

the summit at 8am. For our head sherpa, Panuru, it was his 12th ascent of Cho Oyu and he said it was the most difficult Cho Oyu climb he had done. It sounds like there was a lot of exposed rock above the Yellow Band which made for added difficulty.
Eric said the wind was not too bad for their ascent, but it was very cold. He said that shortly after their summit the weather started to close in again, and it deteriorated during the day as they descended. On the way down the Sherpas pulled Camp 3, and then after a good rest at Camp 2, they were able to pull Camp 2 and descend to Camp 1 where they are now resting comfortably. So, all's well and the team should be back to ABC tomorrow. Congrats to the climbers and Sherpas on a safe and successful summit day!
—Eric Simonson, IMG Director
May 17, 2010 • IMG's Cho Oyu Team Summits!
Eric Remza called on the sat phone to say they had summitted and are

on the way down. Sounds like the weather is holding. More info as it comes in.
—Eric Simonson, IMG Director
May 16, 2010 • Team at Camp 3 in Postition for a Summit Attempt
Eric Remza reports on the sat phone that they moved to

Camp 3 today, and Tashi and Dorje went up and fixed the Yellow Band. Currently the wind is still breezy but tolerable. There are no other teams up at C3 now. The plan for tomorrow is that Panuru and PingTso will come up from Camp 2 and join them at Camp 3 for the summit attempt. They hope to start climbing in the night time and reach the summit early morning. We'll keep our fingers crossed!
—Eric Simonson, IMG Director
May 15, 2010 • Camp 2
IMG leader Eric Remza reports on the sat phone that the team made it to

Camp 2 and are doing well. This will be a new sleeping altitude record for everyone, 7000m or about 23,000 feet. The wind is still breezy, but seems to have tapered off a bit, so we remain hopeful that tomorrow they will be able to go on up to Camp 3. So far so good!
—Eric Simonson, IMG Director
May 14, 2010 • Team Getting Into Position for a Summit Bid
IMG Leader Eric Remza reports by sat phone that the team made it up to

Camp 1 today and are safely bedded down up there for the night. Everyone is doing well. The weather is clear and breezy. The plan for tomorrow is to go to Camp 2, conditions permitting.
—Eric Simonson, IMG Director
May 13, 2010 • Taking a Shot on the Forecast Weather Window
Hello to everyone following along IMG's 2010 Spring Cho Oyu Expedition. We are all doing well and just had our third rest day after arriving back to ABC. Our agenda is to begin our summit rotation tomorrow morning (the 14th), and everyone here is excited to make our way back up to Camp 1. Our plan thereafter is to stay tomorrow night at Camp 1 (21,000 ft.), and then hopefully move up to Camp 2 (23,000 ft.) on the 15th.
The weather will be the determining factor in all of this, and the weather forecasts show a possible drop in winds for the 16th and 17th, so if everything continues to work in our favor, we will try to establish our Camp 3 (24,500 ft.) on the 16th. Our summit attempt would then be an early morning departure on the 17th.
I have consulted with the group members and our staff of top notch Sherpas, and we have a solid plan for this upcoming summit rotation. We are all looking forward to these next four days and hope the weather will work in our favor as we attempt to summit the 6th highest mountain in the World. I will be in daily contact with the IMG headquarters in order to keep everyone abreast of our whereabouts in the coming days. Please keep us in your thoughts and prayers.
Namaste,
—Eric Remza, Expedition Leader
May 12, 2010 • Hoping the Jet Stream Moves On Before Time is Up
I spoke to IMG Cho Oyu leader Eric Remza on the sat phone, and the team is doing well back up at ABC. The winds continued unabated last night and sporadic during the day. Today they sent up two Sherpa to check the C1 tents, and that camp is intact and in good shape. Several of the other teams on Cho Oyu have now packed up and left, and Eric reports that there are only four teams remaining. The forecast still continues to be marginal, but now there appears to at least be a chance that the jet stream will start to move to the north in a few days.
The consensus among the IMG team members is that they can't keep waiting indefinitely, so the tentative plan is to move up in the next few days and see how it goes. If the winds do start to let off, they will be in good position to take a summit shot, and if it stays nasty, then they will have to retreat and call it quits. We'll keep you posted!
—Eric Simonson, IMG Director
May 11, 2010 • Tibet Tour Wrap Up
Hello to everyone following along IMG's 2010 Spring Cho Oyu Expedition. We are all back in Advanced Base Camp (ABC) and everyone is doing well. We had a nice field trip down to the lower thick air elevations but overall it feels great to be home here at ABC. We had a nice couple days visiting the town of Shegar, plenty of hot showers, internet, and Chinese food for everyone. The highlight of the trip was visiting the Crystal Fort Monastery, which is built into the rocky ridgelines overlooking the town. We were able to hike to the very top of the Fort which made for a nice 1000ft jaunt, and a couple of the local kids accompanied us as our "guides."
The following day we left Shegar early in the morning for our 108km drive to Everest Base Camp, and we had some stellar views along the way of Cho Oyu and Mount Everest. The Jet Stream, (which has been the force keeping us lying and waiting for an opportune summit window), could be seen in all its glory as a shadow of snow being blown from the mountains summits. Our visit to Everest Base Camp was nice, and we were able to visit with one of the teams operating over there.
Our final visit that day was the Rongbok Monastery which is near base camp and is occupied by five monks. We took our lunch at the nearby Hotel, then it was more time in the vehicle as we took the "short cut" back to the town of Tingri, which followed the original Everest North side approach before they built the new road. The famous Everest pioneers Mallory and Irvine followed a variation of this approach on their original reconnaissance of the mountain back in the late 20's. It was a long time in the vehicle, especially on bumpy and dusty dirt roads, but in retrospect, everyone was happy to have had the experience of visiting Everest BC. Our final evening (last night) was spent at the Snow Leopard Hot Springs Resort. This was a pretty neat place, in that they had built their accommodations right around a vein of thermals. The baths were nice and well visited, and all the members had a nice soak to ward off any aches and pains from driving 8+ hours to and from Everest Base Camp.
So now we are back at Cho Oyu ABC, and the weather is questionable but promising, and the team is really putting forth the right attitude to wait out this

high wind period. So please keep us in your thoughts and prayers as we begin to prepare ourselves in the days to follow.
—Eric Remza, Expedition Leader
May 10, 2010 • Visiting the North Side of Everest
IMG leader Eric Remza reports that the team had a nice visit to the north side of Everest today. Starting early from Shegar they drove up over the famous Pang La pass, then dropped down into the Rongbuk valley. I get nostalgic just thinking about it. Once down into the Rongbuk valley, if you go east, you go to Kharta (and the east face of Everest), and if you go west, you swing around to the south and eventually climb up to the

Rongbuk monastery.
From Rongbuk, they continued by jeep on up to

Everest Base Camp. Eric reported that it was windy at BC and up high it was really ripping with a big plume.
After their visit, they then went back to the monastery for a late lunch, then back to Tingri via the approach pioneered by the British which cuts over to the Gyabrag valley (this is the way we trek to Rongbuk when we do the ABC treks). Tomorrow the plan is to head back up to Cho Oyu ABC. Hopefully the weather is going to settle down a bit and give the chance for a summit bid. Right now, though, the jet stream is directly overhead, so not a good time to go high!
—Eric Simonson, IMG Director
May 8, 2010 • Shegar, Tibet
Cho Oyu leader Eric Remza reports that the team made it down to

Shegar, and everyone is doing fine and looking forward to some hot showers at the hotel. Tomorrow morning they will hike to the top of the

"Crystal Fort" and will then spend another evening in Shegar before heading to Everest Base Camp the following day.
—Eric Simonson, IMG Director
May 7, 2010 • Team Makes Best of Bad Weather with a Tour of Tibet
IMG leader Eric Remza reports on the Cho Oyu situation over the last several days:
"The last three days were pretty bad weather-wise, with precipitation, clouds, and overall low visibility. Everyone from other teams who had moved up to Camp 2 on the day we were thinking of going up (but decided instead to descend) have already descended and are back in ABC. No one was able to fix the lines above C3; our sherpas guys tried twice and were turned back due to wind and then low visibility, and the other Sherpa climbers were also unsuccessful. There were some that looked to be making a go for the summit yesterday: two French Canadians, the friend of the deceased Russian climber and one Sherpa, but we found out today that they all have turned back. So overall, to the best of my knowledge, nobody has reached the summit of Cho Oyu. It is clear this afternoon here at ABC, but already the winds are beginning to pick up, and as the forecast predicts, the jet stream will be moving over the region by tomorrow."
Last night the Cho Oyu team celebrated leader Eric Remza's birthday with the Sherpa/Tibetan staff (and plenty of singing and dancing!) With the weather forecast not looking too good for the next week, the IMG team is going on a field trip. Tomorrow, the group has hired a jeep and will take their Chinese interpreter with them, and head down to visit Shegar, the famous old Tibetan town visited by the British back in the 1920's. They will have a day there to do the hike up to the famous Crystal Fort monastery, then they will go up to Rongbuk to check out the North side of Everest. Then, back to Cho Oyu, hopefully in time for possibly improving weather next week.
—Eric Simonson, IMG Director
May 5, 2010 • IMG Team Waiting for Better Summit Conditions
IMG leader Eric Remza reports from ABC that the team is back down and waiting for a more favorable window to make their summit bid. They are doing well and hanging in there. Up on Cho Oyu there are some other teams right now that are apparently going to try to squeak in a summit attempt tomorrow, but the weather forecast for the next few days remains dubious.
—Eric Simonson, IMG Director
May 4, 2010 • Bad Weather Conditions Return
IMG leader Eric Remza reports that the IMG Cho Oyu team went back up to Camp 1 and spent the night there, but that Cho Oyu was not kind to climbers today. We heard reports of a death up at C2 but that is not confirmed.
Higher up, IMG sherpas Mingma and Tashi tried to go to Camp 3 this morning to fix rope in the Yellow Band, but they were turned back due to high wind and cold temps. The weather was looking spotty, and the IMG team decided to head back down to ABC to wait till things looked a little better up high. Hopefully they will then be able to mount a summit attempt. Patience!
—Eric Simonson, IMG Director
May 3, 2010 • Team Heading Back Up in Better Weather
IMG leader Eric Remza reports that after several rest days back at ABC after their last rotation, and several days of snow and wind, the weather is now looking better and the plan for the team now is to head back up to Camp 1. From there the plan is to try to go to Camp 2 the next day, and see how the weather looks at that point before making a decision to stay up and make a summit bid or come back down and wait. We'll keep you posted!
—Eric Simonson, IMG Director
April 30, 2010 • Climbers Descend to ABC to Wait Out Weather
IMG Cho Oyu leader Eric Remza reports that the team is now back down at ABC, in a holding pattern due to the wind and snow up high the last couple days.
These are the times that require patience. Sometimes the mountain says no!
—Eric Simonson, IMG Director
April 29, 2010 • Team at Camp 1 Hoping for Better Weather
IMG Leader Eric Remza called on the sat phone to say that the team left C1 tried to go

up to C2 today, but that the weather deteriorated and the combination of wind, snow, and slow progress led to the decision to abort and head back to C1. They will re-evaluate tomorrow to see how the conditions are doing. If it is better, they may try to go back up to C2, otherwise they will head back to ABC to wait for better weather.
—Eric Simonson, IMG Director
April 27, 2010 • Getting Ready to Head Back Up
Today marked our third day of rest after our first acclimatization rotation. Everyone is doing well and in good spirits. The weather has been a bit fickle today down here at ABC, snowing and cold one minute, balmy the next, but overall it is pretty mellow.
The Sherpa team did a carry up to our Camp 2 (23,000ft) this morning. It was pretty windy up high this morning and evidence of a large lenticular cloud cap covered much of the upper mountain. The team got an early start and were able to push the load up by early afternoon, they are now beginning to make their way back down to ABC as I type.
Our plan now is to move up as a group to C1 tomorrow (28th) and then spend one night there. We will then attempt a move up to our C2 on the 29th, spend the night, and then descend down to ABC on the 30th. Till then, please keep us in your thoughts and hopefully the weather will work in our favor for this second acclimatization rotation.
—Eric Remza, Expedition Leader
April 25, 2010 • Cards, Movies, and Making Red Blood Cells at ABC
We are all doing well. Today was the first of three full rest days at ABC before we depart for our second rotation on the 28th (weather and health depending). We spent the day playing hearts and watching movies with Bill's Ipod. A cold snap has moved through camp and it is COLD out. So we are happy to be recovering down low here at ABC.
The South Korean team made a rather ambitious attempt for the summit this morning. We were watching their progress through our binoculars, but the weather came in pretty thick this early afternoon, and it was clearly not a good day to be going for the summit. We last heard that they had turned around and were heading back down. The remainder of the teams here on Cho Oyu seem to be working through their rotations and preparing for the days ahead. All the best from Cho Oyu ABC. Namaste.
—Eric Remza, Expedition Leader
April 24, 2010 • Resting After C1 Rotation
Hello from ABC. The team and I just arrived back from sleeping two nights at Camp 1, and we have now fully completed our first acclimatization rotation. Everyone in the team is doing well and we are enjoying the comforts of Advanced Base Camp (and the thicker air!)
We have a nice camp at C1; it is up on the ridge, and we are using our Eureka 5th Season tents. Yesterday we did an

acclimatization hike up to

the ice step, and everyone was able to troubleshoot ascending and descending the fixed lines.
Last night we had a windy and snowy evening, and it was a bit chilly this morning as we left C1 at around 9am. We were all able to get back to ABC in time for a late lunch. So we have a nice stretch of rest days here at ABC before we begin our second acclimatization rotation. Hot showers are on the itinerary for tomorrow, and it is going to be great to get some good rest down here at 18,600 feet. It is very important to maximize your rest and recovery days after a couple of days up high at new elevations. Also, we are wishing our fellow team member Bill a Happy Birthday, and he was able to connect with his family this morning from Camp 1.
All the best from the heart of the Himalaya!
—Eric Remza, Expedition Leader
April 22, 2010 • Camp 1 Rotation
IMG leader Eric Remza called on the sat phone to report that the team had a good trip up to C1 today (about 20,500 feet), on their first acclimatization rotation. Their route from ABC took them back up the lateral moraine of the Gyabrag Glacier to the Lake Camp, then up the steep dirt trail to the crest of the ridge where they hit the snow at C1.
The climbers, along with several sherpas, are comfortably ensconced in their tents, brewing and eating. The weather remains good, though the wind has been gusty at times. The plan for tomorrow is to climb up to the Ice Cliff, then come back down to C1 and spend a second night before descending back to ABC.
—Eric Simonson, IMG Director
April 21, 2010 • Rest Day Preparing for Climb to Camp 1
Hello from Cho Oyu ABC. Panuru and Phunuru headed up

early this morning to start fixing ropes around Camp 1.
The climbers took a rest day today at ABC, and made preparations for our move up to Camp 1 tomorrow (22nd). Overall, everyone is doing well. Hot showers were popular today; sometimes the little things make all the difference up here.
We also went over our rig set up for ascending the fixed lines which include our ascender (a mechanical device for traction up the lines) and packed our breakfast and dinner food for camping up high. Our food will be basic and most of it is quick and ready to eat items that just need hot water to aid in the preperation. Living and cooking at 21,000 feet will make everything a little more challenging.
So tomorrow we will make our way back to Lake Camp, pick up our cache from yesterday, and then continue the final two hours up to Camp 1. It will make for a long day, but the team is ready and excited for getting up higher on Cho Oyu. So keep us in your thoughts as we make our way up there tomorrow. Eveyone here gives their loved ones and friends back home the very best. Tashi Dalek and Namaste.
—Eric Remza, Expedition Leader
April 20, 2010 • Lake Camp Acclimatization Hike
Eric Remza reports from Cho Oyu ABC that today the team did an acclimatization hike to what is known as

Lake Camp, which is about 2 hours below Camp 1:
The team left ABC around 8:30am, cached some gear at our high point of 19,340 feet, and then returned to ABC around 3:15pm, so just under seven hours with long breaks. The terrain we covered consisted of rolling scree and boulder covered glacial ice, and we navigated our path amongst various lateral and medial moraines.
The whole group is back safely in ABC and everyone is doing well after having a filling dinner of pizza and french fries. Also, rehydrating ourselves after a long and strenuous day is our key motive to aid our body in its recovery. So off to bed, and we are planning to have a leisurely morning tomorrow. Items on itinerary include hot showers, fixed line practice, and plenty of rest. We hope this is finding you all well! Namaste.
—Eric Remza, Expedition Leader
April 19, 2010 • The Expedition Puja
Hello to everyone following IMG's 2010 Spring Cho Oyu expedition. We just completed our 2nd full rest day here at Advanced Base Camp (ABC), and everyone is doing well. This morning we had our Puja, which is a Buddhist ceremony to bless our team and allow us safe passage in the days ahead. It was wonderful to watch our Sherpa team get everything ready this morning which included making Tsampa cakes and decorating our puja alter. You can tell they are really excited about all of this, and everyone pitched in as we strung out prayer flags in three directions from the Stupa.
The Puja was conducted by our kitchen assistant, Renzing, who is Tibetan, and is also a Lama. The entire team was present for this event, and it lasted about an 1½ hours. There were many offerings present, such as cans of various beverages, cookies, crackers, and we placed our crampons and ice axes near the Stupa as well to recieve the blessings. We sat on foam mats and drank milk tea, we tossed dried rice into the air at various moments throughout the ceremony, and Juniper from Nepal was burned with its smoke permeating the moment. After the Puja was done, we all joined arms, sang songs and danced in celebration.
Tomorrow our plan is to head to Lake Camp, which is at the base of the large scree field that leads up toward Camp 1. We will cache some of our personal gear here and then turn around and head back to ABC for the evening. We will drop a line and a pic from our day out tomorrow. Everyone from the team gives their best to their loved ones, and we hope you enjoy following our journey to climb the 6th highest mountain on this planet.
—Eric Remza, Expedition Leader
April 17, 2010 • IMG Team Arrives at Cho Oyu ABC
The IMG Cho Oyu team has arrived at

Advanced Base Camp, about 18,500 feet. The route to ABC runs along the lateral moraine on the east side of the

Gyabrag Glacier, then turns to the east before the famous Nangpa La pass (the ancient trade route to Namche Bazaar in Nepal). From ABC the team has a nice view towards Nangpa La, where it is not unusual to see yak trains heading over the pass with trade goods. The team will now take a couple days to acclimatize and train at this new elevation, before they start to climb higher.
—Eric Simonson, IMG Director
April 15, 2010 • Moving Up to Intermediate Camp
Today was the team's third day at Cho Oyu BC at 16,200 feet. Some of the highlights of the day included a day hike, going over the use of

the hyperbaric bag, watching a movie, plus Bill and I had a DJ contest with the iPod.
Tomorrow marks our departure to our next camp which is half way between BC and ABC, this is known as

Intermediate Camp. We will give you an update upon our arrival into IC. Everyone wishes those following along the very best. Namaste.
—Eric Remza, Expedition Leader
April 14, 2010 • Tibet Earthquake Not in Cho Oyu Area
The team is doing well at BC and had a relaxing day adjusting to the 16,200 foot of elevation here.
The food here is spectacular and everyone is staying healthy and happy (knock on wood).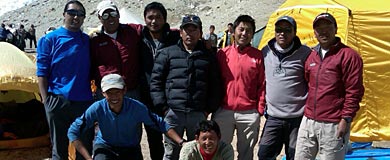 Also, you may have heard their was a big earthquake in Western China/ eastern Tibet. We did not feel the effects of this here at BC and everyone here is safe. Our hearts and prayers go out to the people that were affected by this tragedy. Namaste.
—Eric Remza, Expedition Leader
April 13, 2010 • Cho Oyu Team Reaches Base Camp
The IMG members have now reached Base Camp (about 16,000') which is the first time that members, Sherpas, and Tibetans are all together. (The Sherpas had gone ahead from Nylam to work on BC, and the Tibetans met the group in Tingri.) Everyone is doing well.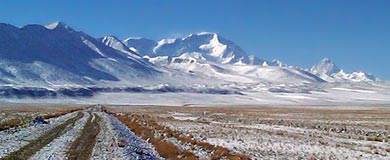 Rinzing, our longtime Tibetan kitchen assistant who lives near Tingri, was happy to see the IMG group again and has been working with our Sherpa cook Pasang Nuri to whip the

base camp into shape.
The plan now is for the members to stay for several days at BC, doing acclimatization hiking and preparations, before heading up to Intermediate Camp and finally to Advanced Base Camp (ABC).
In the meantime, the Sherpas are working on packing the food and gear into

yak loads and they will head up soon with the yak drivers to start working on the ABC camp.
—Eric Simonson, IMG Director
April 12, 2010 • Acclimating Above Tingri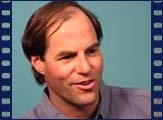 IMG partner Eric Simonson describes Tingri, Tibet in a 1999 interview.
It's quite sporty »
IMG leader Eric Remza reports that the team had a good acclimatization hike yesterday, climbing to over 15,400 feet on

a ridge above Tingri. From there they had great views of Everest and Cho Oyu. The sherpas are up at Base Camp now, getting everything organized for the teams arrival tomorrow. At Base Camp, they will meet their Tibetan team members Dorje, PingTso, and Rinzing.
—Eric Simonson, IMG Director
April 11, 2010 • Cho Oyu Climbers Reach Tingri
I spoke to IMG leader Eric Remza on that sat phone and he reports that today the team drove from Naylam to Tingri, where they will be for the next two days.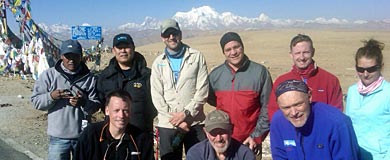 This picture was taken from their high point at an elevation of 16,600ft looking southwest towards Shishapangma. Now, in Tingri, they have great views of Everest and Cho Oyu. Tomorrow they will do an acclimatization hike. So far everyone is doing well.
—Eric Simonson, IMG Director
April 10, 2010 • Cho Oyo Team Heading for Tingri
Everyone is doing well and we all had a nice acclimatization hike today up one of the local ridges above town (Nylam). Today was all about taking it easy, so our 3-4 hour hike gave us a chance to take in the thin air and get some nice views of the surrounding Himalayan peaks.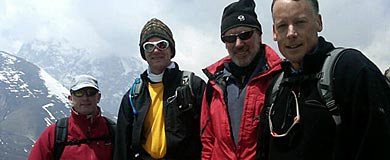 Most of our Sherpa crew left early this morning for the town of Tingri, along with the truck that is transporting most of our gear to Cho Oyu Base Camp. The Sherpas will continue to Base Camp on the 11th.
The group and I will drive to Tingri tomorrow (11th) and will be there for two days total. We will drive up a couple high passes tomorrow in our caravan of Landcruisers and will stop along the way to check out some of the views along the way. One in particular will be of Shishapangma, the 14th highest peak in the world and "smallest" of the 8000m chain.
We have been getting to know each other as a group with plenty of engaging conversation. Most importantly, people are looking out for each other and this will prove itself well as we begin our ascent of the 6th highest mountain in the world, Cho Oyu.
Everyone gives their best! Tashi Dalek!
—Eric Remza, Expedition Leader
April 9, 2010 • Nylam
IMG leader Eric Remza reports that

the team has now reached Nylam, and are doing well. After coming up the

famous Bhote Kosi valley road from Zhangmu (with its thousand foot drops down to the river), Nylam makes the very beginning of Tibetan villages and farming.
At over 12,000 feet, Nylam is a perfect elevation for a couple acclimatization days, with some nice hiking in the area to stretch the legs.
The team still needs to climb a bit higher, though, over the

Tsong La pass (over 17,000) before they get to the real Tibetan Plateau and the route to Tingri. Along the way they will pass the site of Milrepa's cave, where that pioneer of Tibetan Bhudddism stayed for many years.
The report is that the

Friendship Highway road is all much improved, with much of it now paved, a big change from the old days of driving dusty Tibetan gravel roads.
—Eric Simonson, IMG Director
April 8, 2010 • Zhangmu
We are in

Zhangmu. We all made it over the boarder with no issues. Everyone is doing well; we had a delightful dinner and will depart for

Nylam early tomorrow morning.
—Eric Remza, Expedition Leader
April 7, 2010 • Cho Oyu Team Is On The Way
Their Chinese visas in hand, the Cho Oyu team is on the way! The sherpas loaded the big container truck this afternoon with all the food and equipment and Tashi Tsering headed out with this load, heading for Lamusangu.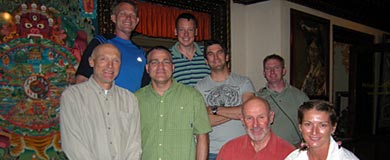 IMG guide Eric Remza and the team members, along with Panuru, Mingma Ongel, Phunuru, Nawang Younden, and Pasang Nuri, leave in the morning in a big bus for Kodari, where they will link up with the truck. At Kodari they will exit Nepal and cross the Friendship Bridge into China, then climb up the big hill to the town of Zhangmu where they will spend the night. Then, it is on to the towns of Nyalam and Tingri over the next few days, as they slowly acclimatize on their trip to Cho Oyu Base Camp.
—Eric Simonson, IMG Director
The IMG 2010 Cho Oyu Expedition Team
Cho Oyu Climbers
Expedition Leader:
Eric Remza
William McGahan
Ted Hedberg
Christopher Lane
Kerrie McMartin
Gordon Gears
Gene Pelizzoni
Brian McEachern
Sherpa Team
Sirdar:
Panuru Sherpa
Tashi Tseri Sherpa
Mingma Ongel Sherpa
Phunuru Sherpa
Nagwang Younden Sherpa
Pasang Nuri Sherpa
Tibetans:
Dorje
PingTso
Rinzing