2008 Cho Oyu Expedition Coverage
Led by: Olivia Cussen, Michael Hamill and Ang Jangbu Sherpa
Expedition directed by: Eric Simonson
Meet the Team (lower on this page) »
Sign up for email updates »
Oct 9, 2008 • Team 2 Returns to Kathmandu; Expedition Over!
Ang Jangbu reports that the Second team arrived back to Kathmandu about 7 pm this evening. It sounds like the road was passable for them between Nyalam and Zhangmu. After crossing the Friendship Bridge below Zhangmu, they entered Nepal at Kodari and switched to Nepal vehicles and a large truck. From there it was a four hour road trip to Kathmandu.
Thanks for following along with the 2008 Cho Oyu expedition! It ended up being an excellent trip, despite, or maybe in part because of, all the uncertainty at the beginning!
We are already making plans to go back to Cho Oyu Spring 2009 (leave USA April 3, trekkers back May 2, climbers back May 24).
If you would like to keep following events in Nepal, we have two IMG Everest trekking and climbing groups we are currently covering — they flew to Lukla the last couple days and are currently in Namche and Phakding respectively, on the way in to EBC, Lobuche Peak, and Ama Dablam. You can sign up to get those updates by clicking here and selecting the EBC/Lobuche/Ama Dablam distribution list.
—Eric Simonson, IMG Director
Oct 8, 2008 • Team 2 on way to Kathmandu; Plane Crash in Nepal
Ang Jangbu reports that the Second team left Cho Oyu on schedule and they are en route to the border in the jeeps and trucks today. There were reports of a landslide on the

road between Zhangmu and Nylam, so it is unclear whether they will get delayed. Landslides are common on this stretch of road, and we have dealt with this many times (sometimes we have to hire porters to carry the gear to a different truck on the other side of the blockage).
You may have heard the news today of the plane crash in Lukla, the gateway to the Khumbu. I have flown this flight dozens of times, so I know this area well, and this is really sad news. This accident did not involve our IMG group of Everest Base Camp trekkers.
—Eric Simonson, IMG Director
Oct 6, 2008 • Team 2 in ABC; Team 1 in Kathmandu
Ang Jangbu reports that the Second team have all safely descended to

ABC. Yaks and trucks are on schedule for their departure and they are expected back to Kathmandu on the 9th. The first team arrived Kathmandu today, and were last reported to be heading for the Everest Steakhouse for dinner!
By now you may have heard that there were several accidents on Cho Oyu over the last few days involving several other teams. Thanks to the IMG team members for the positive role they played in responding. We offer our best wishes and condolences to the team members, families, and friends affected by these recent accidents on the mountain.
—Eric Simonson, IMG Director
Oct 5, 2008 • Second Team summits!
Ang Jangbu reports that the Second team reached

the summit and all members have now safely descended to C2. Everyone is doing well and will descend further, to C1. Congratulations to the summiters:
Climbers: Karel, Nate, Chris, Louis, Ted and Paul.
IMG Guides: Mike Hamill and Greg Vernovage
IMG Sherpas: Mingma Dorje, Karma Rita, Chhewang Lendu, Dasona, Phunuru, Tashi Tshering and Tseten Gyurme
The summit sherpa team pulled down C3 and took down all tents at C2. They just left C2 on their way down and might come down all the way to ABC. We now have 5 sherpa loads at C2 which will be brought down tomorrow by AP, Dawa, Danuru, Mingma Tenzing and Penjo. I am planning to send 6 or 7 Tibetan porters to C1 to bring down gear. We should have everything down by tomorrow afternoon.
Members of the First team left ABC today and are on their way to Nylam now. The Second Team will finish packing on the 7th, the day yaks arrive, and depart for Kathmandu early on October 8th.
—Eric Simonson, IMG Director
Oct 4, 2008 • Climbers leave Camp 3
Ang Jangbu reports that the second team started up at midnight. No wind and the weather is good.
—Eric Simonson, IMG Director
Oct 4, 2008 • Team 1 Returns to ABC; Team 2 at Camp 3
Olivia reports that the first team is now all down to ABC safely and that Mike's team are now moved into C3 in preparation for their summit bid tonight. The weather remains good.
We'll keep you posted!
—Eric Simonson, IMG Director
Oct 3, 2008 • Everyone Headed for Camp 2
Jangbu reports that everyone from the First Team has safely descended to C3 and are on the way down to C2. The Second Team are on their way up to C2, so it will be a busy camp tonight. The weather is looking good!
We'll keep you posted!
—Eric Simonson, IMG Director
Oct 2, 2008 • IMG Team Summits!
Jangbu reports that everyone from the

First Team reached the summit of Cho Oyu between 6:58 am to 7:10 am Nepal time this morning. Everyone is now on their way back to C3.
Congratulations to:
Climbers: Robert Meyer, John Dahlem, Ryan Dahlem, Hamish Walton and Vladimir Grechka
IMG Guides: Olivia Cussen, John Race, Eben Reckord and Ben Kurdt
IMG Sherpas: Danuru, Dawa, Mingma Tenzing, Ang Karma and Penjo
We'll keep you posted!
—Eric Simonson, IMG Director
Oct 2, 2008 • High Camp!
Ang Jangbu reports that Olivia's team pulled in to C3 in good timing. Took 3 hours and 45 mins for most people. Their plan is to leave C3 at 1 am to beat the crowd. Sherpas are leaving camp 2 at 10:30 pm tonight.
Mike's team is at C1 tonight and they are all doing well.
—Ang Jangbu Sherpa, Expedition Co-leader
Oct 1, 2008 • Camp 2 occupied, First Cho Oyu Summits
IMG Leader Ang Jangbu Sherpa reports from ABC that Olivia's team is at C2 now, getting ready to go to C3. Mike's team heads up to C1 today. More than 50 climbers went to the summit this morning. Most people left from C3 but some went direct from C2 leaving there at 8 pm last night.
At 1:30 this morning there were line of light above the yellow band and they crested over the summit plateau around 6 this morning. There are still a few people below the summit plateau now (8pm west coast time).
—Ang Jangbu Sherpa, Expedition Co-leader
Oct 1, 2008 • Summit Bids Begin!
Jangbu reports that Olivia's team is in camp 1, with no wind and perfect weather. They will be heading for C2 later today. Tashi and Tseten along with two other Tibetan climbers with the Chinese group are fixing above camp 3 right now. Tashi reported the weather up high is okay.
First summit team sherpas: Mingma Tenzing, Dawa, Ang Karma and Penjo left early this morning to go to C2. They will spend the night at camp 2 tonight. We have Ang Pasang, Karma Rita, Nima Karma, Tshewang Lendu and Mingma Dorje headed to camp 1 this afternoon to sleep there. All Sherpas except for Tashi and Tseten will carry to C3 tomorrow and set up tents before members get there. Mike's team will head up to camp 1 tomorrow to summit on October 5th.
—Ang Jangbu Sherpa, Expedition Co-leader
Sept 29, 2008 • Ready for summit bids!
The IMG team are all back down to ABC. The second team with Mike Hamill went up and overnighted at C1, two nights ago, but were unable to reach C2 the next day due to high wind, so they descended to ABC. The good news is that the wind has scoured away the heavy snow up high, so climbing conditions should be good.
Olivia Cussen's first team are planning to start up tomorrow to C1, on their way up on the first IMG summit bid. Mike's team will head up in a few days, after resting at ABC. Keep your fingers crossed the weather cooperates now!
—Eric Simonson, IMG Director
Sept 26, 2008 • Windstorm!
The IMG team is now all back down to ABC. The first team descended yesterday from C2 in strong winds after spending the night up there. The second team started up to C1 yesterday, but turned back and descended back to ABC to wait for improvement in the weather. Mingma Tenzing, Chhewang Lendi, Tashi and Tseten went on to C1 to check on tents and they were able to save the camp from what turned into quite a strong windstorm overnight. It sounds like some of the other teams up there again lost a bunch of tents.
Before leaving C2 the first team took down most of our tents there and reinforced the remaining ones, and today we sent Karma Rita and Nima Karma up there to C2 to check on the camp. It sounds like it is all OK with our C2 tents, but again, some other teams lost their tents which had been poorly pitched and then abandoned to the weather. These camps represent a huge investment in work, not to mention the value of the gear, so we are working hard to insure they remain in good shape for the summit bids. The plan now is for the second team to move up as soon as the weather improves, while the first team is now resting for their summit bid.
—Eric Simonson, IMG Director
Sept 24, 2008 • Climbers Reach Camp 2
IMG leader Ang Jangbu reports that the first team climbed to

Camp 2 today in reasonable weather. It sounds like they're all doing well and are planning to drop back down to ABC tomorrow. The second team will head to C1 tomorrow and on to C2 the following day to spend the night, before dropping back down to ABC on the 27th.
Tashi and Tseten head up to C2 tomorrow, and plan to fix the Yellow Band the following day, as the IMG representatives. They will be joined by three from the Tibet Guides School, and Lakpa from Field Touring. Now that the big tropical storm has passed to the south, the weather seems to be improving. Let's hope it holds!
—Eric Simonson, IMG Director
Sept 22, 2008 • Camp 1 and Beyond
IMG leader Ang Jangbu reports from ABC the first team did a nice C1 rotation and are all back down. Members spent the night at C1 and then climbed to various heights the next day, with some going up to

the ice cliff.
The second team heads up tomorrow for their C2 rotation. We are sending 9 sherpas to round trip C2 tomorrow. Dawa and Mingma Tenzing will stay at ABC tomorrow and go up next day to camp 2. They will fix above camp 3 on the 25th with three climbers from the Tibet Guide School team and one sherpa from Field Touring.
—Eric Simonson, IMG Director
Sept 20, 2008 • Storm
IMG Leader Ang Jangbu reports that the IMG Sherpas and team # 1 members moved up to Camp 1 on the 19th, with the plan to fix rope and move to Camp 2 the next day. Team # 2 was planning to move up on the 20th, one day behind them. However, overnight the weather deteriorated and Cho Oyu is now getting pummled by heavy wind and some snow, from a tropical depression moving slowly out of the Bay of Bengal. All team members have now returned from Camp 1 to ABC and the Sherpas are taking down the tents at C1 to keep them from being destroyed. The team will give it a day or two for the storm to blow out, then everyone will be heading back up the hill!
—Eric Simonson, IMG Director
Sept 17, 2008 • Puja!
It's been a busy week so far for the IMG Cho Oyu Teams. Team 1, under the leadership of Olivia Cussen, made good time on their return trip to Camp 1 on September 15th. We now have 7 Eureka! 5th Season sleeping tents and one cook tent set up at C1. They spent the night at C1 and then early the next morning they all climbed above Camp 1 to the ice cliff before descending back down to ABC to greet Team 2 and participate in the ritual Puja ceremony with the Sherpas today.
Team 2, under the leadership of Mike Hamill, arrived at ABC on schedule on September 15th, all members of the group doing OK. They took a rest day on September 16 and joined in the Puja ceremony today.
Both groups are strong and doing well. Plans for the next set of rotations uphill are under consideration, with Team 1 hoping to head uphill again on the 19th and Team 2 hoping for a day trip to Camp 1 on the 18th, a rest day on the 19th, and then a trip back to C1 on the 20th with plans to sleep at C1.
But, plans are always subject to change, and right now the weather forecast is not good, showing a large and strengthening storm out of the Bay of Bengal which may deliver a fairly good load of new snow and wind in the Cho Oyu area by the 18th or 19th, so all plans to continue climbing higher from ABC may go on hold until the teams see what this storm holds and determine the safety on the route if a lot of snow does come down and get blown around.
A few more teams have arrived at Cho Oyu ABC, including Korean, Italian and Spanish groups.
We'll let you know when we hear from the team again.
—Erin Simonson, IMG Office
Sept 14, 2008 • Camp 1 Overnight
IMG Team 1 Leader Olivia Cussen sent a quick note to let us know that the team had a successful foray and carry up to

Camp 1, the round trip took team members between 7.5 and 9 hours. The talus up to Camp 1 is a bit slippery and tricky because of the nightly fresh snowfall, so they may put in a "Lake Camp" to help break up the climb a little. The Sherpas made a second carry to Camp 1 and now there is an up and a down line on the ice cliff above Camp 1.
Some of the climbers plan to head to Camp 1 for an overnight stay on the 15th. The monsoon hasn't completely abated yet and the team is seeing light snow flurries every day and night, but not much accumulation or wind, so the conditions appear reasonable. We have a professional weather forecaster looking at the weather patterns in the area to keep an eye on the jet stream and the monsoon impacts on precipitation in the Cho Oyu area.
We'll let you know when we hear from the team again.
—Erin Simonson, IMG Office
Sept 11, 2008 • ABC Deluxe
IMG Team 1 Leader Olivia Cussen reports thats Team 1 arrived at

ABC (Advanced Base Camp) on September 9th, and all were amazed to find how much work the Sherpa staff had already done to buff out the camp, including swanky new rock vestibules for the sleeping tents, deeee-luxe! With few teams in residence, the setting is as good as ever!
The team enjoyed a sunny rest day yesterday after their first night at ABC with a bit of snowfall, then last night they got another few centimeters of snowfall and will take another rest day today. Tomorrow (September 12) the Sherpas plan to make a carry to Camp 1 and then start fixing the route above Camp 1 while the rest of Team 1 takes an acclimatization hike to Camp 1 or Lake Camp.
Meanwhile, IMG Team 2 Leader Mike Hamill called in from Tingri to report their progress, all are doing well and their plans are to move to Base Camp today and then probably move on up to ABC on September 14th. They'll have a few rest days at ABC to build their acclimatization before heading uphill again.
Cho Oyu 2008 is rolling right along, we'll let you know when we hear of more progress.
—Erin Simonson, IMG Office
Sept 7, 2008 • Sherpas Establish ABC; Teams on the Move
IMG Leaders Olivia and Jangbu report that 6 sherpas and 30 yaks made it to ABC today. We are the first foreign expedition team this year to ABC (there is a Chinese expedition there). Our guys got the base station radio set up and they are in contact with BC. Parties going above BC now need a special permit from the Chinese army post nearby. Then, there is a checkpost at the Intermediate Camp (we will call it IC) and team passports were collected there. Hamill's team is in Nylam doing acclimatization hikes, sounds like everyone is doing well. They will move to Tingri tomorrow. So far so good!
—Eric Simonson, IMG Director
Sept 5, 2008 • Team 1 in BC; Team 2 Prepares to Leave Kathmandu
IMG Leader Olivia Cussen reports that the first team have successfully reached Cho Oyu BC. So far everything is going well for them.
The second team returned to Kathmandu from their trek in the foothills of the Annapurna range, near Pohkara, and they have now successfully received their passports and Tibet visas. Traveling with the second group will be Phunuru and Da Sonam. Their plan is to leave 6am Saturday morning for Zhangmu, where they meet their Liason Officer Li Chengxiang and spend the night.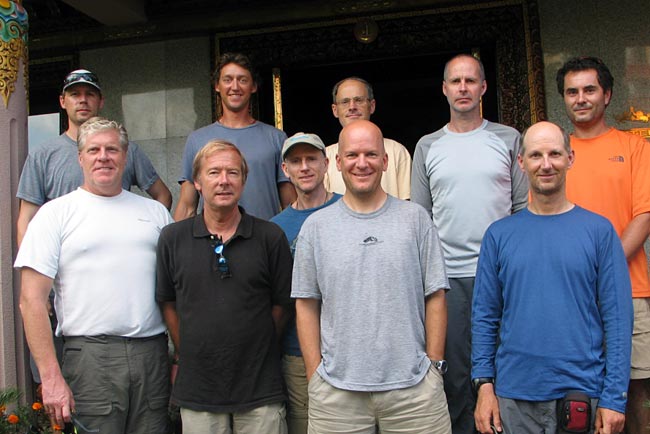 Here is the tentative schedule for the Second Team:
31 August: Arrive Kathmandu
01 September: submit visa application to embassy; fly Pokhara, trek to Dhampus
02 September: Trek to Landrung
03 September: Trek to Ghandrung
04 September: Return trek to Nayapul and drive to Pokhara; fly to Kathmandu
05 September: Free day in Kathmandu for last minute preparation; collect passport/visas from embassy
06 September: Drive to border, meet CMA LO and drive to Zhangmu, hotel
07 September: Drive to Nyalam, hotel
08 September: Acclimatization day in Nylam
09 September: Drive to Tingri
10 September: Acclimatization in Tingri
11 September: Drive to Cho Oyu base camp
12 September: Acclimatization day
13 September: Interim camp
14 September: ABC
We'll keep you posted!
—Eric Simonson, IMG Director
Sept 3, 2008 • Team 1 in Tingri; Team 2 in Kathmandu; Sherpas in BC
IMG leaders Olivia Cussen and Ang Jangbu called on the sat phone to report that all members of the first team have now reached

Tingri. They had a nice drive today from Nylam, up over the Tsang La pass, from which they had great Himalayan views.
Jangbu returned to Tingri from

Base Camp, where the Sherpas are now working to get the site established. Right now there is only one other Chinese team at BC. Tomorrow the team members take acclimatization hikes in the Tingri area (reaching to nearly 15,000 feet) and then the next day the plan is to go to BC. So far so good!
—Eric Simonson, IMG Director
Sept 1, 2008 • Team 1 in Nylam; Team 2 in Pohkara
Ang Jangbu's partner in Kathmandu, Pasang Tshering, reports that that the Second Team successfully submitted their passports on Monday and then flew to Pohkara. It sounds like the weather has improved for trekking while they wait for their visas (to be picked up on Friday in Kathmandu.)
Ang Jangbu reports that the First Team is now in Nylam, Tibet (12,000') and doing well. The trip up the gorge from Zhangmu was still exciting, though recent roadwork has made the road somewhat wider and safer. Our group are the only foreigners in town. Tomorrow Jangbu goes on to Tingri with the Sherpas, and then they will go on to Base Camp the next day to start getting it set up. All non-sherpa members, along with Liasion Officer Li Chengxian and Dawa Sherpa (who was with me in 1995 on our first IMG Cho Oyu expedition, and many trips in between) will stay another day/night in Nylam. Tomorrow they will go for an acclimatization hike in the hills above town, which is quite spectacular.
Here is the tentative schedule:
Climbers:
9/2: Members in Nylam/Sherpas to Tingri
9/3: Members to Tingri/Sherpas to BC.
9/4: Members in Tingri/Sherpas set up base camp
9/5: Member to BC. First group of 30 yaks arrive BC.
9/6: Members at BC/Advance team of Sherpas & Yaks to ABC direct
9/7: Members at BC/Yaks return to BC
9/8: Members to IC
9/9: Members to ABC
Trekkers:
9/10: ABC
9/11: ABC day hike
9/12: Drive to Rongbuk
9/13: Drive to Xhigatse
9/14: Drive to Lhasa
9/15: Day in Lhasa
9/16: Lhasa/Kathmandu
We'll keep you posted!
—Eric Simonson, IMG Director
August 30, 2008 • Monsoon Trekking and Chinese Visas
IMG Leaders Olivia Cussen and Ang Jangbu report that the first team returned from their trek in the foothills of the Annapurnas, and it sounds like they had a fun trip. Trekking during the monsoon season is always interesting, and our team had it all: sun, rain, and good team fun. They ended up driving back to Kathmandu because the flight from Pohkara was cancelled due to bad weather, so they got to see a nice chunk of Nepal!
The team received their Chinese visas on Friday, but there was a one day delay to iron out the visas for the Sherpas. Now those documents have been received too, so they are preparing to leave for the border at 6am Sunday morning.
On Saturday afternoon the Sherpas packed the container truck and sent it to Kodari with all the team gear and accompanied by Chhewang Lendu and Ang Karma. Meanwhile, our second team leaders Mike Hamill and Greg Vernovage arrived Kathmandu on Saturday and the other members of the second team are arriving today and tomorrow.
Tonight the first team has a kickoff team dinner hosted by IMG to celebrate the fact that the trip is all coming together! I am reminded by the old adage "if it was easy, everyone would be doing it." Well, this year has not been easy to run an expedition to Cho Oyu, but I think we will be rewarded by having the mountain largely to ourselves. It does not sound like very many other groups have had the wherewithal to go through all the hoops to get the permits. Thanks to Ang Jangbu, Pasang Tshering, Li Guowei, and all the people who worked tirelessly on this! We'll keep you posted on the progress.
—Eric Simonson, IMG Director
August 25, 2008 • Team #1 Arrives in Kathmandu
The first IMG Cho Oyu team has reached Kathmandu! IMG Leaders Olivia Cussen and Ang Jangbu report that team members are doing well and are excited to be finally in Nepal. This morning the team sent in their passports to the Chinese embassy for the Tibet visa. The rules have changed recently, so we have to apply on Monday and we get the passports on Friday.
Later today, the group flies to Pohkara, Nepal, for four days of trekking in the foothills of the Annapurna range. Then, they fly back to KTM to pick up their passports and go to Tibet. Or so we hope! It is always a bit "iffy" getting the visas and permits for Tibet, and this year has been even more so, but based on our experience of over 25 years of conducting programs in Tibet, we remain hopeful that we will soon be on our way to Cho Oyu.
—Eric Simonson, IMG Director
The IMG 2008 Cho Oyu Expedition Team
Cho Oyu Team One
Expedition Leader:
Olivia Cussen
IMG coach:
Eben Reckord
Private guide:
Ben Kurdt
Private guide:
John Race
Climbers:
David Rice
John Dahlem
Ryan Dahlem
Monica Rimai
Hamish Walton
Vladimir Grechka
Robert Meyer
Trekkers:
Stephen Voight
Gayle Meyer
Cho Oyu Team Two
Expedition Leader:
Michael Hamill
IMG coach
Greg Vernovage
Climbers:
Christian Bergum
Louis Carstens
Theodore Fairhurst
Nathan Dolbeare
Alfred Schumer
Paul Garry
Michael Chapman
Karel Masek
IMG Cho Oyu Sherpa Team
Ang Jangbu Sherpa
Ang Pasang
Tshewang Lendu
Dawa
Ang Tshering
Karma Rita
Mingma Tenzing
Danuru
Phunuru
Nima Karma
Dasona
Ang Karma
Mingma Dorje
Kaji
Pasang Nuri