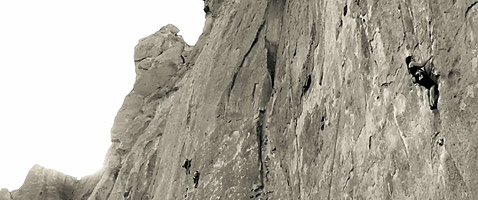 Smith Rocks Fall Climbing Seminar Trip Report
by IMG guide Austin Shannon
Smith Rocks is the birthplace of modern sport climbing. Oh, if these walls could talk. The development of Smith Rocks through the years has been astounding. Everywhere you look there is a new route to climb or a new spire to explore. It is safe to say, any adventure you are looking for can be found, or at least started, at Smith Rocks. Climbers who attend the Smith Rocks seminar have the opportunity to learn any and all skills necessary to climb any type of rock. If you want crack climbing technique, face climbing, alpine rock, rope management, or simply some millage, we can get it done at Smith Rocks.
2013 marked another great season at Smith Rocks State Park in Oregon. Many new skills were taught, countless routes climbed and good times had by all. We had two weeks of beautiful weather. Each of the five-day trips started off with lots of instruction. Learning things like proper belay techniques, rope management, rock anchor construction, and basic climbing technique. Throughout the week everyone had many opportunities to have fun and demonstrate all the newly acquired skills. The first two days were spent establishing all the necessary skills in order to move safely and efficiently on the bigger longer routes later in the week. As the days progressed so did the routes. Multi-pitch climbing is the perfect opportunity to develop new skills. Climbers are able to repeat the new skills and build muscle memory and see amazing views at the same time.
By the end of the week climbers that were completely new to climbing were completing long, demanding routes with greater efficiency. One of the highlights of the trip was topping out on the Monkey Face. We climbed the 500 foot freestanding pillar via the pioneer route. The pioneer route is a 5.6 C0 intermediate climb. Once on top you are surrounded by views of the green farmlands below spreading out to the central cascades just a few miles away. Come see for yourself!
—Austin Shannon, IMG guide