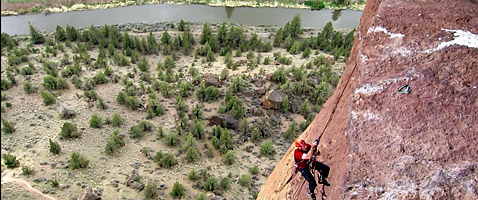 IMG Smith Rocks Itinerary
Day
Itinerary
Day 1

Group meets at 8:00 a.m. General introduction of instructors and group. Following a brief discussion of appropriate clothing and equipment, the group will travel to the nearby training area located in Smith Rocks State Park. Topics to be covered will likely include: The basic principles of movement on rock, efficiency, and the use of different hand and foot holds. Other skills to be introduced include belaying and self/partner rescue techniques.

Day 2

Continued top-roping of increasingly difficult pitches with the introduction of additional techniques as appropriate. Other topics of discussion and applied practice will include anchors (natural, passive and active), anchor systems and rappelling.

Day 3

When you are ready we will delve into lead climbing skills. We will practice on single and possibly multiple pitch climbs placing protection on the lead, setting up belays, and swapping leads. Students will simulate leads with a top-rope backup.

For the Five-Day Seminar add the following sessions:
Day 4

Advanced skills. A multiple pitch climb will be attempted as conditions permit to introduce students to an array of advanced skills. Here we will really get a chance to fine-tune individual technique. This is a great day, putting to use all of the skills we have learned to this point. The climbing will not be more difficult, just a "real life" climb led by the guide, natural belay stations and a beautiful view.

Day 5

Advanced skills, continued. We will have the opportunity to top-rope harder climbs. Techniques will be introduced for dealing with steeper terrain.
International Mountain Guides leads climbs in Smith Rocks State Park under permit from the Oregon State Marine Board.