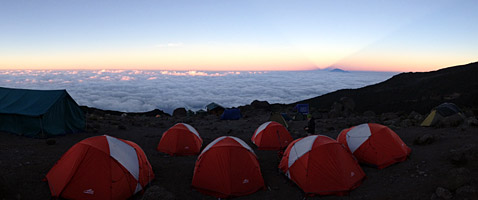 2018 Kilimanjaro Summit Climb & African Safari Trip Report
by Tye Chapman
For anybody considering joining one of our Kilimanjaro Climbs & Safari program, do it. You will not regret it! Below is my trip report that gives a day-by-day account of the climb & safari. Hopefully it provides a little context and sheds a little light on some of the salient details of our Kilimanjaro Climb & Safari program.
Day 1: Arrival Day
After just barely making my connection in Amsterdam, I landed in Tanzania at 8:30pm without my bags. Not the end of the world, they'll show up tomorrow. Straight to the hotel (45min drive) where I grabbed a couple bottles of water and a beer from the hotel bar and went to my room to settle in and get some rest.
Day 2: Prep Day
This is typically a day for the guide to get things squared away for the climb. I checked in with our Tanzanian partners. Swapped out the SIM card in my phone. Checked the SAT phone & the med kit. All was in order. After dinner I went back to the airport to pick-up our inbound climbers, and to retrieve my duffel bags that were on the same flight. My bags were there. Tatsuya's, one of the climbers, were not. No worries they'll show up tomorrow. Back to the hotel to get folks checked-in and off to bed.
Day 3: Team Meeting & Gear Checks
Our first official team meeting was breakfast at 9am. Everybody was there and ready to go. After some introductions and a quick rundown of the next couple days we jumped into gear checks... for everybody but Tatsuya. Everybody had what they needed, and a little more. After gear checks were complete we grabbed a bite to eat, then hit the town to explore a bit and run a couple errands. On the agenda was walking through the local market, swinging by a pharmacy, picking up some snacks at the grocery store, and then wrapping things up with a milkshake. The day ended with a team dinner and an airport run for Tatsuya, where he successfully collected his bags.
Day 4: Moshi — Machame Gate (5,900ft.) — Machame Camp (9,850ft.)
Go time. Breakfast at 7:00am. In the van at 8:00am. Checked-in at the Machame Gate by 10:00am and walking shortly thereafter. The bulk of the day is spent in the trees (read rain forest). We walked as a team getting to know each other and soaked in our new surroundings.
It rained a bit in the afternoon (rain forest) but stopped by the time we arrived in camp. Thankfully that was the only rain we'd see on the climb. Once in camp, the team settled in, had dinner and wandered around taking some photos. Roughly 6 hours on the trail and a great first day!
Day 5: Machame Camp (9,850ft.) — Shira Camp (12,600ft.)
Just after Machame Camp we popped out of the trees and entered the zone of weird plants, which was likened to the high desert on LSD. It made for a nice backdrop to the day. Things slowed down today. No hurry above 10,000ft! Clear morning, cloudy afternoon and a clear evening. This was to be the weather we'd get used to for rest of the climb. Another 6+ hours on the trail today, but the team did it in good form and with smiles on their faces.
Day 6: Shira Camp (12,600ft.) — Lava Tower (15,200ft.) — Barranco Camp (13,050ft.)
Up at 6:30, breakfast at 7:00, on the trail at 7:30.
The trail today had a gentle, steadily uphill grade to it, as we made our way up to the Lava Tower for lunch. The team could really feel the altitude today. We maintained a nice pace and were able to enjoy lunch in the clouds at the Lava Tower.
The wind picked up so we scooted downhill to Barranco Camp. 8+ hours on the trail today. A pretty big day but it's an excellent acclimatization day. Everybody bounced back with some hot tea and some salty popcorn in camp.
Day 7: Barranco Camp (13,050ft.) — Barranco Wall (14,000ft.) — Karanga Camp (13,250ft.)
Barranco Camp sits right at the base of the Barranco Wall, so we had the previous evening and the morning to stare at our next objective. The Barranco Wall looks pretty intimidating from camp, but the truth is it's a pretty fun 2 hours. There is a little scrambling but the handholds are solid and the exposure is very low.
Once on top of the Barranco Wall we soaked in the sun for 30 minutes, just enjoying the moment. After the break we made our way to camp for a hot lunch and some naps.
Day 8: Karanga Camp (13,250ft.) — Barafu Camp (15,200ft.)
Great trail today and the team did very well. We pulled into camp in under 4 hours. Barafu Camp (our High Camp) is spread out along a ridge. Our camp was in a good spot, with good access to the trail for summit night. We enjoyed a hot lunch in camp then the team settled in, rested up and got ready for our summit attempt. Dinner was at 5pm and most of the team was in bed by 6pm in anticipation of our 11pm wake-up call.
Day 9 : Barafu Camp (15,200ft.) — Uhuru Peak (19,340ft.) — Mweka Camp (10,000ft.)
Everybody was up at 11:00pm and in the dining tent having coffee and biscuits (cookies) at 11:30pm. We were on the trail at 12:05am. The trail on summit day is quite good. It can be steep at times but generally speaking the switchbacks are a comfortable grade and there are great places to take breaks. The weather was comfortable to start with clear skies and little to no wind, leaving the temperature to be our only battle. As the night wore on the temperature kept falling, but the team was ready. The puffy jackets went on and stayed on at our last pre-dawn break. We started seeing the sun on the horizon around 5:00am which was a nice boost to the morale.
The final push up the final stretch to Stella Point (crater rim) was in the morning alpenglow.
After a quick break at Stella Point we made our way to the true summit, Uhuru Peak. Once on the true summit the team was able to celebrate & take some photos. Quickly. It was pretty darn cold!
After 20 minutes on top we all made our way back to Stella Point to start the long walk back down to high camp. The team made good time back to high camp where we enjoyed about an hour break before lunch. After lunch it was time to keep moving. We pushed on down to the thicker air at Mweka Camp, pulling in a little after 4pm. After settling into the tents, we regrouped for dinner where we swapped stories from the previous 6 days on the trail. We didn't last long, the sleeping bags were calling pretty hard by 8pm. We all went to bed with a summit of Kilimanjaro under our belts!
Day 10: Mweka Camp (10,000ft.) — Mweka Gate (5400ft.) — Moshi
Up at 7:00am, breakfast at 7:30am and on the trail at 8:00am. Everybody slept pretty well and had recovered pretty well, but there were still some tired legs. Luckily today is a pretty easy day on the trail. After 3 hours through the rain forest we saw the gate. We made it! We checked out of the National Park, celebrated with our entire team of local guides, porters, cooks, etc. and then made the 1hr drive back to the hotel for showers and celebratory beers! Everybody cleaned up nice for our celebration dinner. After dinner a few of said goodbyes, others went back to their rooms and packed for safari.
Day 11: Moshi — Arusha — Serengeti
We were picked up right on time at the hotel and whisked away to the local airport in Arusha (after a quick souvenir stop) for our flight to the Serengeti. We snacked on our box lunch and waited for them to call our flight.
Once on the plane we were spotting animals from above within 45minutes. We touched down on the gravel runway after just about an hour in the air. We were immediately greeted by our safari driver/guide and countless Wildebeest and Zebras. The rest of the afternoon was one animal after another. Leopard, Lions, Elephants, Hippos, Giraffes, you name it we saw it. The afternoon came to a close with a large thunderstorm & about a 90min downpour. The timing was good — we were ready for showers and a beer. We checked into our luxury wilderness camp, enjoyed a great dinner and fell asleep to hyenas making sounds just outside our tents.
Day 12: Seronera Wilderness Camp — Ndutu Wilderness Camp
We awoke to some Cape Buffalo grazing outside our tents. Made our way to the dining tent for a wonderful breakfast of scrambled eggs, sausage and fresh fruit. After breakfast we jumped in the pop-top Land Rover and started the day. We spotted Giraffes, Zebras, Wildebeest pretty early on, but the highlight of the morning was hanging out with a Cheetah family (mom and two full grown cubs) who was keeping an eye on a hyena in the area.
The Cheetahs hung out for 15-20 minutes before going on their way. The afternoon highlight, and easily the highlight of the safari, was watching (from 8 feet away) a lioness snack on her recent zebra kill. Incredible. The lioness & her friends were less than 1km from our second luxury wilderness camp.
After checking in, having a beer and enjoying another great dinner, we fell asleep to the lions calling one another. You'll never forget that sound.
Day 13: Ndutu — Ngorongoro Crater
As if we hadn't been spoiled the previous two days! We entered the crater mid-morning and were blown away by the wildlife. The crater is roughly 16km x 19km — much bigger than most people think.
According to our safari driver, who has been guiding safaris for 17 years, there are 5 prides of lions in the crater. One in each 'corner' and one the in middle.
There are also over 500 hyenas, 30 rhinos, several hippo pools, elephants, countless zebras, wildebeest, buffalos, etc. Noticeably absent was the Giraffe because there are little or no acacia trees (Giraffe food) in the crater.
After enjoying the crater for a few hours we'd had our fill and made our way to the Farm House, our hotel for the night. This place is amazing! It's more of a resort than it is a hotel. It sits on a working coffee plantation (tours at 4:30pm btw). There is also an amazing garden where they grow all of their own fruits and vegetables for the restaurant. This is a roundabout way of saying that it was the perfect place to relax, get cleaned up and packed up for our long journey home.
Day 14: Farm House — Arusha — JRO
We relaxed for the better part of the morning, had lunch at the Farm House, then loaded up for the 4 hour ride to Arusha and subsequent hour to Kilimanjaro International Airport (JRO).
It was an absolutely amazing trip with an amazing team and an absolutely awesome support staff. I can't wait to go back!
—Tye Chapman
**Questions about Kilimanjaro? Drop us an email at Kilimanjaro@mountainguides.com