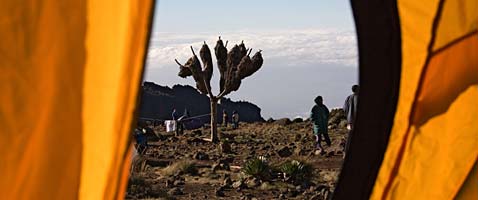 IMG Kilimanjaro Climb and Safari Gear List
This equipment list is meant to help you compile your personal gear for a high-altitude trekking trip like Kilimanjaro. Its cold year-round on Kilimanjaro, so this list is applicable during all seasons. Most items are required, while a few are optional. Please consider each item carefully and be sure you understand the function of each piece of equipment before you substitute or delete items from your duffle. Keep in mind that this list has been carefully compiled by the IMG Kilimanjaro expedition organizers. Don't cut corners on the quality of your gear!
Travel Items
[ ]
Duffel Bags: Two duffel bags with name tags. One of the duffel bags goes on the climb with you and will be carried by the porters (max 30 lbs.). Your porter duffel must be big enough to carry all your gear that isn't going into your daypack (recommend 100-liter size range). Expect for it to get wet and muddy, so a rugged duffle is best. Pack your gear in plastic bags to protect from leaks. Bags with wheels are nice for the airport, but its uncomfortable for the porters to carry them, so don't bring two wheeled bags (one is OK). You will store the other bag at the hotel with your clothes for travel and safari so it does not need to be as robust.
[ ]
Daypack: Large daypack or bag with a shoulder strap, so you don't have to set it down while doing the duffle shuffle or handling travel documents while going through passport control and customs at the airport. It needs to be big enough to hold everything you'll need for an overnight stop.
[ ]
Locks: You'll want padlocks in Africa for your bags. TSA approved combination locks are best so you don't have to worry about losing a key. Zip ties will also work but bring extras.
[ ]
Travel Wallet: A secure travel wallet is a must for carrying your important documents including passport, extra photos, flight info, and money. Some travelers like the kind you can hang around your neck and place inside your shirt, or around your waist tucked under your shirt or trousers.
[ ]
Passport. Carry a photocopy (or 2) of the first two pages and an extra photo in a separate location.
[ ]
Face mask: A good quality (K)N-95 type would make sense for the long airplane flight.


Trekking Gear
[ ]
Trekking Backpack: You need a pack big enough for all your layers, rain gear, hat/gloves, water bottles, food, camera, etc. during the day. Do not underestimate how much space you need for your warm clothing and water bottles summit day (which will all go inside your pack). Packs should be in the 50-liter (3000 in3) range.
[ ]
Pack Cover: Waterproof rain cover sized for your pack. Example: Sea to Summit Ultra-Sil Pack Cover
[ ]
Trekking Poles: Poles come in handy for balance and easing impact to your knees. Get collapsible poles that can attach to your backpack. If you have never used trekking poles, you will like them. They are very helpful especially for the downhill. Example: Black Diamond Trail Trekking Poles
[ ]
Sleeping Bag: Rated to 10°Fahrenheit. Mummy-style is the warmest. A good quality down (700 'fill-power' or better) or synthetic sleeping bag is what you are looking for. You will be cold at the higher camps with anything less substantial than a 10°Fahrenheit rated bag.
[ ]
Sleeping Pad: Look for a self-inflating or blow-up style sleeping pad, which will be warmer than a traditional closed-cell foam pad. Example: Thermarest NeoAir or Thermarest ProLite
[ ]
Tip: Bring 2 large, durable plastic garbage bags to line the inside of your backpack and duffle bag with to help protect your gear from rain.


Clothing
The key to staying warm and dry on Kilimanjaro is layering! On Summit day you will be wearing all your base layers and all your mid layers at the same time. Make sure they are sized appropriately for this laying system, especially the hooded parka! Please bring all clothing listed and don't bring cotton clothing for the climb.


[ ]
Hiking Clothes: Synthetic, lightweight hiking pants (some prefer the kind with zip-off legs). Synthetic or merino wool short sleeve tee-shirt. Synthetic or merino wool, lightweight long sleeve shirt.
[ ]
Base Layer: Underwear (3 pair or as your comfort dictates). Plus, sports bras for women.
[ ]
Base Layer: One mid-weight set of synthetic or merino wool long john tops and bottoms.
[ ]
Base Layer: One expedition-weight set of synthetic or merino wool long john tops and bottoms.
[ ]
Mid Layer: A mid-weight insulating layer such as a fleece jacket/pullover, wool sweater, or a lightweight down or synthetic insulated jacket (doesn't need to be wind-proof). Example: Outdoor Research Radiant Hybrid Hoody
[ ]
Mid Layer: A second mid-weight insulating layer such as another fleece jacket, wool sweater, or a lightweight down or synthetic insulated jacket which can be worn in conjunction with the other layers (doesn't need to be wind-proof). Example: Outdoor Research Deviator Hoody or Outdoor Research Verismo Hooded Down Jacket
[ ]
Mid Layer: Soft shell jacket, wind shirt, or a wind-blocking fleece jacket. Needs to be wind-resistant (or wind-proof). This is NOT your rain shell jacket, but a different, more breathable layer. Example: Outdoor Research Ferrosi Jacket
[ ]
Hooded Parka: REQUIRED — it gets VERY COLD on summit morning! A high quality down or synthetic insulated parka with a hood is what you are looking for. This should be big enough to go over all the other mid-layers you are wearing. Example: Outdoor Research Floodlight Down Jacket
[ ]
Mid Layer: Soft-Shell Climbing Pants. These are warmer than your nylon hiking pants as they are slightly thicker and more wind resistant. Look for construction that provides freedom of movement and/or stretch materials. Wear these over long johns with rain shell pants on top for cold/windy weather. Example: Outdoor Research Cirque Pants
[ ]
Outer Layer: Shell Jacket. Waterproof/breathable jacket with hood (look for Gore-Tex and taped seams). Example: Outdoor Research Foray Jacket
[ ]
Outer Layer: Shell Pants. Waterproof/breathable pants (full side zips are best, 3/4-zip will work, look for Gore-Tex and taped seams). Example: Outdoor Research Foray Pants
[ ]
Casual Clothes: For travel and safari. A long sleeve shirt, sweatshirt, or light jacket is nice in the evenings and cool mornings. Avoid dark blue or black on safari as tsetse are attracted to these colors. Cotton is fine for your casual clothes.


Optional Clothing:
[ ]
Rain Poncho: Nice for hiking in the forest if it rains; a cheap plastic one is fine.
[ ]
Hiking shorts: Synthetic, lightweight hiking/running shorts
[ ]
Bathing Suit: Some of the hotels have pools.


Clothing Accessories
[ ]
Lightweight Gloves: for hiking and around camp. Example: Outdoor Research Stormtracker Gloves
[ ]
Mid-weight Gloves: Thick ski gloves or similar. Should be wind-proof and water-resistant at least. Example: Outdoor Research Extravert Gloves
[ ]
Heavy Gloves or Mittens: Down or synthetic insulated for summit day. Choose mitts if you tend to have cold fingers. Example: Outdoor Research Luminary Gloves or Alti Mitts
[ ]
Hats: Warm wool or fleece hat/beanie, face and neck protection such as a balaclava or buff, and a sun hat or cap with good brim.


Footwear
[ ]
Lightweight Shoes: Sneakers or running shoes for hiking on approach days, around camp, around town, safari, etc. Optional: bring flip-flops or crocs for around camp.
[ ]
Mid-weight Hiking or Backpacking Boots: You're not carrying heavy loads but you are on the trail several hours each day. Additionally, summit morning is cold so 'wiggle room' for those toes is a good thing. Good ankle support is needed on summit day. Leather and/or synthetic uppers must be well water-proofed and/or Gore-Tex, with a decent lug sole for traction over rough/slippery terrain. Purchase early and make sure they are well broken-in before the trek. Brand new boots will give you blisters and tight boots will give you cold toes on summit morning!
[ ]
Gaiters: Keeps snow, mud, and especially scree out of your hiking boots. Shorter, 'dirt gaiters' are fine, but make sure they fit over your big hiking boots. Example: Outdoor Research Flex-Tex Gaiters
[ ]
Socks: Minimum 3 complete changes of socks, in a combination that you have used and know works for you. Make sure your boots are roomy enough for the socks you intend to use. Tight boots will make your feet cold.


Camp Accessories
[ ]
Headlamp: High quality, reliable headlamp with 3 sets of fresh batteries. You are looking for 50-lumens of brightness or more. Example: Black Diamond Spot Headlamp
[ ]
Water Bottles: Two (2) 1-liter, wide-mouth water bottles. Nalgene wide-mouth bottles are the standard because they are the best. Bring 3 if you know you drink a lot. Some people find they want more than 2 liters. Camelbacks or other hydration bladders work well on the approach days, but they will freeze on summit day, even if they are insulated. If you are going to bring a Camelback, you must also bring the two 1-liter bottles for summit day. Write your name (or put a sticker) on all bottles for easy recognition. You'll be treating 4-5 liters of water per day for 6 days!
[ ]
Water Treatment: Choose between a Steripen (UV sterilization), a water purifier, or chemical water treatment. Chemical treatment options include iodine tablets (Potable Aqua or similar), iodine crystals (Polar Pure), or Chlorine Dioxide (Aquamira). Water filters won't remove viruses so if you choose a mechanical means make sure it's a water purifier. If you choose a Steripen, bring extra batteries for it or a battery pack if its rechargeable.
[ ]
Camera: With spare batteries and memory cards. Newer iPhone cameras work great, but make sure you bring an external battery pack to charge it up for summit day.


Optional Camp Accessories:
[ ]
External Battery Pack: for recharging phone, camera, or Steripen batteries. Must be carried in your carry-on luggage. Can not exceed 27,000mAH capacity.
[ ]
Pocket Knife: nothing big or fancy, a simple swiss-army type knife will be fine


Personal Accessories
[ ]
Personal Snack Food: Bring some extra snacks for the climb, especially for summit day, and some drink mixes if you like these to add to your water. See the Kilimanjaro FAQs page for inspiration and guidance on snacks.
[ ]
Wrist Watch: With alarm. Altimeter watches are nice if you already own one.
[ ]
Eyewear: Bring good quality sunglasses with side protection which are sufficiently dark as the sun's rays are intense up at high altitude (especially at the equator). Maybe one pair for the climb and another for around town?
[ ]
Vision correction: Bring extra prescription eyeglasses or contact lenses if you wear them. Lens solutions are not widely available in Africa.
[ ]
Skin Care: 50+ SPF and sweat-proof sunscreen (at least 3oz/person) and lip balm — you are on the Equator!
[ ]
Personal Hygiene: Hand sanitizer (1-2 oz bottle), small face towel, 1-2 rolls of toilet paper, extra Ziploc bags, earplugs, and insect repellant (for low altitude in Moshi/Arusha/Safari).
[ ]
First Aid: A small first aid kit with items that you are likely to use. Moleskin, duct tape, medical tape, Band-Aids, Imodium, antacid, and aspirin, ibuprofen, acetaminophen, or naproxen. That's about it.
[ ]
Prescription Medications

Antibiotic for respiratory and GI problems (azithromycin "Z-Pak")
Diamox for acclimatization (125mg tabs recommended, enough for one week)
Sleeping pills for jet lag (one week)
Malaria Chemophrophylaxis (we suggest Malarone, one tablet a day starting two days before the trip and going until one week after the trip)
Asthma medication, if any history.




Optional Personal Accessories:
[ ]
Pee bottle: Bring an additional 1-liter wide-mouth water bottle. A disposable Gatorade bottle works great for this. This keeps you from having to get out of the tent in the cold at night. Ladies this is optional, but if you will use a pee bottle you MUST be well practiced at using a female funnel (Go-girl or similar) PRIOR to arrival.
[ ]
Chemical hand and toe warmers. A good idea if you tend to have cold extremities, but you'll need a thin liner sock to put between your feet and the chemical warmers. (2-4 pairs each)
[ ]
Travel pillow: inflatable backpacking pillow, although your clothes inside of a stuff sack will suffice
[ ]
Thermos: nice for hot drinks at camp and on summit day. 18-24 oz is a good size for this.
[ ]
Handkerchiefs: to keep the sun off your neck, wipe sweat off your face, or clean sunglasses
[ ]
Insulated Water Bottle Parkas: to keep your water bottles from freezing on summit morning
[ ]
Ski goggles: nice for contact lens wearers with sensitive eyes. Choose clear or light-colored lenses for use at night. Might be useful in windy conditions that cause blowing dust (rare).