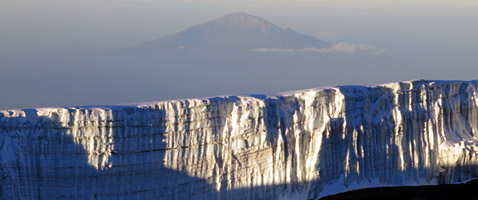 Kilimanjaro — Climbing To The Top of Africa
by David Feinleib, December 2014
In December, 2014 I completed a six night, seven day climb of Mt Kilimanjaro via the Machame Route. We reached the summit at 6:15am on December 27.
I had heard and read bad stories about people experiencing issues due to the altitude (19,346 feet) and trying to climb the mountain too fast. Since I was traveling so far to reach Kilimanjaro, an extra day or two on the mountain seemed like good insurance to help make sure I could reach the summit. Five nights, six days now seems very doable, but I am glad I had the full time to work with. Four of our five member climbing group reached the summit with International Mountain Guides.
Climbing Mount Kilimanjaro (and doing a safari) was on my Bucket List for a long time. I always thought it was something I would do later on. I am now convinced that Kilimanjaro and Safari should not wait until retirement but should be done as soon and as young as possible. It is both eye opening and inspiring.
Day 1: Machame Gate to Machame Camp
We met our local guides at the K's Hotel, where we were staying, and drove to the Machame Gate. Here the guides and porters sorted the gear so that it could be carried up the mountain.
We took pictures of the local monkeys and snacked while waiting for the gear and paperwork to be prepared.
We started our climb around 12:30pm. I prefer to have more margin for error, especially on the first day, but it all worked out and we arrived at Machame Camp before dark. Our larger group separated into two smaller groups: me, Clint and Alison, from Seattle; Evan from San Francisco, Ken from Houston and our IMG Guide Max Bunce, who is based in Boulder. We had three local Tanzanian guides, Lyimo, Mosha and Robinson, along with about 20 porters.
When we arrived at Machame Camp, we completed some paperwork and found our tents, which were all setup. What a pleasant experience not having to carry and setup your own tent! You can just crawl in and take a load off.
On arrival, hot drinks and snacks were typically waiting for us in the mess tent. Yum. Two or three cups of hot herbal tea quickly became my go-to hydration choice in camp.
The dinners were one of the highlights of the climb. We ate in a group mess tent and typically had a three course meal, consisting of hot soup to start, a main course with a protein, starch and vegetable, and dessert of fresh fruit.
From Machame we were able to see wonderful stars. I slept OK, getting a few good hours of sleep here and there. (My sleeping would get better the more days we spent on the mountain.) The morning presented a beautiful view of the mountain.
Breakfast consisted of hot cereal, eggs and hot dogs, which we fondly came to refer to as "nitrates," as in, "pass me some nitrates!" I found that two full bowls of hot cereal along with eggs and some nitrates was enough to get me through most mornings in combination with some water and one candy bar.
Day 2: Machame Camp to Shira Camp
Day two started off nice and clear. We were headed from Machame to Shira Camp.
By the end of day two the rain was really coming down and we booked it on the second half with guide Mosha to Shira Camp. When we arrived, the rain let up and we were able to go for some short walks.
At dinner in Shira Camp, Ken let us know that he would be descending the next morning. Although he was doing great, his pace was slower than needed, and the third day was going to be a longer one. Ken was an incredible climber —he had done a Nepal trek in June where he made it to Everest Base Camp. We were disappointed to see him descend and would miss his sense of humor on the following days.
The mountain was always present during our climb, sometimes in the distance, sometimes right above us.
Mt Kilimanjaro in The Clouds
Every time the clouds rolled in, we worried we might get more rain, but little did we know that we would soon be getting snow!
One of my favorite meals included pancakes and lime soup. Hard to explain how good this tasted when put together, but it was amazing.
We were happy to arrive and get inside our tents and out of the rain.
As usual, popcorn, cookies and hot drinks were waiting for us on arrival. We dug into these!
This was our first real taste of cold, as you can see from our hoods and other gear inside the mess tent at Barranco.
But man was the food good that night.
Then it cleared, just enough for us to see a spectacular sunset.
Day 4: Barranco Camp to Karanga Camp
The next day we got an early start and had a short but exciting climb (about three hours) with a little bit of bouldering mid way up the Barranco Wall. Here are Alison and Clint making it look easy.
Mt Kilimanjaro from Barranco Wall
The porters were incredible. We were always excited to see our bags going by on their way up the mountain.
It was nice to have a day that was short but steep. Gave us plenty of time to acclimatize and rest. I took the afternoon to read for a few hours and listen to music inside my tent, and to dry out some moist clothes during the warm sunny breaks in the rain. Not a bad view from the front door!
The summit was getting closer.
Before I knew it, it was dinner time.
Day 5: Karanga Camp to Barafu Camp (High Camp)
Now it was the day before Summit Day. Here's our guide Max Bunce with Evan, moving up from Karanga to Barafu, our highest camp before the summit. This was another short but steep day, a manageable climb from Karanga to Barafu. We were definitely getting higher, as sudden bursts of activity would get the heart rate up a lot faster than before.
Day 6: Barafu to Summit and Descent to Mweca Camp
After a few hours of sleep, we rose at 11pm to get ready for our summit bid. By this time we were experts at packing and getting ready. We bundled up in our full summit gear and ate some hot oatmeal. Around midnight we could see the lights from the headlamps of some of the climbing groups above us. It was a clear night with no precipitation.
At 12:30am, our group of Clint and Alison and I started our summit attempt, with Lyimo leading the way and Mosha following behind. Max, Evan and Robinson (the third of the three local guides) formed a separate group.
In terms of clothing, I started out in a top base layer of polypro long underwear and my Patagonia R1 fleece. On the bottom I had long johns and my thick but breathable cross-country ski/running pants.
About 20 minutes in I realized I had once again started out too warm and pulled off the fleece. We maintained a steady pace for over an hour, passing several groups until reaching our first break. On went the summit puffy and I we got some water and calories in. I found the Kit Kat bars to be especially good during this section. They were easy to break even when cold (unlike Snickers and Powerbars which become quite solid!). Kit Kats tasted good and went down easily. To pass the time, we tried counting in different languages, and even learned how to count to 10 in Swahili from our guide Lyimo!
After about four more hours of climbing we found ourselves at Stella Point, where I discovered to my dismay that my camera batteries were all dead! They had gotten too cold. Fortunately, Mosha warmed them up and by the summit they were all working.
NB: Keep your pocket camera and batteries bundled up and close to your body to keep them warm on the climb.
The section from Stella Point to the summit was not as hard as expected —Max had properly set the expectation that due to the thinness of the air, that relatively short section could take well over an hour. We arrived at the summit at 6:15am, just in time for sunrise.
After about 15 minutes on the summit, we headed back down. It's cold up there!
Barafu Camp to Mweca Camp
We hustled down from the summit, returning to Barafu around 8:45am. It was time for some hydration, food and a bit of rest. I was too wired to sleep, but it was nice to have a little down time. From Barafu, we descended to Mweca Camp —a long and tiring down climb, for a total descent of 9,000 feet from the summit to Mweca. Between the rain, rocks and fatigue, it was no easy feat to shed that much elevation immediately after the summit climb.
Mweca Camp provided a great rest spot. We were tired but excited.
Day 7: Mweca Camp to Mweca Gate
The next morning we finished the descent, from Mweca Camp to Mweca Gate, in about 3 hours. By the time we reached the last stretch, Evan was literally running past everyone to finish the climb.
At the suggestion of a friend, I had brought a few bucks with me and we bought some well-earned beers in the parking lot at Mweca Gate. From there we headed back to Moshi and the K's Hotel. For a nominal fee, the hotel cleaned our muddy gear (including boots, poles and rain pants) and washed our clothes. We had a celebratory dinner with the local guides. The next morning, after some re-packing, we headed to Arusha Airport to fly to the Serengeti. Little did I know that our incredible adventure was just getting started!
For those thinking of doing the climb themselves, the next few sections cover my notes on Mt Kilimanjaro schedule, medical, gear and weather.
Schedule
I booked my climb with International Mountain Guides (IMG). I appreciated IMG's responsiveness to my pre-trip questions over email. The timing of their trip for the climb and safari worked well with my holiday schedule, allowing me to leave San Francisco Thursday night (11pm) on the 18th and return Friday mid day on Jan 2nd, just over two weeks total time. If I had more time I might extend the trip for a few days to see Zanzibar (one couple in our group did this) or to stop somewhere on the way home (the other couple in our group was stopping in Istanbul for a few days). However, I accomplished everything I wanted to in the two weeks I had. Two and a half days, three nights of Safari was ideal.
Our climbing group consisted of Max Bunce, IMG Guide; Alison and Clint from Seattle; Ken from Houston; Evan from San Francisco; and me. Ages ranged from 22 to 69. Ken's wife, Camille, flew in later to join for the Safari portion.
We had three local Tanzanian guides and a full contingent of porters. I liked the small group size, which allowed Max to provide personally tailored (no pun intended) recommendations on clothing. I would say this was instrumental in reaching the summit in an enjoyable manner. His philosophy was that you should always start the climb or leave a break cold and that you would warm up within a few minutes. If you started out warm and comfortable, you would sweat and become chilled, and once your clothes were wet, it would be very hard to dry them out.
Weather
In terms of weather, I had a vision of warm and sunny since Mt Kilimanjaro is right near the equator. But of course at 19,000 feet, it is quite cold! Out of seven days on the mountain, we had three days of rain, four days of partly sunny to sunny.

Overcoming Challenges
The hero of our trip was Evan, a 22 year old diabetic who kept getting stronger the more he climbed. Monitoring his blood sugar level on a regular basis while expending an extreme amount of energy rain and shine was no easy feat.
I started Diamox (125 mg two times per day) the day before the climb (Sunday) and continued it through the day of the summit. The following factors likely were key to my successful summit attempt:
Sufficient time to acclimatize due to route choice
Diamox
Effective clothing strategy that significantly reduced sweating and therefore fluid loss
Supportive guides and climbing group
Plenty to eat
In terms of training, I did no special training for Kilimanjaro. That said, I am a four time Ironman-distance finisher, including Ironman Lake Tahoe at 6,000 – 7,000 feet. My most recent race was Ironman Barcelona at the beginning of October, 2014. So I felt like I was in good shape (although certainly could have been a few pounds lighter) going into the climb. My legs were the most tired the day after we finished the climb, due mostly to the descent.
The only headache I experienced was after coming down from the summit to Barrafu Camp (the last camp before the summit). Since I only drank one bottle of water during the summit climb (8.5 hours) I attribute this to dehydration, not altitude. After I drank another liter I felt much better.
Gear
IMG's suggested layering system worked very well. Max was adamant about having five total layers to work with and he was right on the money. Clint, one of the other clients on the trip, lent me a Patagonia synthetic hooded mid-weight puffy. This became my go-to jacket for the climb with the hoodie being especially important for keeping my neck warm. I was never a big fan of hoodies before, but for a high altitude summit, they are a life saver.
I found I could always go lighter on clothing starting the day or coming out of a break. By the fourth or fifth day I got the hang of this.
I had a three-quarter length Thermarest. I would absolutely go with a full length pad. The ground is cold. Cold feet —even on top of a pack or other gear —definitely hinders a good sleep. I would go with the highest end pad available (e.g. the NeoRest). Hand warmers help a lot on summit day. I brought three Nalgenes. Although you only need two for the climbs themselves, it is very helpful to have a third to use in camp. That way you can fill two water bottles before you go to bed (to be used during the next day's climb) while using the third to hydrate during dinner, overnight and first thing in the morning.
I would also invest in a high quality rain poncho, maybe two (put the spare in your duffel). The one I bought from Sports Basement disintegrated on day three and I came to call it my rain Toga due to the need to hang the slivers of it over my shoulders in toga form. For our guide Lyimo his heavy duty, low hanging poncho was his go-to piece of rain gear. Although rain jackets and pants work, they also trap moisture inside (even with the latest Gor-tex) and cause you to overheat. A poncho keeps you warm and dry but lets in enough air to you stay dry. One of the only times it doesn't work well is if there are strong winds.
I also brought my Kindle, iPod Mini, a Jockery battery for re-charging, my Canon SX700 (with its amazing zoom lens), and my Garmin 920 watch. There's definitely some downtime in camp and it's nice to be able to read and listen to music. Looking out at the valley below from my tent door, then leaning back and reading and listening to music was incredibly peaceful.
Summit Day
We started our summit attempt from Barrafu Camp at 12:30am and reached the summit at 6:15am, for a total of 5 hours and 45 minutes of climbing. Although we had some conversation (and I learned how to count to 10 in Swahili from our guide, Lyimo!), there were a couple hours in there between 3am and 5am where we were 100% focused on the climb, no idle chatter. We spent about 15 minutes on the summit and took a bunch of pictures. We returned to Barrafu Camp around 8:45am.
Wireless
I was able to connect to Vodacom a couple times from the mountain, but was never able to get any data or texts to work. Evan reported success from a couple camps via Airtel. I would suggest either a global roaming plan or buying an Airtel SIM chip if you want wireless on the mountain. I suffered a bit of Internet withdrawal at first, but being completely offline for five days was incredibly refreshing and allowed me to clear my head, focus on the climb, and really unwind and relax.
Medical
Before the trip I had a medical checkup and received numerous shots, including Hep A+B, Tetanus/TDP, Yellow Fever and Typhoid. I also got prescriptions for Diamox, malaria pills and various antibiotics in case I developed stomach problems or an ear infection. The malaria pills were once a week pills and gave me an extreme headache for six to eight hours, worse than anything I had during the climb. I also took some Advil a couple times during the climb.
I flew through Addis Ababa and there was Ebola screening upon entering the terminal from the plane. Upon entering Tanzania, they were checking for yellow fever vaccination cards (since I was coming from Ethiopia). I was glad I had gotten the yellow fever shot state-side and had the documentation with me. They did not check this for every flight, e.g. the KLM flight from Amsterdam. I used Iodine pills for my water and hand sanitizer on a regular basis. I had a loose stool after two of the meals but did not experience any other medical issues.
Travel
My checked bags arrived when I did. They consisted of a roller and a small duffel. Evan was not so fortunate. His bags were delayed multiple days. Miraculously, once they did arrive, a porter was able to bring them up the mountain and deliver them to him on day two. In the meantime, the K's Hotel was able to find him enough gear to get by with, including an extra pack, gloves and puffy. I recommend bringing your hiking boots and other hard-to-fit essentials in your carry on. You can rent, borrow or purchase many other items if absolutely necessary.
Lessons Learned on the Mountain
Don't be lazy in camp. That means, when you get into camp, get your pad and sleeping bag setup right away, fill your water, etc. In the morning, put your pad and bag away first thing, it makes the rest of the packing go a lot faster.
Start out cold. Starting the first segment of the day or leaving a break, you should be uncomfortably cold. If you're warm, you'll overheat and start sweating and it's really hard to dry out and stay warm after that happens.
Weight is everything. Only bring what you need in your pack, no more. Every little bit adds weight —for example, you only need a one ounce sunscreen, not a three ounce. The higher you get, the more the weight matters. Weight has an exponential impact. An extra few pounds higher up could mean making your day multiple hours longer than it needs to be.
Check your status coming into a break: Neutral; Add a layer; or Take off a layer.
Clothing is very specific to the individual. In the same conditions, one person could be overly warm in a base layer while others could be cold with two layers on. Max did an especially great job customizing clothing and hydration recommendations to each individual.
Commit to the break! If you are going to take a break, do it. Put your pack down, put a jacket on to stay warm, drink water and eat. Don't stand around during a break with your pack on, underdressed and getting cold.
Trust your boots (but check them before the climb). When scrambling over rocks or descending on rocks, trust your boots. In most cases they will stick and hold your footing. Don't step on wet tree roots or branches, though — they're always slippery.
Moshi – K's Hotel
K's Hotel (formerly Keyes Hotel) is located in Moshi, the smaller sibling of Arusha. I was able to buy a SIM card in Moshi and change money on my way from the airport to the hotel. On the second day (Sunday) the hotel drove our group into town where we found a working ATM, and were able to purchase items we needed for the climb, such as toilet paper (TP), large pee bottles (essential during cold nights) and other essentials.
The K's Hotel rooms are sparse but comfortable, with air conditioning and hot showers. The staff is helpful and friendly. Wifi is only available in the dining area and is slower than an old 300 baud modem! Load up on Vodacom or Airtel credits instead to get data, it's much faster.
Food service is reliable at the hotel and reasonably priced. They offer a daily soup, curries, burgers, and related items. Scrambled eggs and bacon are available at breakfast, along with fresh fruit such as watermelon, toast, peanut butter, and hot coffee.
I would like to have eaten at least one meal in town. In some ways, though, I am glad we stuck with the reliable hotel food, since having a stomach issue on the mountain would have been a real downer.
I was able to charge up my Kindle, iPhone, camera batteries and spare batteries in my room. The K's is a great pre- and post-climb staging hotel. Not too fancy, not too basic. Thus the transition between hotel and mountain sleeping was a fairly easy one.