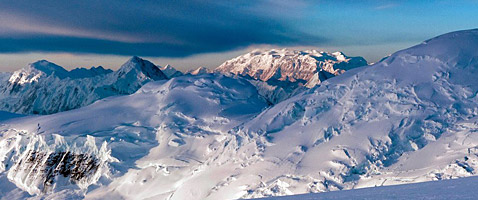 Mt. Wrangell and Mt. Jarvis Frequently Asked Questions
This information should answer many of your initial questions and also guide you through the next stages of preparing for the expedition. If you have any questions, please feel free to contact us: office@mountainguides.com
Where and when do we meet?
The group will meet in Anchorage on the afternoon of the starting date of the expedition. Arrangements will be made for us to spend the night at a local bed and breakfast (name and location to be announced). The cost of this will be up to each individual (average $60-$100). We will meet at the bed and breakfast as our flight arrivals permit. The guides will do final equipment checks and go over packing. The afternoon will be the last opportunity to pick up additional food items or gear for the trip. Alaska Mountaineering and Hiking and REI are two of the better climbing stores nearby. We will plan to get together at a nearby restaurant for dinner and a chance to learn more about our fellow teammates.
How do I get there?
International Mountain Guides has worked for many years with the staff at CTT Destinations to provide professional travel service for participants in our programs. For help with your plans, we urge you to contact Pirjo DeHart at CTT Destinations: 425-831-0367 or pirjo.dehart@cttdestinations.com
What kind of insurance do I need?
IMG requires that all High Alaskan Ascents trip participants purchase Travel Insurance that includes coverage for medical evacuation, repatriation and medical expenses for the duration of their IMG program. Trip Cancellation Insurance is strongly recommended. Trekking and mountaineering programs are true "adventure travel."
We invest in insurance coverage for commercial liability and medical and disability insurance for our employees while participating on our programs. We cannot insure you for your personal needs, but we do expect you to be as fiscally responsible as we are. We require that you insure yourself against potentially expensive difficulties that may arise. First, Trip Cancellation Insurance may provide financial relief should you be forced to withdraw from the program before it even happens. Next, make sure you have adequate Travel Insurance for coverage should you have a problem during the trip. Medical care and evacuation in remote locations can be expensive. For more information, please see our page on Trip Cancellation and Travel Insurance.
What's included in the trip cost?
Cost Includes:
guides
dinners and breakfasts during the climb
group equipment including tents, stoves, climbing ropes and hardware
permits
Cost Does Not Include:
bush pilot fee (quoted $1,100 for 2018)
arranged shuttle from Anchorage to Chitina ($400 for 2018)
meals and lodging other than on the mountain or at our bush pilot's lodge
required travel insurance policy (for trip cancellation, medical treatment, evacuation etc.)
costs incurred as a result of delays or events beyond the control of IMG
customary but optional tips for IMG guides