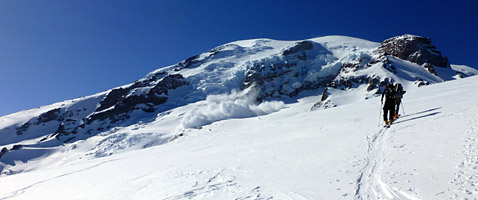 IMG Rainier Ski Traverse Itinerary
Day 1 (half day) — Meet in Ashford at HQ at 2:00pm for the pre-trip meeting. This 4-hour session is instrumental in getting the team outfitted, informed, packed and educated prior to going on the mountain the following morning. Topics to be covered include an introduction of the entire team, an introduction to Mt. Rainier National Park, its mission and ecology, Leave No Trace, issue and fitting of gear and personal gear checks including ski equipment. We will sort, plan and issue group gear and introduce the proper use of safety equipment including avalanche beacons, probes, and shovels. We also review additional critical ski mountaineering and avalanche safety skills.
Day 2 — Early breakfast and ready to depart Ashford by 8am as road conditions allow. After we are shuttled up to Paradise we'll gear up and set out on our way up to Camp Muir at 10,000'. This is a 4.5 mile, 4,500'elevation gain journey and a Big Day. We will overnight at the guide bunkhouse at Camp Muir, gladly utilizing the shelter.
Day 3 — After breakfast we'll rope up for travel across the Cowlitz Glacier, ascend through Cathedral Gap to the Ingraham Glacier at 11,000'. From here, we'll descend the Emmons Glacier near the North Face of Little Tahoma then make a rising traverse back up to Camp Schurman at 9,600'.
Day 4 — We'll either descend the Winthrop or the Inter Glacier to an altitude of 7,000', then traverse over to the Carbon Glacier. We'll camp somewhere in the vicinity of 7,000' on the edge of the Carbon Glacier.
Day 5 — Continue skiing down the gentle terrain along the moraine of the Carbon Glacier to its snout at around 4,000 feet. We'll then follow the Wonderland Trail north towards Ipsut Creek Campground as far as is practical before setting up a final camp.
Day 6 — We'll complete the trip out the Wonderland Trail to Ipsut Creek Campground. From here we'll follow the Carbon River Road out to the Carbon River Entrance of the Park for pickup and return to IMG headquarters in Ashford.
Note: The itinerary is subject to change as the weather and route conditions dictate. If the group is delayed in reaching Paradise due to closure of the road or slowed in our progress around the mountain, we may be forced to make adjustments to the schedule as group fitness and conditions dictate. The guides will make the best decisions for the group based on minimizing risk at all times during the program. Many options exist and it is possible to shorten the route or detour to exit sooner as necessary.