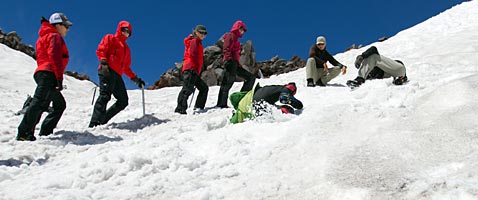 Covid-19 Notice for 2021 Rainier Programs

While we are certainly planning for several eventualities, our working plan for 2021 will be based on the assumption that Covid-19 is still prevalent. We will move forward under similar protocols implemented during 2020, and plan to run all Rainier programs in 2021 with the exception of the Little Tahoma Seminar. There are some notable changes to the way we've traditionally ran our programs as listed below:

We will not be providing meals on our climbs in 2021. We hope this changes so we can get back to serving our world-famous Camp Muir Burritos! Please see our food suggestions page for additional details.
We plan on providing transportation from IMG HQ to/from the trailhead. However, this may not be feasible under Covid-19 protocols. We're working on alternative options and will keep all registered climbers updated on any changes to this plan.
We will provide single tents to all climbers unless you are members of the same household wishing to share a tent.
We will require a cloth facemask during the first ½ day orientation and in IMG vehicles.

Naturally people will want to know our 2021 Covid-19 cancellation policy. For 2021, funds from any National Park Service, WA State mandated or IMG directed Covid-19 related cancelled programs, will be to carried over to the same program and same or closest date in 2022. Short of an NPS, WA State or IMG directed cancellation, our no refund policy remains in place. Note that if your 2020 program was rescheduled by IMG, and is rescheduled again in 2021 due to Covid-19, you will have the option to carry your funds over to 2022, or be issued a refund.

Additionally, we will defer accepting reservations for pre-climb tent lodging at IMG Headquarters until April 1, 2021, when we will have more current information on the status of COVID and any impact it may have on operations for the season.

As is the case with all things Covid-19, we will remain as flexible, communicative and as transparent as possible in these unprecedented times.
Mt. Rainier Mountaineering Day School
The Mountaineering Day School (MDS) is an introductory climbing course that teaches skills essential for climbing Mt. Rainier and other alpine climbs. It is designed to prepare participants to climb Mt. Rainier under the direction of International Mountain Guides' professional guide staff. It is not sufficient training to allow you to climb on your own. The MDS is a full day of learning and practicing snow climbing techniques which include ascending and descending steep snow slopes, cramponing, ice axe use, self and team arrest, and roped glacier travel.
The school takes place on a snow field generally within an hour's hike from Paradise. We'll spend all day becoming familiar with snow climbing and glacier travel techniques, but will not cover crevasse rescue or other rescue techniques essential for proper team glacier travel. For this reason, we recommend the MDS be taken in conjunction with the 2-day Crevasse Rescue School, a good primer in anchors and crevasse rescue systems. The Advanced Mountaineering Day School is another option, continuing on with more skills the MDS does not address.
Why Choose This Program?
The Mountaineering Day School teaches the essentials of roped team glacier travel. This course is included in the content of most of IMG's climbs on Mt. Rainier, but it is a good review for experienced climbers planning to climb on their own or who feel the need for an additional refresher.
The MDS is a hands-on course which allows a substantial amount of time to practice skills before getting on a climb of Rainier or other glaciated peaks.