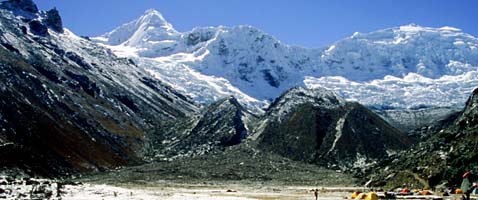 IMG Cordillera Huayhuash Peru Trek with Chopicalqui and Artesonraju Extensions Itinerary
Day
Itinerary
Day 1
Overnight flight from USA to Lima; arrive early morning the next day in Lima. Depending on your flight plans, you may want or need to overnight in Lima.
Day 2
We'll pick most trekkers and climbers up at the airport after their early-morning arrival, and then travel from Lima to Huaraz. There's a modest place for breakfast just out of town if you're hungry for breakfast. After a drive through the pacific desert, we'll stop in Barranca near the beach for a fresh seafood lunch. During our 7-8 hour drive, other stops will include a visit to a fresh fruit stand where it's possible to purchase some exotic treats for the day. Our travels will take us over a 13,000'+ pass, and back down again to Huaraz (10,000'), our base of operations for the trip. After a short rest, we'll have dinner and a quick orientation for our next day. Overnight in Huaraz.
Day 3
An acclimatization and sightseeing day. After breakfast in our hotel, we'll travel by van into the Cordillera Negra, the 'black' mountain range that sits opposite of the Cordillera Blanca, the 'white' mountain range. From the Negra, there is an awesome overview of the Blanca and all its grandeur. There are a couple of hiking options in the Negra, so we'll decide while in Huaraz what fits best for our group. If we do the longer option, we'll start from the trailhead at Punta Callan (13,100'), where we'll walk down to Huaraz for 3 to 4 hours on an ancient Incan trail. Prior to dinner, we'll organize our gear for the trek, and prepare for our departure in the morning. Overnight in Huaraz.
Day 4
After breakfast, we'll do some more packing in preparation for the trek, and also pack for another day hike. Like the day before, there are many options. One option is a hike to Lago (Lake) Churup, which starts with transport in cars/van to Pitec, at 12,467', and then hike for 3-4 hours to the lake, an incredibly beautiful area located at 15,091'. There are other worthy options, and we'll decide the night before what's best for our group. After lunch during the trek, our group will descend and return to Huaraz to further help our acclimatization. We'll relax here, have dinner, and then prepare for our Huayhuash trek, which will start the next day.

Day 5: Trek day 1

An early breakfast will get us fueled up for our 6 hour private bus drive to Llamac, and then finally onward to Cuartelwayin, our first camp at 13,800'. We'll meet our mule drivers here and organize loads for the start of our walking the next day. Yes, the views start here! IMG's traditional base camp service will begin with dinner, a hearty whole-food based meal, complete with good company and excitement about our trek.

Day 6: Trek day 2

After breakfast at camp, we'll start our walk into the Huayhuash. From Cuartelwayin, we'll slowly climb the trail for 2-3 hours to Paso CCaccananpunta (yes, spelled correctly!), at 15,400'. After a brief rest there to enjoy the views, snap some pics, our group will descend for another 3 hours to Lagoon Mitucocha; camp will be placed near the lake, at 14,000'. Tents will be set up prior to arrival, allowing us to move into the tents with little effort. We'll migrate to the dining tent for our usual afternoon tea and snacks.

Often times there's time in the afternoon for a short nap, reading, or some easy walks around our beautiful alpine camps. Dinner will follow as we swing in to the daily routine, with a recap of our day and the laying of plans for the following day.

Note: Many of the land features, mountains, lakes, and areas, are named in the local Quechan language. Our local guides will help translate and pronounce them for our group throughout the trip.

Day 7: Trek day 3

Our trek routine will continue with fresh, warm water for washing that's presented at trekkers' tents with our wake-up call, along with tea or coffee. After breakfast, our trek will continue from Mitucocha, over Carhuac Pass, 15,252'. A descent to Lagoon Carhuacocha (13,450') will provide a lower camp for the night. While the Quechan names in the area present some challenges for English speakers, the names will easily flow as we learn them from our local fluent speaking Quechan guide and mule drivers. Time today on the trail will be 6-7 hours.

Day 8: Trek day 4

Today, we will be rewarded with one of the most spectacular views of the trip. From Lagoon Carhuacocha, we will trek through the impressive Siula Pass, 15,740', where the Cordillera Huayhuash will stretch out in its grandeur, with spectacular peaks surrounding the views. From the pass, we will descend to an area known as Huayhuash (13,500'). After 7-8 hours of effort this day, we'll be rewarded with a hearty meal and some good rest.

Day 9: Trek day 5

From Huayhuash, yes, we head towards another pass! Paso Portachuelo Huayhuash will be our goal on this day, with a height of 15,600', our highest pass to date. While the passes are at high altitude, our acclimatization is improving daily, allowing us to trek with less effort and with the crossing of each high pass, things become easier. Again, the views continue to stretch out as we move along our trek. The trail is easier walking today to our next camp at Lagoon Viconga (14,100'), and we'll pull into camp after 6-7 hours of trekking.

Day 10: Trek day 6

A trek of 6-7 hours will take us from Viconga through another, pass, Cuyoc, at 16,728'. These highpoints throughout the trek are not summits, but they are spectacular viewpoints and achievements in amazing terrain. Camp at Hatun Cuyoc will await our group at 14,760'.

Day 11: Trek day 7

A day we will remember for its views, as we trek from Hatun Cuyoc over San Antonio Pass; at 16,662' this is our highest pass of the trek and will require some celebration! From the pass, our group will see many impressive peaks, including Siula Grande, Jurao, Rasac, Jerupaja, all icy-clad steep Cordilleran peaks. Our descent from the pass will take us into the Callinca Valley, and we'll arrive at our camp at Huayllapa, at 11,450'. The lower camp will be a nice reward after our 7-8 hours of trekking.

Day 12: Trek day 8

Just another day in a spectacular area! From Huayllapa, we'll climb up and through Punta Tapush, at 15,645', and then descend to camp at Gashpapampa (14,432'). The trekking routine will have set in, and it'll allow trekkers to take in the incredible terrain we'll pass through. Time on the trail today will be 7-8 hours.

Upon arrival at camp, we'll prepare for our early morning departure to climb Diablo Mudo. We'll break out our climbing gear and get things set for the climb. It'll be an exciting evening, and we will be very fit and ready for the climb from many day of trekking at high altitude.

Day 13: Trek day 9

An early morning breakfast will start the day, as we trek from our camp at Gashpapampa towards Diablo. The approach to the glacier will be over broken terrain, and once we reach the glacier, we'll rope up and put on crampons. We'll use an ice axe and ski pole as we ascend the rolling picturesque ridge, with one short rocky section in route to the 17,459' summit. After a well-earned rest and summit pictures from the spectacular summit — with views of the entire range, we'll descend towards Punta Yauche (15,645'), arriving later in the day at Jahuacocha, at 13,128'. It'll be a full day, and we'll be ready for a solid night of sleep!

Day 14: Trek day 10

We'll wake early, our last day, and trek to the village of Pampa Llamac, 14,268'. We'll be met by our transportation here, and we'll start the long drive back to Huaraz. Memories of our incredible trekking experience will lull us to sleep by the time we arrive in Huaraz. Upon arrival there, we'll have a group dinner in town and celebrate our trek over 8 high passes and our climb of Diablo Mudo! Overnight in hotel in a comfy bed.

Day 15: Trekkers Drive from Huaraz to Lima, and flights home

There may be some time in the early morning before our departure for Lima for some shopping, then our 8 hour drive to the coast for flights home. There is lots of time to sit back and remember our time trekking through the Cordillera Blanca during the drive, listen to music, read, and sleep. We'll stop by the beach again for lunch, and then make our way to the airport for late flights home.

Chopicalqui and Artesonraju Climbers: For those trekkers who are staying over for our add-on Chopicalqui climb, this will be a well-earned rest day in Huaraz. We will also need to pack up for the climb and make preparations for our departure the next morning. With 12 days of high-altitude trekking, climbers will be ready for our Chopi ascent.

Day 16: Trekkers return home!

Our trekkers will arrive home, and celebrate their reunion with friends and family.

—End of Itinerary for Trekkers—

Continuation of Itinerary for Climbers:

Day 16: Transfer to Yanapaccha Trailhead, Trek to High Camp

Up early and travel by private bus for 3 hours to the Chopicalqui trailhead — then onward to Yanapaccha trailhead, at approximately 13,000'. High camp will be placed around 15,400'. We'll prepare our gear and make a plan for our alpine rise early the next morning.

Climbing porters will assist our moves to our camps on Yanapacchu, Chopicalqui and Artesonraju, so we'll be able to move a little quicker and arrive at camp more rested because of our lighter packs (around 40-45lbs).

Day 17: Climb Yanapaccha, Descend to Camp, Road, and Transfer to Chopicalqui BC

Start by 5 AM; approach the glacier via rocky moraine and slabs. Once on the glacier, it will steepen to a headwall that will require up to 4 or 5 pitches of belayed climbing while using two climbing tools. This effort will lead us to the spectacular summit with views of Huascaran, Chopicalqui, and Pisco — all incredible Peruvian icy-clad summits. We'll rappel the steepest pitches, then walk down the glacier to the moraine, and then back to high camp. Time to the summit is around 5 hours, with a 2 hour descent to high camp.

From high camp, we'll descend to the road, transit to the Chopicalqui trailhead in a van. It's a short hike to Chopi base camp (13,776') of about an hour, and that will leave the afternoon to rest and sort gear for the next day. Celebrate our climb of Yanapaccha, and go to bed early. It will be a big day!

If our team needs extra rest before climbing Chopicalqui, we may opt to not climb Yanapaccha. In that case, we will transit from Huaraz to Chopi base camp on Day 16, and then take Day 17 as a rest day at Chopi base camp.

Day 18: Chopicalqui Base Camp to Chopi Moraine Camp

Sleep in, finish organizing gear, and climbers and porters will depart by noon for our first camp on Chopicalqui. The ascent is over a lateral and terminal moraine, and then heads up a steep lateral moraine to camp. Ascent time to our camp at 16,072' will take 4-5 hours. Camp will be placed under some cliffs, near the glacier. Porters will also assist with setting up tents and help with meal preparations.

Day 19: Chopicalqui Moraine Camp to Camp One

Climbers will ascend to high camp in 4-5 hours and prepare for the summit climb the next day. The climb to camp is up some morainal rubble, and after roping up, the team will climb glacier, at times with short steep sections up to 45 degrees. We will need to take some long end-runs around large crevasses. This will take us to a camp on the glacier at 17,548'. Any extra time at this camp will be spent resting in preparation for the summit. We'll hit the sack early!

Day 20: Summit Day on Chopicalqui: Descend to Moraine Camp

Today our team will awake early, dress, and eat a quick breakfast, and then rope-up and begin our climb around 3AM. The climb is primarily up glacier, end-running crevasses, and then finishing with a climb along the Southwest ridge. Along the ridge we may use running belays, or perhaps belay climbers as needed. Slopes vary in terms of steepness. The final ascent to the summit may be over a large crevasse, demanding a steep 60 degree snow and ice climb to the summit. Climb time to the summit will be around 7-9 hours. We'll spend no more than an hour on the 20,847' summit, resting and taking hero shots, and taking in the expansive Cordillera Blanca range.

On the descent, we may rappel on descent to more walkable terrain. We'll descend to our high camp, and then porters will help us haul our group gear down to our moraine camp. Total descent time from Chopi to camp 1 in about 4-6 hours, and then about an hour to moraine camp. This will be the longest day of our Chopicalqui trip, about 14-18 hours. Eat a quick dinner and then drop into bed!

Day 21: Chopi Moraine Camp to Base Camp: Transfer to Huaraz

From moraine camp, our team will descend to base camp, pack up, and then take the short walk back to the road. Our transportation will show up shortly afterwards, and we'll make the drive back to Huaraz. Time to the trailhead will be around 3-5 hours. We'll wrap up our Chopicalqui summit climb with a dinner in town, and fall into bed early this night!

Day 22: Huaraz Rest Day: Prepare Gear for Artesonraju

Sleep in, eat, and rest on this well-earned day off the mountain. We'll need to make a few gear preparations, but things by this time will go quicker. Catch up with family, walk into town for dinner.

Day 23: Depart for Artesonraju Trailhead: Trek to Artesonraju Base Camp

From Huaraz, drive in private van north for around 2 hours to the town of Caraz, then turn into the Paron Valley, continuing to Paron Lake in an hour and a half. From there, our team of climbers and porters will begin the 4-5 hour trek into Artesonraju base camp, at 15,100'.

Day 24: Artesonraju: Base Camp to High Camp/Camp 1

Our trek to high camp will first start on morainal terrain, and then transition to the glacier. The view of our goal will be dominate and excite the team for the climb the next day. Total time to camp at 17,100' could take between 6-8 hours... a long day!

Day 25: Artesonraju Summit Day: Return to Camp 1

Climbing the Southeast Face route, we'll leave camp to approach the face, which will take around an hour. From there, steep slopes lead up the 2,400' face to the summit. Two axes will be used along with belays on 15-17 rope lengths of climbing that lead to the spectacular summit. After less than an hour on the summit, snapping some congratulatory summit shots and pics of the surrounding peaks, we'll begin the descent. Rappels will be made down the face, and then there's a short walk at the base of the face back to high camp. Time on the route will depend on our ability to move quickly through belays, then descend down the face using a series of rappels. Figure it'll be around 6-8 hours on the ascent, and around 5-6 hours on descent, so it'll be a long but rewarding day!

We'll spend the night at high camp, with dinner prepared by our helpful porters.

Day 26: Artesonraju: High Camp/Camp 1 to Base Camp

The team will retrace our path from high camp to base camp. We'll depart after first light, first descending down the glacier, then down the moraine back to base camp. We'll arrive later afternoon, and get settled into camp for our last night in the mountains. Time to base camp will depend on our fatigue after the climb, but figure on 3-5 hours.

Day 27: Artesonraju: Base Camp to Trailhead

We'll awake early, and make the 3-5 hour descent from base camp to the trailhead at Lake Paron, and meet our awaiting van there. A drive to Caraz and then onward to Huaraz will take around 3 hours. Return to our hotel, have dinner, and sleep in a real bed!

Day 28: Climbers: Huaraz

Sleep in, catch up with family, and do some last minute shopping. This day can also be used as a backup weather day if more time is needed on Chopicalqui or Artesonraju. If we're in Huaraz this day, we'll have a traditional Pachamanca dinner, where our meal of meats, vegetables, and goodies are cooked all day in an earthen oven. We'll break open the oven together with our hosts and begin the celebration of our 4 week trip!

Day 29: Climbers: Huaraz to Lima

Like the trekkers who left Huaraz earlier in the trip, we will have some time for some early morning shopping before our departure for Lima, drive 8 hours+ to the airport. We'll stop by the beach again for lunch, then make our way to the airport for late flights home.

Day 30: Climbers: Arrive Home!

Our climbing team arrives home this day, with reunions with family and friends. Celebrate life!