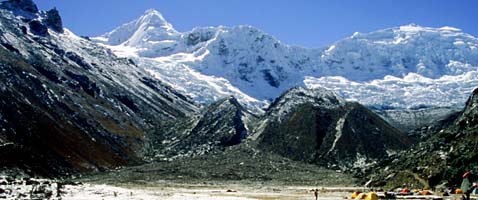 IMG Cordillera Huayhuash Peru Trek Frequently Asked Questions
This information should answer many of your initial questions and also guide you through the next stages of preparing for the expedition. If you have any questions, please feel free to contact us: office@mountainguides.com
How fit do I need to be?
Excellent all around fitness and previous hiking/trekking/backpacking experience, preferably at altitude is needed for the Cordillera Huayhuash trek. Compared to other treks around the world, the Cordillera Huayhuash is physically challenging because of the consistent longer hiking days with lots of elevation gain and loss as we traverse over the many passes we will encounter. While challenging, the views are incredible along many parts of the trek, so the effort will be worth it with view pay-offs virtually every day!
For the optional Chopicalqui climb following the trek, basic mountaineering experience at altitude is necessary, and Artesonraju will need some steep ice and snow experience. Some training and skill review may be conducted at or above Chopicalqui base camp as needed. Non-climbers may extend their Peru experience and join the Chopicalqui portion of the trip and skip the summit climb —staying and touring around base camp; there is no add-on option for Artesonraju, due to the terrain transiting to our camps.
How do I get there?
International Mountain Guides has worked for many years with the staff at CTT Destinations to provide professional travel service for participants in our programs. For help with your plans, we urge you to contact Pirjo at CTT Destinations: 800-909-6647 or img@cttdestinations.com
What immunizations will I need?
The following may be recommended for travel to Peru. Consult a travel clinic, and check out the Center for Disease Control Website at
www.cdc.gov
Tetanus-Diphtheria, Polio, MMR: You should already have these. Do you need a booster?
Meningitis, Hepatitis A and B: Recommended. Ask your physician/travel clinic for advice.
Yellow Fever: Recommended, you may need to show your shot record with the Yellow Fever endorsement.
Cholera: Not a very effective vaccine. Ask your physician/travel clinic for advice.
Rabies and Typhoid: Not a bad idea to be on the safe side, the new vaccines are easy.
Malaria: We are above the Malaria zone on the mountain, but depending on your travel plans and local health department advice, you may want to bring long sleeves and bug juice for evenings in cities; chemoprophylaxis is especially a good idea if you plan to travel to lower elevations in Peru.
What's included in the trip cost?
Cost Includes:
IMG senior guide to lead each trip along with a local guide, cooks, drivers, porters/mules, group equipment (kitchen, tents, etc.), climbing permit fees/park fees, airport transfers, ground transportation, lodging starting with your arrival in Lima and during the trek dates in Huaraz. While in Huaraz, 3 nights' accommodations are included in the base trek, 6 nights for the Chopicalqui climbers, and 8 nights for the Artesonraju climbers. We can make a reservation in Lima for you if you wish to come early or stay on after the trip ends at additional cost. Continental breakfasts in most hotels, and all food during the trek are included (you may want to supplement your provided lunch with a few snacks).
Cost Does Not Include:
International airfare to/from Peru, Peru visa on arrival (at present, no fee for American or Canadian citizens), taxis, food and lodging should you arrive in Lima or Huaraz early or stay longer than itinerary, alcoholic beverages during the trip, personal shopping and snacks. Personal trekking or climbing equipment. Trip Cancellation and Travel Insurance. Meals in the cities of Lima and Huaraz except breakfast in the hotels as supplied.

Please bring $275 for the local guide and staff tip pool. If you participate in the Chopicalqui climb, please bring an extra $200 for the local guides and porter tip pool, and another $200 if adding Artesonraju to the list. We will collect the tip pool at the hotel upon arrival in Huaraz, for distribution to all our Peruvian staff throughout the trip. The tip pool provides rewards for our drivers, porters, cooks, local Peruvian guides, kitchen staff at the hotel, and others who help make our program a success. You will be given an opportunity to participate in the tipping process. Your IMG guide will organize the tipping pool, so if you wish to tip your IMG guide, you may do that separately and personally. Thank you in advance for your support of our hardworking and skilled staff who will do their best to provide you an excellent Peruvian experience.