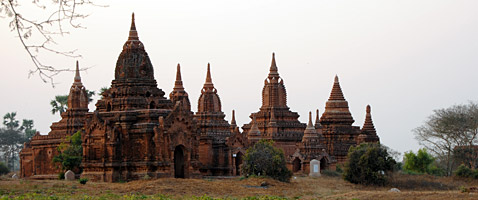 Myanmar Trek with International Mountain Guides
Myanmar has recently become the spot for travelers seeking a glimpse of an old southeast Asian culture before the place gets too popular! Before sending an IMG team there, however, we had to find out for ourselves the ins and outs of the country. With that in mind we sent senior guide Jenni Fogle there during the spring of 2013 to do a reconnaissance and make sure everything was all set for our IMG expeditions to visit. Jenni is a world traveler and has led many Kilimanjaro climbs and Everest treks, so she was the perfect person to go and sort it all out.
Jenni reports:
"When I first heard of Myanmar, and that the country just recently started using Wi-Fi and cell phones and has virtually no ATM machines, I had to check it out for myself! I wasn't sure quite what to expect, so I arrived with an open mind. I had a rough plan, but no details. Everything fell into place perfectly. I visited Bagan, which at one time housed more than 10,000 Buddhist temples, pagodas and monasteries. Currently over 2200 still remain. After Bagan I explored Yangon, Myanmar's capital and worked on logistics for some amazing IMG trips. The country is beautiful, the people are friendly and warm, and the food is delicious. What more could you want? I'll be heading back this fall to lead a couple of trips combining just the right amount of trekking and culture. Will you join me?"
Make no mistake, traveling in Myanmar is still the "wild, wild, west." We have worked hard to iron out the kinks, but this remains real adventure travel! Our 14 day Myanmar expedition will interest and challenge even veteran travelers, with the chance to visit four completely different parts of the country. Starting in Yangon we spend a couple days exploring, then fly north to Bagan (Pagan), one of the most famous ancient cities sites of Southeast Asia (over 1000 years old) for a combination of day hiking, touring, and visiting important archeological sites. Then, the team will travel to the west into Chin State (which borders Bangladesh) for several days of trekking and touring the more remote villages of the Chin tribes.
For the final part of the trip, the team flies east to Heho in Shan State for five days of touring and trekking in this area (closer to the border with Thailand). The trip culminates with a day at Inle Lake before flying back to Yangon.
Our goal is to get a great feel for the country in two weeks and I think this itinerary is a winner. If you are up for a real adventure, join IMG guide Jenni Fogle for this fun trip. Please let me know how I can be of further assistance!
—Eric Simonson, IMG Himalayan Programs Director