IMG 2017 Mongolia Expedition Trip Report
Mount Khuiten (14,350 ft) and Nairandal Peak (13,714 ft)
By Charlotte Austin
What an adventure! We're lucky to travel to lots of neat places with IMG, but I have to say that Mongolia has been one of the best. The scenery is mind-blowing, the cultural experience is unbeatable, and the climb was scenic and rewarding. And shoot, when else are you going to go on a camel-supported trek through the Altai Mountains?
Here's a specific breakdown of this year's adventure:
Travel days (Seattle to Ulaanbaatar): Long flights, but everything went smoothly. We all watched lots of movies, ate noodles during our layover in Seoul, and arrived in Ulaanbaatar with all of our luggage. The duffel shuffle was successful! We were met at the airport by our local Mongolian guide with a private van and bottled water. He transferred us to the hotel, and we immediately fell into bed.
Ulaanbaatar: After meeting the whole team at our hotel in Ulaanbaatar, we made the best of our short time in Mongolia's capital city. We toured the Gandan Monastery in the morning, where we were able to see local people performing religious ceremonies and making offerings of bread, milk, and rice. We also visited the National Historical Museum which features lots of cultural displays: costumes, archeological artifacts, even hand-carved jade snuffboxes! Then we hit the Sukhbaatar Square in the city center which features a huge statue of Genghis Khan. Photos taken: approximately one million.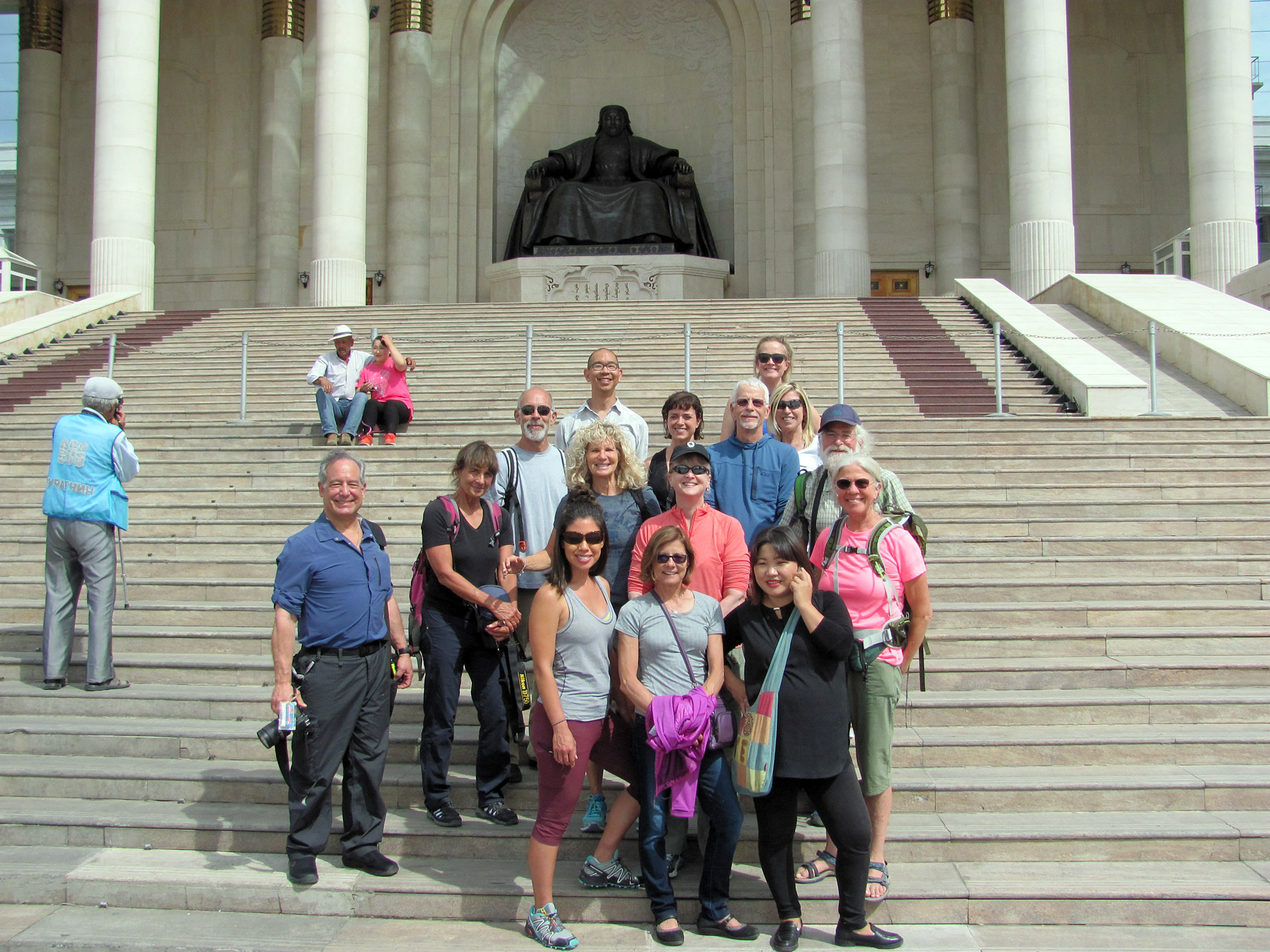 Lunch was a traditional Mongolian meal: lamb, dumplings, and meat soup with a side of milk tea. In the afternoon we enjoyed a one-hour cultural show, which the whole team agreed was a highlight of the trip — there were traditional Mongolian throat singers, dancing troops, and even a contortionist! Then we hit a local restaurant for our official welcome dinner, and the trip was off to a great start.
Travel day (Ulaanbaatar to Olgii): We had a very early wake-up call (4am) to catch our 6:30am flight to Olgii. The flight was smooth, and we were served pickle sandwiches (no, really) by the flight attendants. In Olgii, we met our local drivers, tossed our duffels into our vans and hit the road, or more accurately, the unpaved countryside. It's a bumpy six-hour drive from Olgii to the trailhead, and we took lots of breaks to stretch our legs, take photos, and enjoy the views. This is a long day, but the whole team agreed that it's amazing to see so much of the countryside.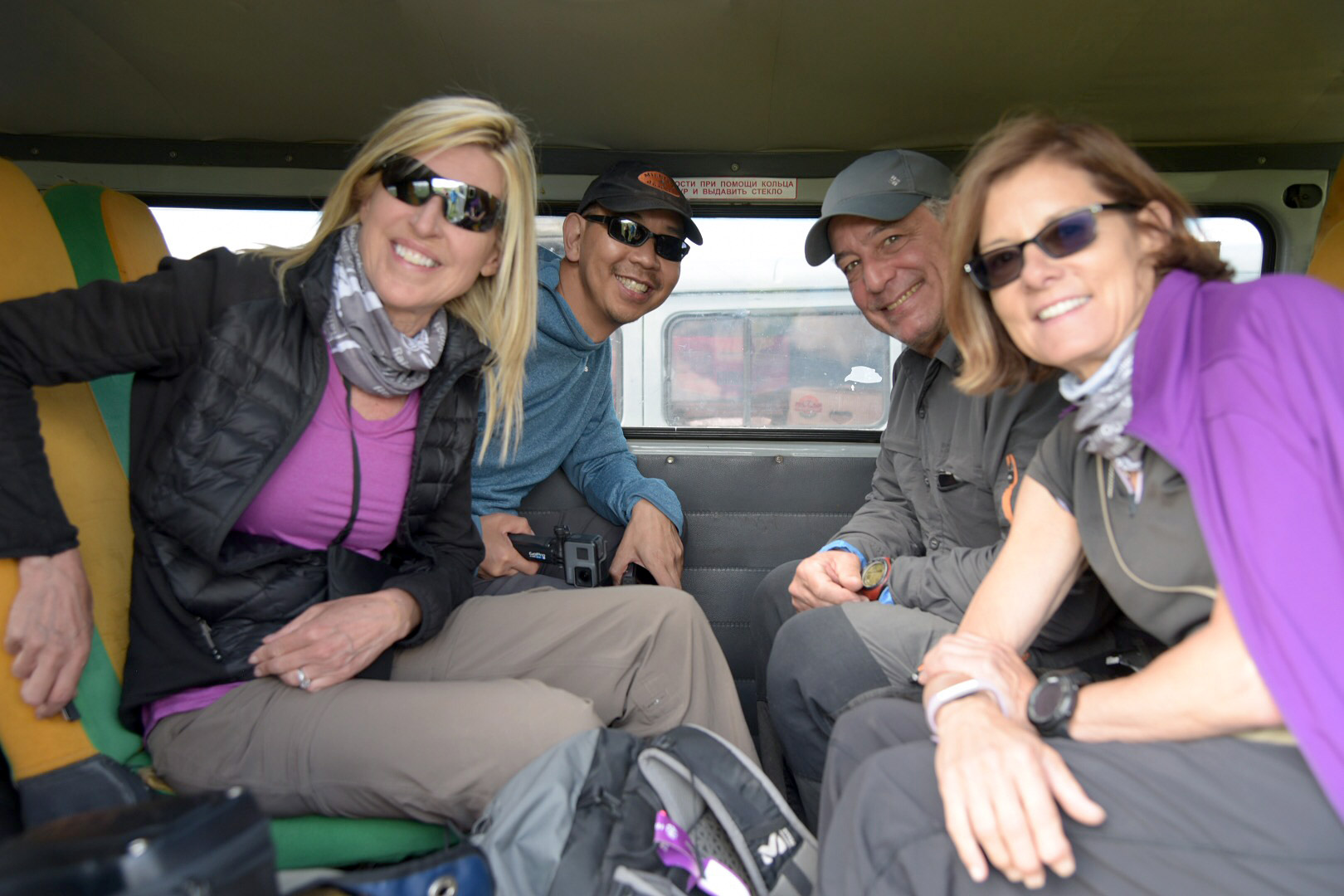 Trekking day (trailhead to base camp): After a night in tents at the entrance to the park, the whole team was excited to hit the trails. We broke camp, loaded our duffels onto the camels (!!), and enjoyed a mellow day of walking to base camp. Highlights include brilliant wildflowers, glimpses of local sheep and yaks, and time to chat with our local staff. Base camp is beautiful; it's nestled into a small valley at the edge of the lateral moraine below Mount Khuiten. Our staff set up tents, a kitchen, and a nice dining set-up, and we made ourselves at home. Elevation is roughly 10,000'.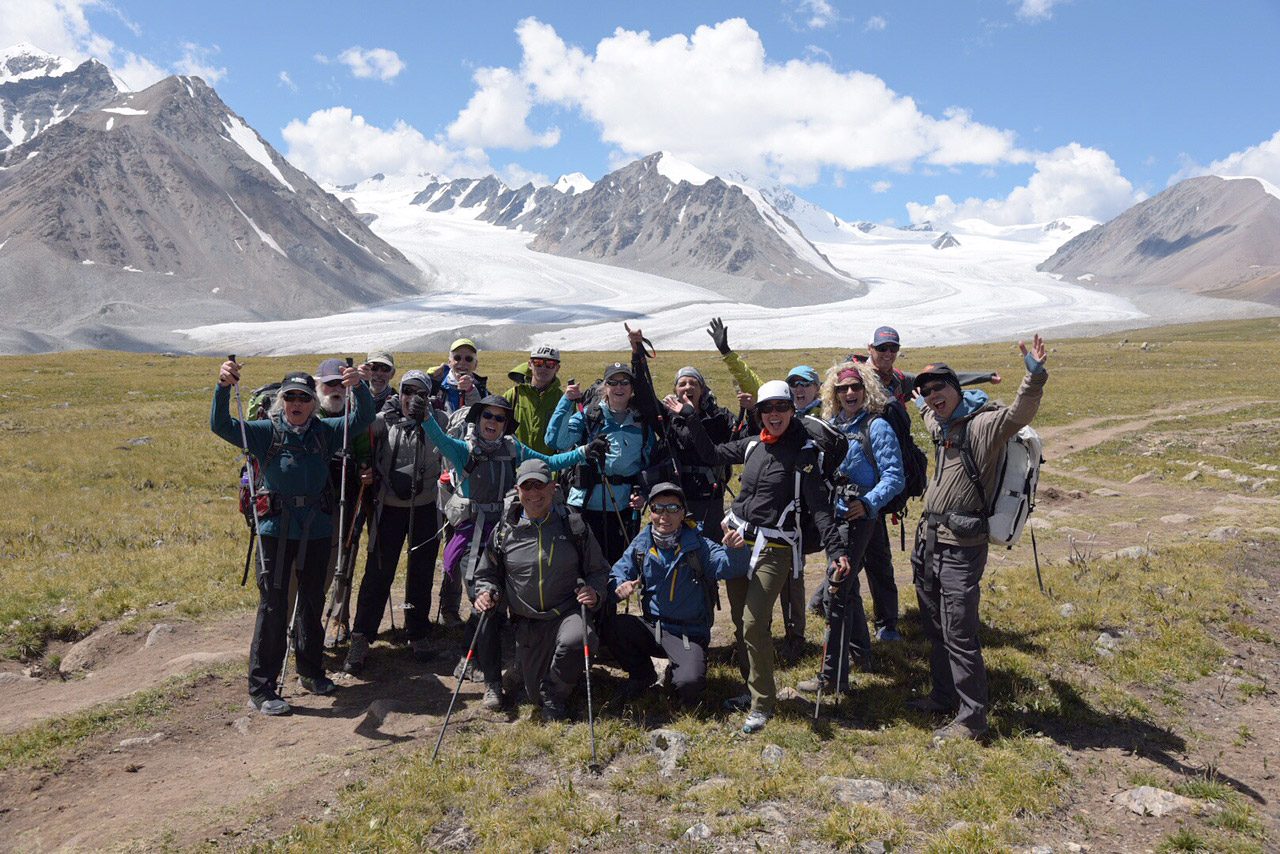 Training day: On our first full day at base camp, Greg and I took the team out to the base of the Potaniin Glacier to do some basic skills training. We covered cramponing, ice axe use, and rope skills. The team was stoked to get on the glacier, and we came back to camp for a mellow afternoon.
The climb: We woke up early at base camp, packed our gear, and climbed up to high camp (around 12,000'). The walk doesn't gain much elevation, but it's longer than it looks — roughly 10 kilometers or 6 miles. The first half of the way is on a nice trail, and the second half is on glacier, which requires crampons and rope travel. At high camp we moved into our tents, rehydrated, and ate dinner: noodles, beef, and veggies.
In the morning, Greg and I watched the weather carefully on Khuiten, but we didn't like the wind — it just looked a little too gusty at the summit. So we adjusted our plan, and climbed the nearby Nairandal Peak instead of Khuiten. "Nairandal" translates to "friendship," named because the mountain sits at the border tripoint between Russia, Mongolia and China. It was great to gear up and stretch our legs, and the summit was downright balmy. We were back in camp by early afternoon.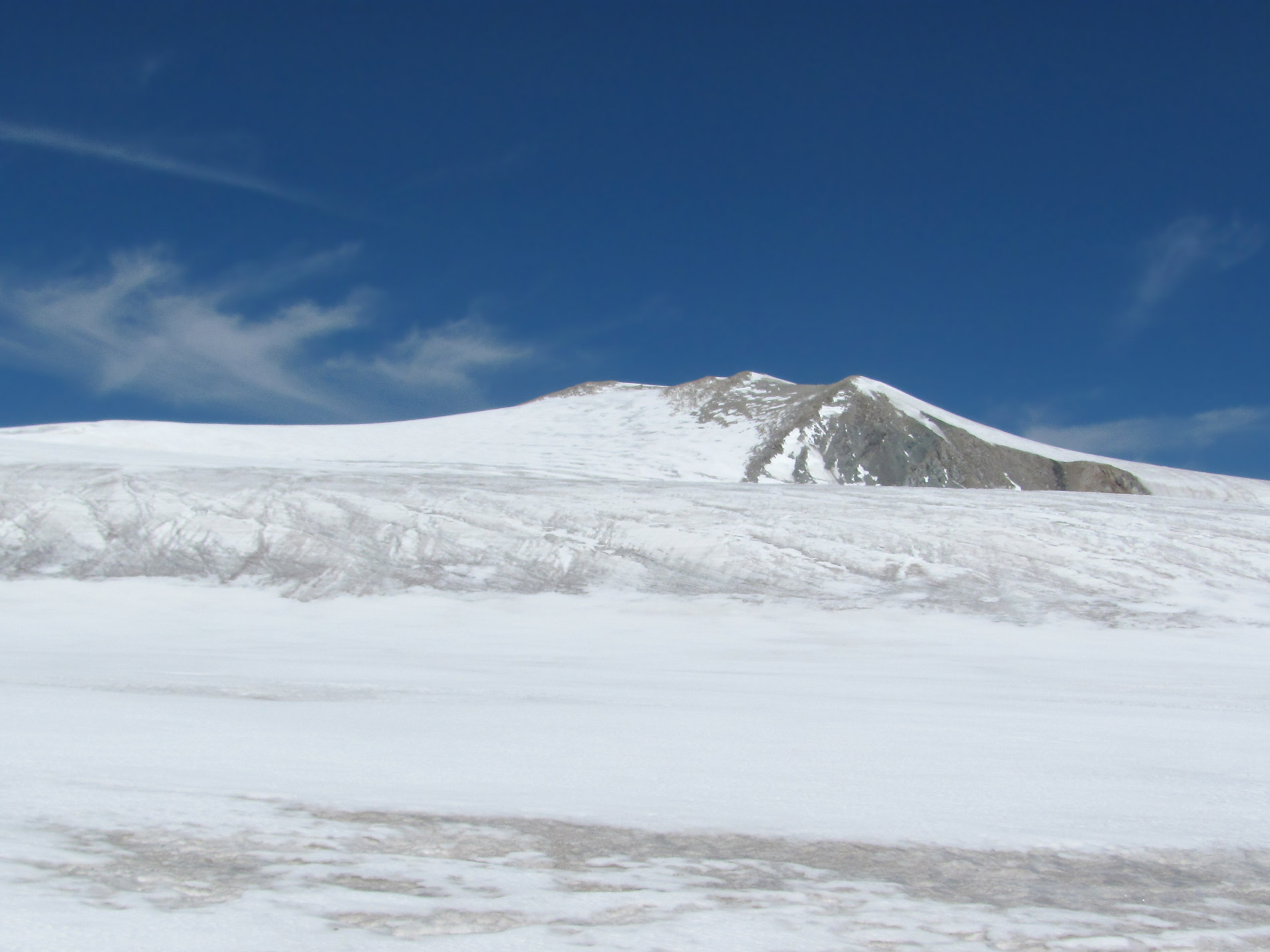 The next morning the weather conditions were finally right for Khuiten. We got up around 4:00am and were roped-up and walking out of camp by 6:30. It couldn't have been a better climb! Everybody was well-acclimatized, confident with their technical gear and really worked beautifully as a team.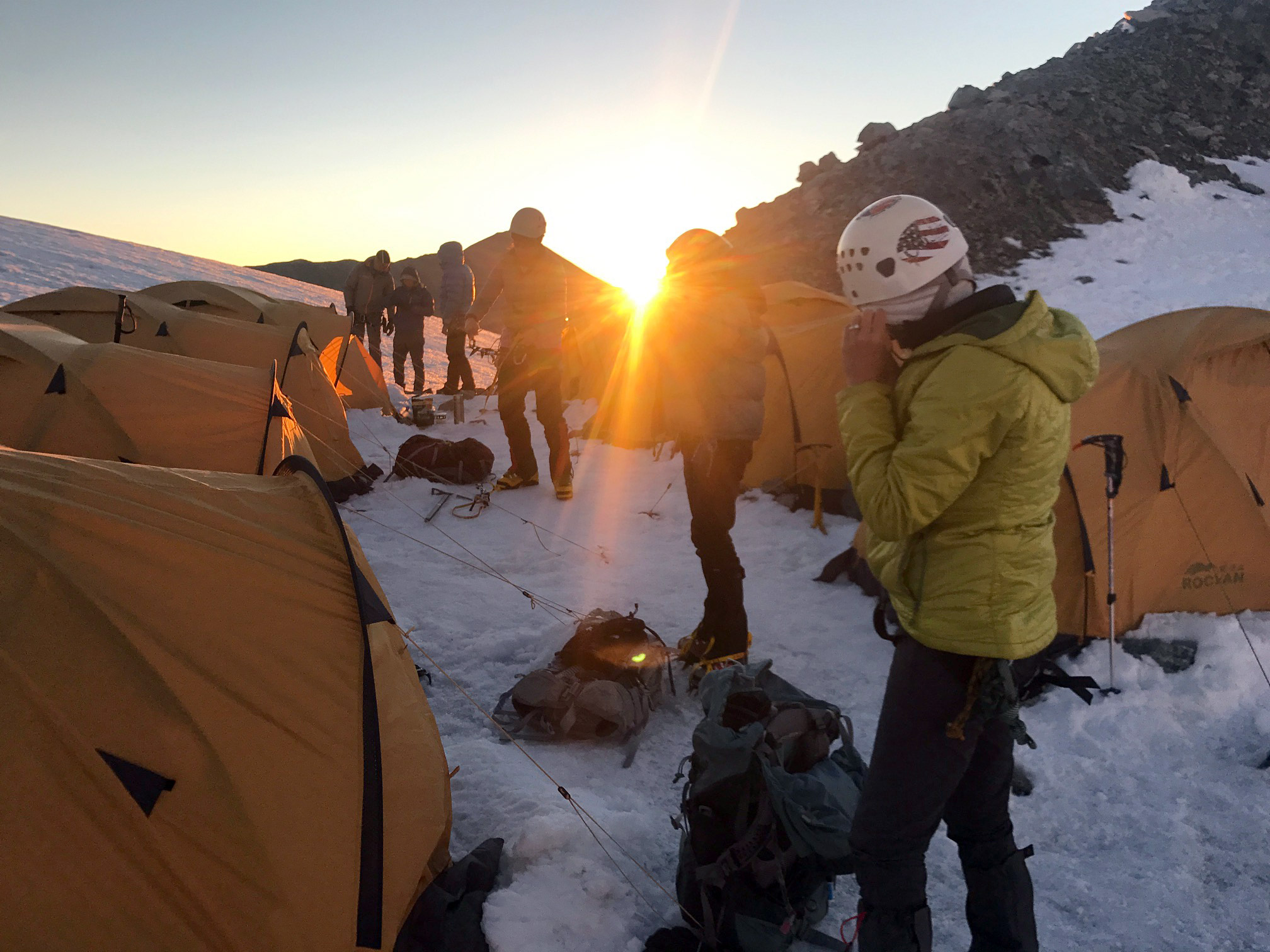 The summit was so warm that we all took our gloves off to high-five, snap photos of the view and refuel for the descent. We were back in camp by mid-day — just in time to throw all our stuff in our backpacks and descend back down the glacier to base camp. It's a long day, but it sure was nice to be back on solid ground. Fun note: summit day was also one team member's birthday, so our cook made us a special birthday cake which even included fresh strawberries!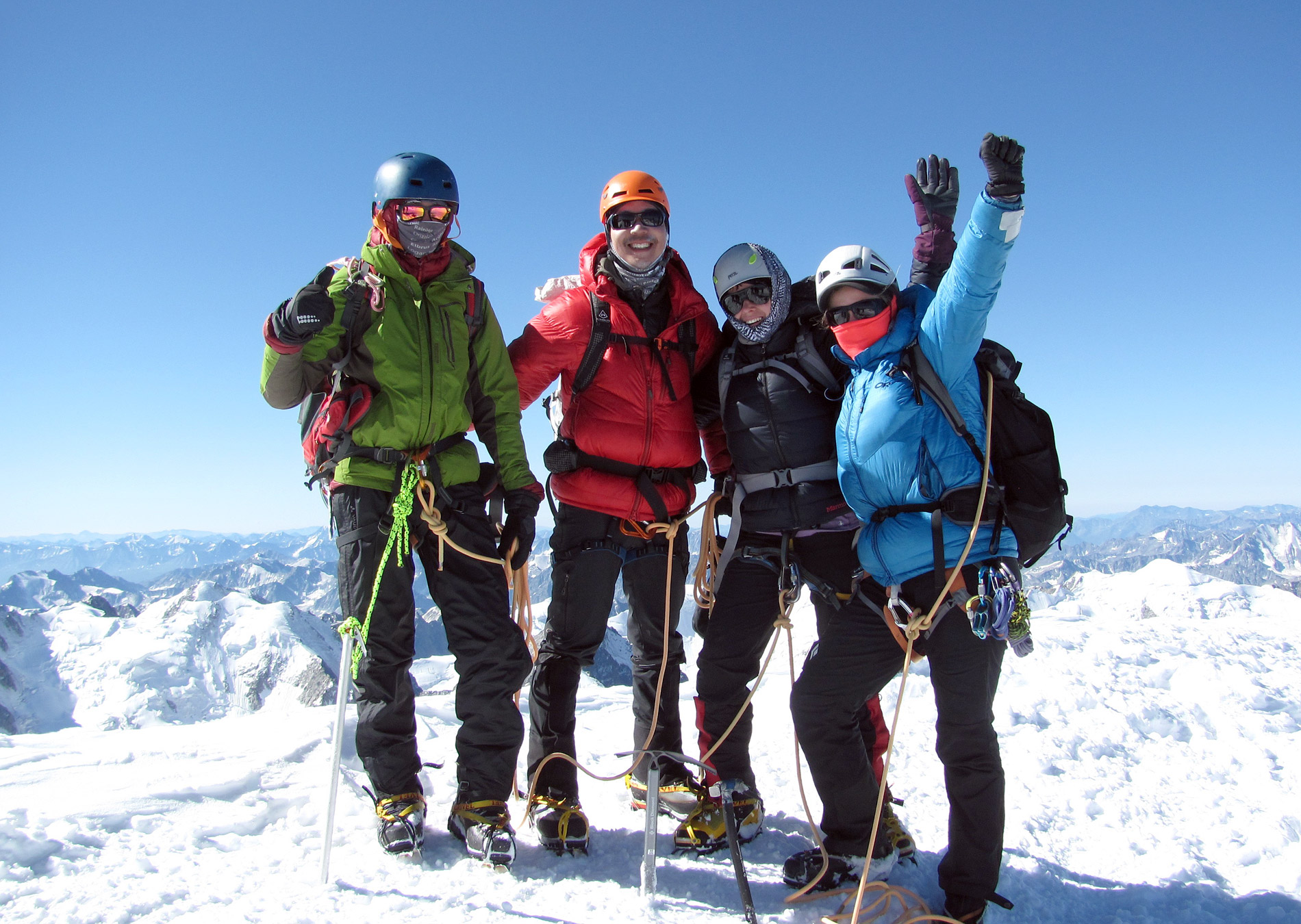 Rest day: We had one weather/contingency day built into the schedule, which we didn't end up needing, so our team rested for a day at base camp. The weather was warm and sunny, and activities included doing laundry in a nearby river, strolling around nearby hills to take photos of eagles and marmots, and reading a lot of James Patterson novels.
Trekking day (base camp to White River): After a hearty breakfast, we tossed our duffels back on the camels and hit the trail. We trekked out on a different path than the one we had used to get to base camp, and everybody agreed that seeing this new terrain was a highlight of the trip. We saw local yaks, sheep, cows, and horses, and even got to visit a local family in their ger. We sampled their bread, homemade cheese curd, and even sipped their vodka — home-fermented from mare's milk! At White River, we set up camp, enjoyed a nice meal, and went to bed early.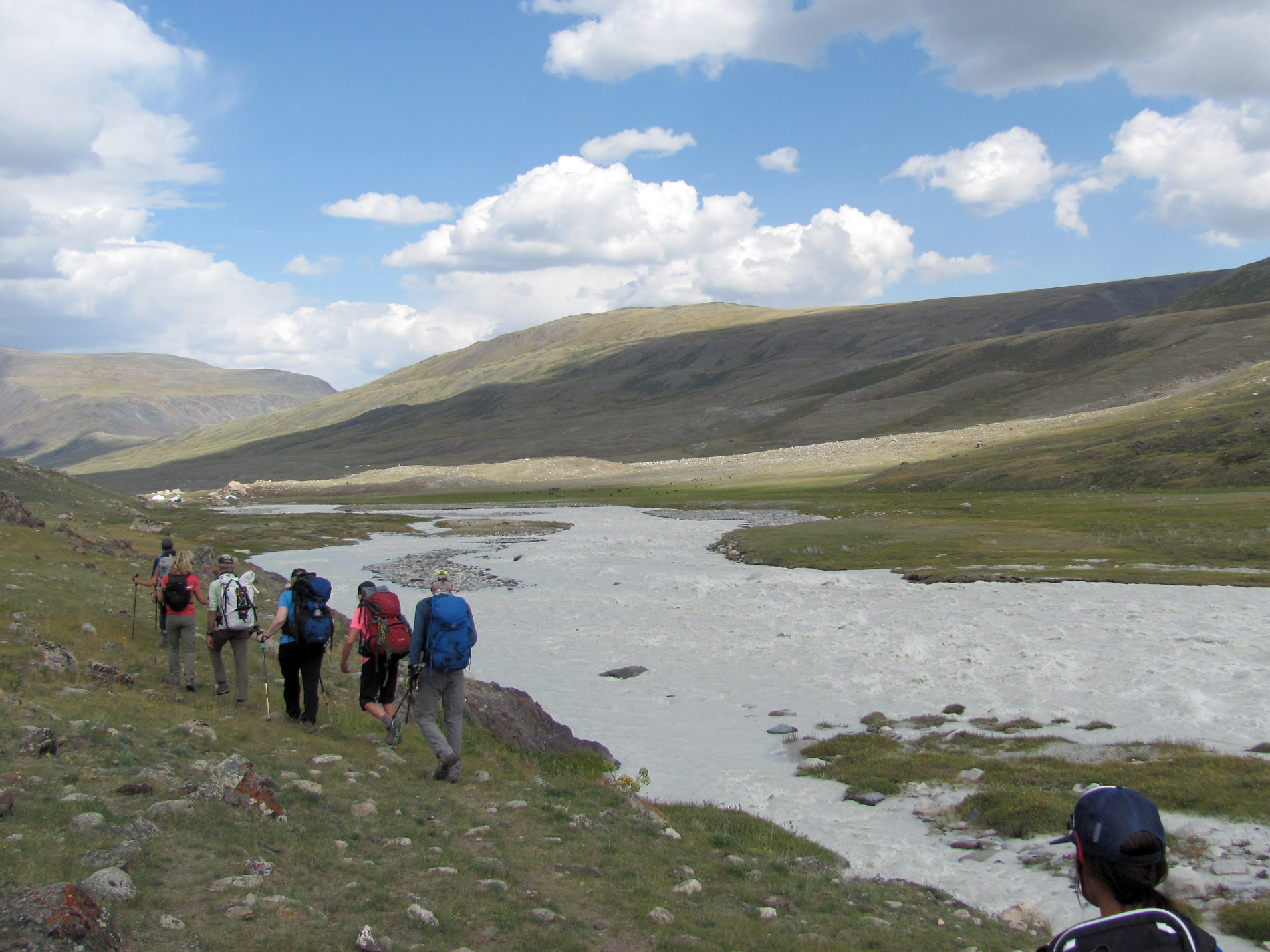 Transport day (White River to Olgii): We hopped back in the vans and headed for Olgii. It's another long, hot, dusty day, but the team was in good spirits after a great trek. We pulled into Olgii mid-afternoon, settled into our hotel, and ventured out to see the town. Dinner was hosted by a local Kazakh family, who welcomed us into their traditional ger, cooked us huge platters of beef, mutton and horse meat, then sang and played tradition instruments. The music was so beautiful that there wasn't a dry eye in the ger.
Back to Ulaanbaatar: From Olgii, we caught our domestic flight back to Ulaanbaatar, then headed to our hotel. After a quick shower, we all headed to the Hard Rock Cafe for our final dinner: margaritas, nachos, and even some fresh salads. The team toasted Bat (our local guide), shared photos and enjoyed celebrating another fun, successful trip. Some team members headed home while others packed for their extension to the Gobi Desert.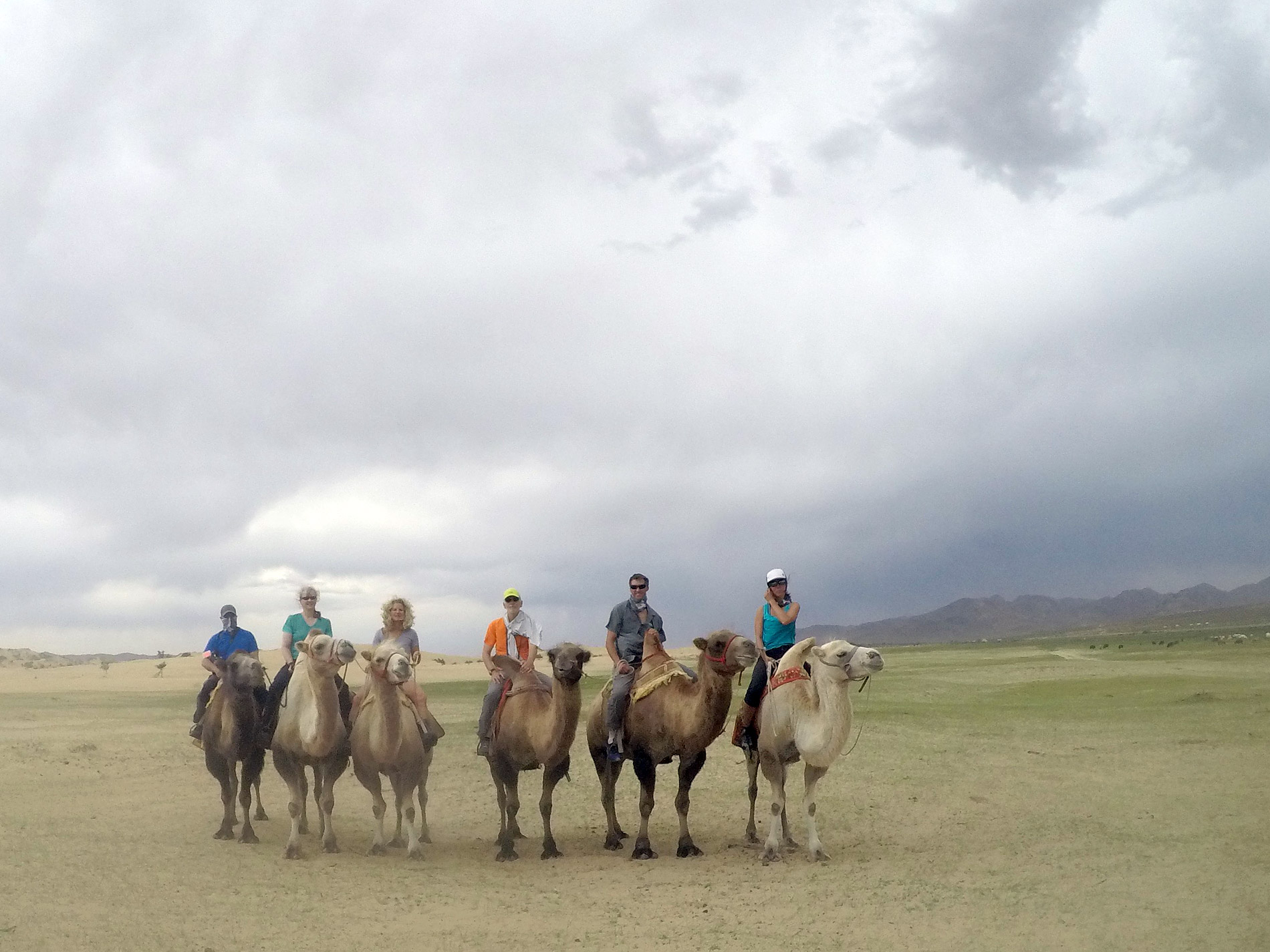 Conclusions: I'd heard a lot about Mongolia, but I honestly wasn't sure what to expect. In retrospect, no descriptions could really have done this place justice — it's just that magical. The scenery is breathtaking, the climb was fun and rewarding, and my new favorite animal is the Bactrian Camel. But the best part, hands-down, is that this isn't a touristy place. There's only one international airport in the country, and the locals aren't jaded or corrupt — on the contrary, they're as curious and excited about us as we are about them! To anybody who's thinking about signing up for this trip, all I can say is: go soon, before the rest of the world discovers how magical Mongolia can be.
—Charlotte Austin, IMG Guide