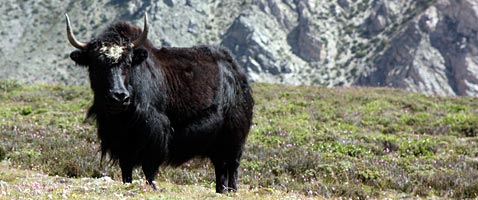 IMG Mt. Khuiten Mongolia Expedition Itinerary
| | |
| --- | --- |
| Dates | Mt. Khuiten Expedition |
| Wednesday, July 14, 2021 | Arrive in Ulaanbaatar, transfer to hotel |
| Thursday, July 15, 2021 | Tour the city |
| Friday, July 16, 2021 | Fly to Bayan Olgii, Jeep to Tavan Bogd region., camp in the lower alpine meadows |
| Saturday, July 17, 2021 | Hike the tundra to the pass, for great views of the Altai mountains. Descend to the Potaniin Glacier, establish base camp |
| Sunday, July 18, 2021 | Acclimatization hike and training, camp |
| Monday, July 19, 2021 | Ascend Potaniin Glacier to high camp, near to the Russian border |
| Tuesday, July 20, 2021 | From high camp, ascend the North Ridge directly to the summit of Mt Khuiten (14,350ft / 4375m) the highest point in Mongolia. This is a 3000ft moderate to steep snow ridge often broken with crevasses. Return to high camp |
| Wednesday, July 21, 2021 | Climb nearby Nairandal Peak (13,714 ft / 4,180 m) the tri-border highpoint for China, Russia, Mongolia. Return to Base Camp |
| Thursday, July 22, 2021 | Contingency Day (climb Malchin Peak/Russian Border) |
| Friday, July 23, 2021 | Trek to White River and camp |
| Saturday, July 24, 2021 | Return to Bayan Olgii, transfer to hotel |
| Sunday, July 25, 2021 | Flight to Ulaanbaatar |
| Monday, July 26, 2021 | Contingency Day (Bayan Olgii or Ulaanbaatar souvenir shopping) |
| Tuesday, July 27, 2021 | Depart |
Our Mongolia Expedition start date is right after the famous Naadam Festival that occurs in Mongolia each year. If you would like to head to Mongolia early and take in the sites of the Festival, we can put this extension together for you. The dates for the Naadam festival are July 11-15, 2021. Arriving to Ulaanbaatar on July 10, 2021 will allow you to see the whole Festival and then meet the team on July 14. The Naadam Festival is also a fun experience for your nonclimbing friends and loved ones. Let us know if you would like to have them join you for the Festival before you head out to the mountains.
| | |
| --- | --- |
| Dates | Naadam Festival Extension |
| Saturday, July 10, 2021 | Arrive for Naadam Festival |
| Sunday, July 11, 2021 | Grand Opening Ceremonies-Dancers, athletes, horse riders, Wrestling, archers, horse racers and musicians |
| Monday, July 12, 2021 | Drive to Hui Doloon Hudag for Horse Racing, archery and wrestling |
| Tuesday, July 13, 2021 | Day 1 of trip to Terelj National Park (sleeping in Ger's) |
| Wednesday, July 14, 2021 | Day 2 of the Terelj National Park/return to Ulaanbaatar/Climbers Arrive in Ulaanbaatar, transfer to hotel |
We have also had climbers interested in visiting the Gobi Desert after the climb from July 27 - August 1, 2021. Normally people drive from Ulaanbaatar to the Gobi Desert. This is a very long drive so we have done is put together an itinerary that will help make less driving in the car. You will note that we are planning on having anyone who wants to visit the Gobi Desert fly in/out for the very reason of limiting the amount of time driving.
Dates
Gobi Desert Extension
Tuesday, July 27, 2021
Fly to Dalanzadgad and drive to Yol Valley. Eagle Canyon (Lammergeyer valley), is located in the "Three Beauties" mountain range. The canyon shelters a small glacier which remains frozen until July despite the hot desert temperatures. Wild Goats scale the steep cliffs. At the canyon entrance, there is a small museum displaying samples of the area's animals.
Wednesday, July 28, 2021
Drive to Khongor sand dunes (Singing Dunes). The dunes are 120km long and 3 to 15km wide. From the foothill to the crest of the highest dunes is a good 200 meters. Local people refer to them as the "Singing Dunes" due to the distinct propeller hum heard on windy days. Settle into a local ger camp and later when the temperature drops, ride Bactrian camels or just walk the lower slopes. The evening light creates beautiful landscapes.
Thursday, July 29, 2021
Leisure day at the Khongor sand dunes. You can climb the dunes or ride a two humped camel (Bactrian). Back in camp, enjoy the night sky with all the stars that will create a phosphoresce dome in the Gobi sky.
Friday, July 30, 2021
Drive to Bayanzag (flaming cliff). This is a paleontology fossil site where the first samples of dinosaur eggs were found intact in their nests as well as hundreds of dinosaur skeletons. Among the bones, several new species were discovered by Americans in 1920ies.You will hike the eroded ravines of red sandstone and try and make your own discovery. A picnic lunch will be served with the cliffs as the backdrop. You will also take a short trip to view a saxaul grove nearby. Saxaul is a desert bush that grows to a height of 2 meters and is a valuable soil supporting agent. The Saxual is the most popular fuel of local herders.
Saturday, July 31, 2021
Fly back to Ulaanbaatar after breakfast. Free afternoon to explore UB and buy souvenirs.
Saturun