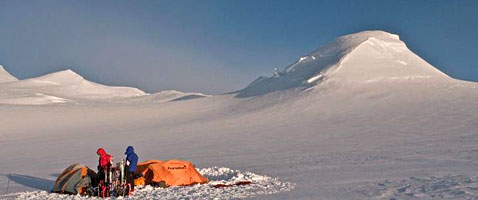 IMG Mt. Logan Climb Gear List
This equipment list is meant to help you compile your personal gear for a mountaineering expedition. Most items are required. Please consider each item carefully and be sure you understand the function of each piece of equipment before you substitute or delete items. Keep in mind that this list has been carefully compiled by George Dunn, the expedition organizer. Don't cut corners on the quality of your gear.
[ ]
Expedition quality plastic double boots or Ski Mountaineering boots: with expedition (closed cell foam — Intuition brand) liners (Koflach, Scarpa, La Sportiva, Millet, Asolo, Lowa)
[ ]
Wool or partial synthetic socks: 4 total sets of socks and liners.
[ ]
Expedition Overboots: 40 Below neoprene are the best. Get the snuggest fit possible.
[ ]
Longjohn bottoms and tops: one pair lightweight and one pair expedition weight.
[ ]
Soft shell climbing pants
[ ]
Soft shell jacket
[ ]
Waterproof/breathable jacket with attached hood
[ ]
Waterproof/breathable pants or bibs: must have full or ¾ length side zips.
[ ]
Expedition weight down parka: Doesn't have to be Gore-Tex, but must be very warm and cut large to fit over all other insulating layers.
[ ]
Insulated climbing pants. Lightweight down or synthetic fill pants with side zippers.
[ ]
Wool or fleece ski hat
[ ]
Balaclava face mask or neck gaiter (full coverage for face)
[ ]
"Buff" brand face mask
[ ]
Mid-weight insulated touring gloves
[ ]
Heavyweight insulated Gore-Tex ski or climbing gloves — such as the Outdoor Research Alti Glove.
[ ]
Expedition over mitts with heavy mitt liners or synthetic fill insulation. OR Alti Mitt.
[ ]
Gaiters: for low on the mountain when overboots are not necessary.
[ ]
Sun hat or baseball cap
[ ]
Bandanna for additional sun protection
[ ]
Glacier glasses with side shields or full wrap around for complete side protection. The best you can get. Bring prescription glacier glasses if you wear them, not just contacts.
[ ]
Ski goggles: double lens only
[ ]
Synthetic camp booties
[ ]
Therm-a-Rest pad: ¾ or full length.
[ ]
Closed cell foam pad: RidgeRest or similar.
[ ]
Expedition sleeping bag: A -40°F. Gore-Tex or water repellant nylon covered down bag is highly recommended. Stuff it in a compression stuff sack to minimize bulk.
[ ]
Internal frame backpack: very large, up to 7,000 cubic inch or 100L capacity. Bring side pockets and any necessary straps for securing pads and group gear.
[ ]
Nylon duffel bag: for containing all gear carried on your sled. A Large, lightweight one is best. The REI Classic XL Duffel is a good example.
[ ]
Ice axe: 70 cm. with leash
[ ]
Crampons: A 12 point crampon that is compatible with your overboot. Normally bindings with plastic toe and heel pieces are best. Make sure you test your overboot and crampon combination in advance!
[ ]
Ski mountaineering Skis: "Randonee" type skis and bindings that are compatible with your double boots or ski mountaineering boots. You may have to substitute warm supergaiters for overboots to fit your ski bindings. Climbing skins are necessary as well.
[ ]
Option: Snowshoes*** for non-skiers. They must have a good traction device under the foot and have straps long enough to accommodate an expedition boot and overboot.
[ ]
Ski poles: adjustable with large ski baskets
[ ]
Carabiners: 7 total, including two large locking pear-shaped biners.
[ ]
1 mechanical ascender: rigged with harness attachment.
[ ]
Alpine climbing harness
[ ]
Sun cream: SPF 25 or greater
[ ]
Lip balm: two of high SPF rating
[ ]
Water bottles: 2 wide mouth Nalgene bottles with insulated covers. One extra pee bottle: well marked
[ ]
Large plastic bowl, large insulated cup, 2 Lexan plastic soup spoons
[ ]
Swiss Army knife, 2 Bic lighters
[ ]
20 feet of 1 inch nylon webbing: used for pulling sleds. Also, about 20 feet of ¼ inch paracord for lashing gear to your sled
[ ]
6 mm. perlon cord: you will need two or more small prussik loops (20 feet total).
[ ]
Personal First Aid Kit: for your personal needs only, to supplement our group kit. A few bandages, moleskin, blister treatment (like Band-Aid blister pads), tape as you will need for your feet, etc. Bring your choice of Tylenol, Aspirin, and/or Ibuprofen. Consult your doctor about prescription drugs and consider bringing a medication for diarrhea and Diamox for acclimatization problems. These drugs are for emergency use only and must never be taken without first consulting the group leader. The group medical kit will include medication for pulmonary and cerebral edema.
[ ]
2 rolls t.p. in Ziploc bags.
[ ]
Toothbrush and small tube of paste.
[ ]
Small package of baby wipes: keep personal grooming aids to a minimum.
[ ]
Digital camera with large memory card; also extra batteries.
[ ]
Disposable hand warmers: 2 to 4 just in case.
[ ]
Personal snack food: group lunches will be simple and basic. Bring snack food for the trail and in the tent. I recommend dry salami, beef jerky, special cheeses, candy bars, GORP, nuts, energy bars and drink mix. Don't bring too much of any single item like Power Bars. They freeze up high and taste like chalk. Bring at least 10 lbs.
[ ]
Personal entertainment: One thick paperback, a small journal, an mp3 player; whatever you will enjoy whiling away the long evening hours with and the occasional storm days.
[ ]
Ear plugs (for better sleeping at night)
[ ]
A headlamp is not necessary.
[ ]
For Chitina: hiking shoes, jeans, an extra shirt, and a towel for the sauna. Keep it minimal. Extra travel gear will just be a burden. Bring a small, lockable duffel to leave gear in at the lodge. Mosquito repellent might be necessary.



*** Indicates item is available for rent.
A Few Tips on Gear for the Mt. Logan Climb
Acquire all of your equipment well in advance. Pack up your pack completely. Weigh it. If it weighs more than 50 lbs. complete, go back through all of your equipment with a fine-toothed comb. Start by eliminating unnecessary luxuries. Throw out the mp3 player, but keep the book. Bring a compact camera instead of a bulky SLR. Weigh your personal food and eliminate anything over 15 lbs. Check over your clothing for redundancy. Bring one warm soft shell jacket, one medium long john top and one pair of medium to heavyweight long johns. You will probably want to bring two lightweight tops, one to change halfway through the trip, but nothing else extra. Eliminate gizmos that you threw in just because you thought they might be useful: we don't all need Leatherman tools, extensive repair kits and first aid kits. Just bring the items you are likely to need yourself: a pocket knife, spare parts for your particular crampons, a small First Aid kit with blister treatment, a roll of tape, non-prescription painkillers that you normally use and prescriptions that your doctor recommends. There will be a group repair kit, tools, and first aid kit. Don't bring any extra toiletries other than t.p., toothbrush and a small tube of toothpaste, and perhaps a few baby wipes in a Ziploc bag.
Pack and repack your gear several times and have a place for everything. Keep your stuff sacks to a minimum and buy them in different colors so that you can easily identify the right bag in your pack. I usually have one large sack for all of my clothing, one smaller bag for gloves and hats, and one bag for food. Keep it simple. Go out on a number of training hikes with your full pack so that you become familiar with the heavy load and retrieving articles from it efficiently. Go out camping in the wintertime.
Keep in mind that in addition to your personal gear you will be issued about 50 lbs. of group gear at the start. We will usually make one extra carry per camp, but at times you will need to carry up to 20 lbs. of group gear in your pack in addition to your personal gear. It will come in all shapes and sizes, so you must be prepared to fit it in your pack, strap it on top, or on the sides.
There are three items that you must not skimp on: your climbing boots, your sleeping bag and your down parka. These will minimize your risk getting up and down the mountain. The best boots are the ones that fit your feet the best. Try on as many different brands as possible. Often you can upgrade your old boot by purchasing a new liner. I feel that the best liner on the market right now is the Intuition liner, which was originally designed for ski boots. The liner is heated in a convection oven before it is fit to your feet, and requires some skill to fit accurately. Buy them from REI or a ski store that has fit them in climbing boots before. Only you can judge how warmly you sleep at night. Bring a sleeping bag that will guarantee you a warm night's sleep. I like to use a slightly longer bag so I have room to fit my inner boots, water bottles, etc. in with me as well as my down parka if it really gets cold. A Gore-Tex covered down bag is the standard for expeditions and is the warmest and lightest way to go. Be wary of temperature ratings on bags. There is no industry standard at this time. The only true test is your own past experience. Many people do nicely in a -20 F. bag, but if you are in doubt, go for the warmest bag available. Your down parka will be your best friend in camp. We don't usually climb in them, but when the temperature cools in the evening, it is the first thing to go on. At cold rest breaks during the climb you will want to pull in on to trap body heat and avoid chilling. For that reason, size your parka large enough to fit over all other layers that you might be wearing, including your outer shell. Since the parka is only worn in cold weather, it really doesn't have to be Gore-Tex covered. Gore-Tex does offer additional wind proofness and it sure helps to shed the unavoidable spills and drips that occur in camp at meal times. Finally, the best parkas come with attached hoods, not snap-on or zippered.
After acquiring all of your gear, practice with it and use it out in the mountains. Train seriously for the expedition so that when you arrive at the start of the climb, you will be confident that you have done everything possible to prepare yourself mentally and physically. All that will remain is for you to enjoy yourself fully on one of the world's great climbs!