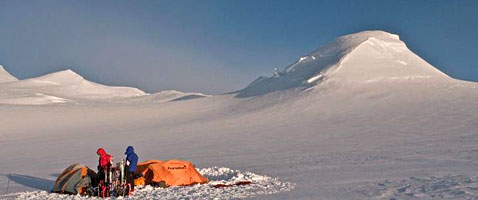 IMG Mt. Logan Climb Itinerary
Day
Itinerary
Day 1
The group will meet in Anchorage on the afternoon of the starting date of the expedition. Arrangements will be made for us to spend the night at a local bed and breakfast (name and location to be announced). The cost of this will be up to each individual, and will be in the range of $60-$100. We will meet at the bed and breakfast as our flight arrivals permit. The evening will be the last opportunity to pick up additional food items or gear for the trip. There are two climbing stores nearby, REI and Alaska Mountaineering and Hiking.
Day 2
Early breakfast and departure for Chitina. Transportation to Chitina will be prearranged and will cost each individual approximately $350 round trip. The drive to Chitina is spectacular and takes about 5 hours with a lunch stop on the way. At the Chitina airstrip, the bush pilot will pick us up and may shuttle us to his wilderness lodge, about 45 minutes flying time up the Chitina River. The night will be spent in tents at the lodge and we will be provided with dinner and breakfast. The other option is to be flown straight on to the glacier the first day. This will be solely at the bush pilot's discretion.
Day 3
Weather permitting, we will fly to our landing site on the American side of the border on the Quintino Sella Glacier (8,400') and establish a Base Camp. We'll do a single carry to C1. A six and a half hour, night-schedule haul on lower angle glacier to the Entrance of the King's Trench. A long heavy day but doable for everyone.
Day 4
Single carry up from C1 to the first major hill in the route and cache a load. Continue to C2 up the King's Trench. Place camp on the climbers left side of the valley to avoid serac avalanches.
Day 5
Drop down to pick up cache.
Day 6
Rest day, C2.
Day 7
Carry the 4.5 kilometers to C 3 (13,400'), just below King Col. Drop cache, start building camp, then return to C2.
Day 8
Move to C3 at King Col.
Day 9
Rest at C3. Cache skis here if members are unable to downhill ski and sideslip backcountry conditions in a fixed heel alpine set up with a heavy pack and no sled. If not continue on snowshoes.
Day 10
Carry to 15,300 feet. From King Col head up the McCarthy Gap, a 1,500-foot high slope with angles of up to 45 degrees. The slope out of King Col is the steepest pitch of the climb; this does not involve technical climbing. Make a cache at Camp 4, prep the camp walls, and return to King Col.
Day 11
Move to C4 on the Football Field.
Day 12
Rest and acclimatize. Finish the camp walls.
Day 13
Carry to Prospector's Col at 18,000 feet and leave a cache. Return to C4. A tough day at altitude.
Day 14
Move to Camp 5 on the summit plateau. We'll grab 5 days of food at Prospector's Col along the way before descending to camp on the great ice plateau. This is incredibly committing. Every individual needs to have perfect acclimatization. Deterioration in any member's condition once crossing over could be serious. An individual with acute AMS would have to travel 3+ Km and ascend 1200ft+ in order to evacuate. This is the most important camp on the mountain to protect with full walls. The expectation of all team members is to work and make camp first then evaluate time and energy for a summit bid. If we are expecting to be hit by bad weather or are waiting out a low pressure system, double row walls are recommended. 50-100mph winds are commonplace.
Day 15
Rest day at camp, and finish fortifying the walls.
Day 16-20
Possible summit days. It is a long, high altitude walk of 3 - 4 miles to the summit from high camp. It is not difficult terrain, but a very demanding day of 9-11 hours. Return to camp 5.
Day 21
Climb back over Prospector's Col and descend to C4.
Day 22
Rest at C4
Day 23
Descend to C2 or Lower
Day 24
Travel to the US landing site. We'll collect caches along the way. At Camp 2 we'll switch back to night schedule for the lower-elevation travel to the landing site and food cache.
Day 25
Fly to Chitna, travel to Anchorage with a late evening arrival. Evening flight home if possible.



Please note: The above itinerary is only a guideline. The climbing time is very similar to Mt. McKinley. If all goes well, we could very well do the entire climb in not much more than two weeks. If there are stormy periods, as we should expect, it may take up to three weeks to accomplish the climb. In extreme weather, we must be prepared to take as long as 25 or more days. There are no guarantees. Our rate of ascent will be calculated to give the team the best possible chance to acclimatize properly and have their best chance at the summit. Do your part by preparing as carefully as you can and coming in the best shape of your life.