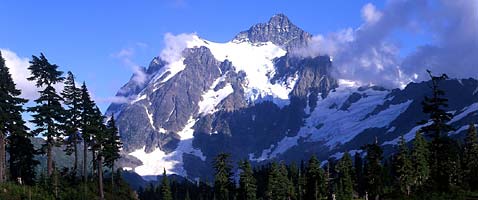 Women's 4-day Mt. Baker Climb with International Mountain Guides
Ladies, we invite you to spend a long mid-summer weekend with us on our 4-day Mt. Baker Women's Climb! For this climb only, we've built an extra day into our standard (3-day) climb to use as we choose! Depending on the group, we may decide to get after it with additional training or take advantage of a few extra hours of recovery time or a little of both. Either way, we will have a greater opportunity to focus on self-care and allow for more flexibility with our summit window.
4-day Mt. Baker Climb
The itinerary will follow a standard 3 day Easton Glacier climb, spread out over 4 days. On day one, the group meets at the Sedro Woolley Ranger Station in the North Cascades at 8:00 a.m. and carpools to the trailhead at Schreiber's Meadow at 3,200'. From there, the climb ascends ~2,300' up into the alpine zone to camp at ~5,500', on the edge of the Easton Glacier. Your guides will help you set up camp, cook dinner, and provide gratuitous amounts of entertainment before settling in for a well-deserved night's rest.
After breakfast on day two, you'll have a morning session learning/reviewing basic crampon techniques, ice axe use, and roped team travel will follow. After lunch, the group will evaluate individual and team goals, expected weather conditions, and recent route beta to determine when to attempt the summit. Once this discussion is complete, the group may choose to work together or break off into smaller teams reflective of specific skill-sets and intentions. Day three is the flex day and may be used for training, recovering, or summiting if weather is changing. The climb from camp to the summit and back to camp takes ~10 hours. On day four, you can expect to be back at the trailhead by 3:00pm.
Easton Glacier Mt. Baker Climb
We'll ascend the Easton Glacier on the south side of the mountain. This relatively moderate route with slopes up to 30 degrees has few technical difficulties. The summit crater provides a spectacular view of the surrounding Cascade Range. Mt. Baker is the perfect introduction to roped glacier travel and one of the classic summits in the North Cascades.
The climb is open to all women, including those new to mountaineering. In the months leading up to the climb, our all-female guide staff will be actively involved in communicating with the team on important topics such as training, pack weight and fit, gear, nutrition, and the mental aspects of preparing for and engaging with the mountains. The focus of the program is less on the technical aspects of mountaineering (there'll be time for that in the future!) and more on physical and mental fitness, and decision-making in the mountains.
Our female guides are sensitive to the unique concerns of female climbers (they have some great tips for all sorts of situations!) and are willing to go above and beyond in helping other women build competence and confidence in the mountains.
For any inquiries, email office@mountainguides.com or call 360.569.2609. We're happy to answer questions and/or put you in touch with one of our female guides.
Prerequisites
There are no technical prerequisites for the Mt. Baker Women's Climb. All participants must arrive in excellent physical condition and be prepared to carry 35-40 lbs. Stamina is key in mountaineering. An ideal training goal is the ability to ascend 1,000'/hour for 4-5 hours, with a pack, on back to back days, singing out loud to your music the whole time. We'll discuss this!