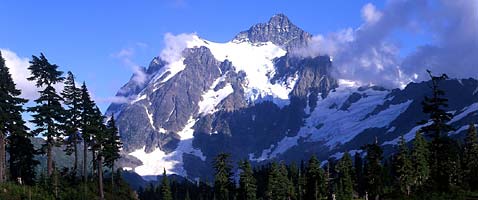 Women's 4-day Mt. Baker Climb with International Mountain Guides
We invite you to spend a long mid-summer weekend with us on our 4-day Mt. Baker Women's Climb! Our women's programs were developed by the female guides at IMG, who are passionate about building comradery, competence, and confidence amongst female climbers.
This climb is open to women both new to mountaineering and those with previous climbing experience. While the focus of this program is less on the technical aspects of advanced mountaineering, there is plenty of time to introduce technical skillsets if people are interested.
By adding a 4th day onto our standard 3-day Baker program, we can have more flexibility when choosing our summit window in the case of inclement weather. We will also have more time to go in-depth into various skills that may interest you such as decision making in the mountains, roped glacier travel, route finding, movement skills, knots and hitches, crevasse rescue, expedition camp building, and/or advanced crampon and ice axe techniques. If you prefer you can use our extra time to just relax and enjoy the views and good company.
Easton Glacier Route on Mt. Baker
We will ascend the Easton Glacier on the south side of the mountain. This relatively moderate route has slopes up to 35 degrees. The summit crater provides a spectacular view of the surrounding Cascade Range. Mt. Baker is the perfect introduction to roped glacier travel and one of the classic summits in the North Cascades.
Our female guides are well versed in the unique concerns of female climbers, and they will have many great tips for all sorts of situations. They are willing to go above and beyond in helping other women build competence and confidence in the mountains.
Prerequisites
There are no technical prerequisites for the Mt. Baker Women's Climb. All participants must arrive in good physical condition and be prepared to carry a 35-40 pound pack. Stamina is key in mountaineering: steady continuous movement is far more important than speed.
An ideal training goal is the ability to ascend 1,000 feet per hour for 4-5 consecutive hours (with a 10-15 minute break for food and water after each hour,) with a 35 pound backpack, on back-to-back days. You can gauge that your speed is appropriate if you can sing out loud to your music the whole time. If you are huffing and puffing and can't hold a conversation, you are going too fast!