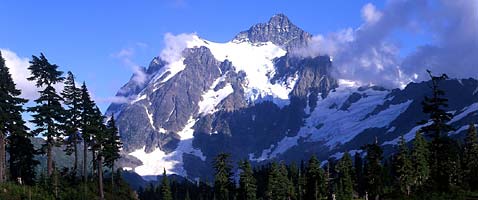 Mt. Baker Women's 4-day Climb Frequently Asked Questions
This information should answer many of your initial questions and also guide you through the next stages of preparing for the expedition. If you have any questions, please feel free to contact us: office@mountainguides.com
What skills do I need to have?
There are no technical prerequisites for the Mt. Baker Women's Climb. All participants must arrive in excellent physical condition and be prepared to carry 35-40 lbs. Stamina is key in mountaineering. An ideal training goal is the ability to ascend 1,000'/hour for 4-5 hours, with a pack, on back to back days, singing out loud to your music the whole time. We'll discuss this! For training suggestions, please review the information provided on our Training for Rainier page »
How do I get there?
International Mountain Guides has worked for many years with the staff at CTT Destinations to provide professional travel service for participants in our programs. For help with your plans, we urge you to contact Pirjo at CTT Destinations: 800-909-6647 or img@cttdestinations.com
What's included in the trip cost?
Cost Includes:
dinners and breakfasts on the mountain
all group equipment including shared tents, stoves, climbing ropes and hardware
climbing permits.
Cost Does Not Include:
transportation to the trailhead
lodging the evening prior to the start of the climb or the last night of the trip
meals other than breakfasts and dinners on the program.
required* Travel Insurance
What kind of insurance do I need?
The *Travel Insurance requirement does not apply to IMG customers on programs within the continental USA but is strongly encouraged. The trip cancelation insurance protects your financial investment in the climb if you need to cancel, as all IMG fees are non-refundable. The earlier you purchase your insurance, the more options available.