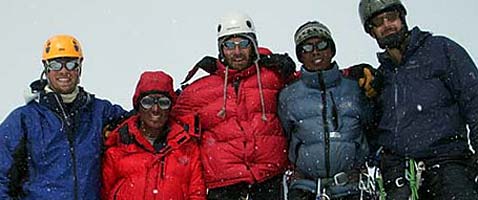 IMG Ama Dablam Climb Gear List
This equipment list is meant to help you compile your personal gear for Ama Dablam. Most items are required. Please consider each item carefully and be sure you understand the function of each piece before you substitute or delete items from your duffle. Keep in mind that this list has been carefully compiled by our IMG Guide Team. Don't cut corners on the quality of your gear.
Once you are confirmed on the roster, we will be sending Newsletters with a more comprehensive gear list with tips for each piece of equipment.
Climbing Gear
[ ]
Ice Axe
[ ]
12-point Crampons
[ ]
Climbing Harness
[ ]
Climbing Helmet
[ ]
Hardware:

3 locking carabiners
4 lightweight regular carabiners — it is helpful if at least one of the locking carabiners has a "key gate", like the Petzl Attache.
Ascender with handle
Petzl Tibloc
2 sewn 48" nylon slings
10' of 8mm perlon cord
1 small 5mm prussik loop
Black Diamond ATC Guide is good since it can handle ropes from 7.7mm to 11mm.
Figure 8

[ ]
Climbing Backpack: 70L
[ ]
Sleeping Bag rated to -20°F
[ ]
Sleeping Pads


Camp Accessories
[ ]
Headlamp with extra batteries
[ ]
Water Bottles X 2
[ ]
Water Bottle Insulators
[ ]
Water Treatment: Iodine tablets (Potable Aqua or similar) or iodine crystals (Polar Pure) or Steripen with extra batteries
[ ]
Insulated Cup, Bowl, Spoon
[ ]
Lighter


Footwear
[ ]
Double Climbing Boots with expedition liners or Triple boots
[ ]
Overboots
[ ]
Approach boots
[ ]
Gaiters and Yaktrax or Kahtoola Microspikes
[ ]
Socks: Four sets of climbing socks


Clothing
[ ]
Insulated Parka: 800 Fill Down
[ ]
Insulated Pants: Down or Synthetic Pants with full length zippers are required for this climb
[ ]
Down Suit: You may elect to wear a down suit on summit day instead of Down or Synthetic pants
[ ]
Shell Jacket
[ ]
Goretex Pants
[ ]
Mid Layers
[ ]
Climbing Pants
[ ]
Base Layers: 2 synthetic tops and 1 bottom


Outerwear Accessories
[ ]
Mittens: 8000-meter mittens
[ ]
Expedition Weight Gloves
[ ]
Light Gloves
[ ]
Leather gloves or good abrasion resistant climbing glove for the rock sections
[ ]
Winter Beanie
[ ]
Neck Gaiter and/or a Buff
[ ]
Baseball hat and Bandana
[ ]
Sleeping Pad or Thermarest


Personal Accessories
[ ]
Eyewear: Glacier glasses with side protection.
[ ]
Goggles x 2: One Dark Pair and one pair clear or yellow/orange tinted
[ ]
Vision correction
[ ]
Wrist Watch
[ ]
Basic First Aid
[ ]
Prescription Medications:

Two regimens of antibiotic for respiratory and GI problems (azithromycin / "Z-Pak")
Diamox (acetazolamide) for acclimatization (125mg tabs recommended, enough for a week)
Sleeping pills for jet lag
Malaria Chemoprophylaxis, if needed based on travel plans
Asthma medication, if any history (many climbers use Advair inhalers at high altitude to prevent Khumbu cough)
nifedipine (for pulmonary edema)
dexamethasone (for cerebral edema)

[ ]
Sunblock-at least #30 protection factor
[ ]
Garbage Bags: 2 or 3 large plastic bags make great liners for your pack in wet weather.
[ ]
Personal Snack Food-not more than 5 pounds
[ ]
iPhone and Kindle
[ ]
Pee Bottle
[ ]
Chemical Hand Warmers x 6


Travel Items
[ ]
Duffel Bags x 2
[ ]
Daypack
[ ]
Travel Wallet
[ ]
Passport
[ ]
Camera
[ ]
Casual Clothes
[ ]
Bathing Suit


Trekking Gear
[ ]
Trekking Poles
[ ]
Backpack
[ ]
Pack Cover
[ ]
5 large plastic garbage bags to pack gear inside duffels to protect gear from rain
[ ]
Trekking Clothes
[ ]
Lightweight Approach Boots