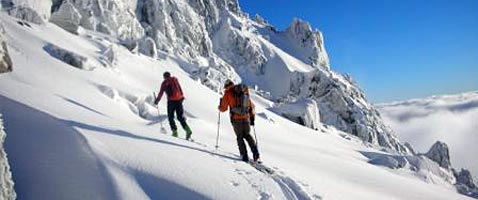 Rainier Ski Mountaineering Itinerary and Curriculum
Day 1 (½ day) — Meet in Ashford at HQ (directions) at 2:00pm for the pre-trip meeting. This 4-hour session is instrumental in getting the team outfitted, informed, packed and educated prior to going on the mountain the following morning. Topics to be covered include an introduction of the entire team, an introduction to Mt. Rainier National Park, its mission and ecology, L&T, issue and fitting of gear and personal gear checks including ski equipment. We will issue group gear and introduce the proper use of safety equipment including avalanche beacons, probes, and shovels. We also review additional critical ski mountaineering and avalanche safety skills.
Day 2 — After we are shuttled to Paradise our training begins with ski touring for a few hours to our first camp location and get set up. This camp, above Paradise on the flanks of Mt. Rainier, offers beautiful views of both the mountain and of the rugged Tatoosh range to the South. The afternoon curriculum consists of avalanche hazard evaluation and ski mountaineering training.
Day 3 — We make our way to 10,000 Camp Muir. This will be our base camp for the next few days. In the afternoon we rope up and ski on to the Cowlitz. This gives us a chance to practice some good route finding and glacier travel skills on skis.
Days 4-5 — These are ski tour training days with the Nisqually, Cowlitz, or Muir snowfield as options depending on conditions. We stop along the way to do some ski anchor and steep skiing and training and practice advanced skills as the terrain and conditions warrant.
Day 6 — The final day affords us an opportunity to head out on a longer ski tour that allows us to use our training from the past three days and, depending upon the group, get into some steeper more exposed ski mountaineering terrain for a ski descent back down to Paradise. We are shuttled from Paradise to Ashford where we celebrate our trip's end.