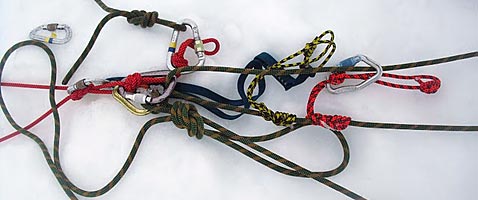 IMG Rainier Glacier Skills Seminar Itinerary
One fundamental aspect of all of IMG's training seminars is that the itinerary varies from course to course. The guides will determine the exact route and camp placement prior to the seminar depending upon the weather, conditions, ability of the group, and skills they want to highlight. There is real opportunity to get away from the crowds and enjoy a unique experience on Mt. Rainier's glaciers. The seminar progresses up the mountain moving from camp to camp, putting the team in position for a summit attempt at the end of the program. Most days will be centered on training and skill exercises, lectures, and informal discussions at camp, but camps will be moved to give participants hands on experience in establishing safe, sheltered and well constructed camps as well as experience in the day to day skills required for extended expedition camp life.
Typical Itinerary
Day 1 — Your orientation begins at 2 pm at IMG Headquarters in Ashford, WA on Day 1. Your lead guide will take you through a gear check and training session. If you need to rent any gear, it can be taken care of during this portion of the program, no need to reserve in advance. Your lead guide can help make decisions about your gear and will ensure each team member has everything needed for the climb without carrying unnecessary weight. During the training session, you will cover Leave No Trace Principles, the Mission of the National Park Service, crampon adjustment, and packing up together. If time allows, the team will dive into other lessons such as knot-tying and an introduction into the climbing gear necessary for glacier travel. Day 1 will wrap up by 6 pm and the team will be free for the evening. Note that lodging is not provided for the night of Day 1.
Day 2 — The following morning on Day 2 the team will meet around 8 am back at IMG HQ in Ashford. Here they will meet their other guide as well as be issued the remainder of their group gear. Once the team is ready to depart, they will leave for Paradise. The team will climb about 2000 feet together to their first camp on the Paradise Glacier. On the way, guides will review pacing, rest-stepping, and breathing techniques. Training modules will resume once the team has made camp.
Day 3 — Day 3 training will start with glacier travel skills including cramponing, ice axe arrest, and rope-travel. After these modules, the team has the option to move-up to a higher camp, or stay in the same camp for the night. This will be decided by guides given current mountain conditions. If staying, the team will continue to go through modules including building snow anchors, ascending/descending ropes, and crevasse rescue techniques.
Day 4 — Day 4 will be another day of technical training on the Paradise glacier. The team will take advantage of nearby crevasses to go over rescue practice scenarios. Once finished with training for the day, the team will return back to camp for the night.
Day 5 — The team will ascend the remaining distance to Camp Muir (10,000') on Day 5. Here the team will meet their remaining two guides joining them for the summit attempt and finish any training modules. Once at Camp Muir, you'll also rest and enjoy a burrito dinner in IMG's semi-permanent dining tent. After dinner, it's off to bed for a full night of rest!
Day 6 — Pancake breakfast with bacon and French press coffee will be served at 8 am sharp on Day 6. After breakfast, you will put learned skills into action, making the two hour climb up and over Cathedral Gap to Ingraham Flats (11,000') nestled in the Ingraham Glacier. At "The Flats", dinner and hot drinks are served early and we head to bed soon thereafter to rest and prepare for our summit push early in the night.
Day 7 — On Day 7, you will wake up early to make your summit push. After leaving the Flats, you will climb to the top of Disappointment Cleaver (12,300') before continuing onto the upper mountain and climbing the Ingraham Glacier to the summit. Snap some summit photos and enjoy the views before we descend. Upon reaching The Flats, the team will pack up camp and continue descending to Camp Muir and then to the waiting van at Paradise. From there we travel back to IMG HQ in Ashford together. Here you can return rentals, make retail purchases, and share in a closing ceremony with your guides.