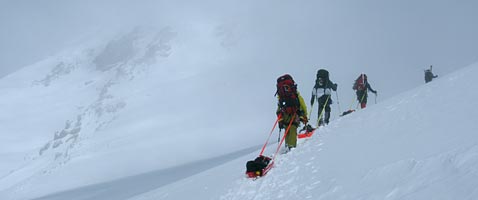 IMG Rainier Denali Seminar Itinerary
Day 1 — The team will meet at IMG Headquarters in Ashford, WA at 8 AM for a gear check and initial training session. If you need to rent any gear, it can be taken care of during this portion of the program, no need to reserve in advance. Your lead guide can help make decisions about your gear and will ensure each team member has everything needed for the program without carrying unnecessary weight.
During the training session, you will cover Leave No Trace Principles, the Mission of the National Park Service, crampon adjustment, loading/rigging of sleds to expedition packs, ascending for crevasse self-rescue and operation of avalanche transceivers.
After this morning orientation in Ashford, you will travel to Paradise to snowshoe and camp for the night.
Day 2-3 — Days 2-3 will be training days in the field. Your guides will determine the curriculum for the day depending on weather, current snow conditions, and previous lessons taught.
Weather permitting, we may carry loads and/or move to a higher camp, potentially all the way to Camp Muir.
Lessons include cramponing, steep snow climbing, roped glacier travel, ice axe arrest, crevasse rescue, ascending and descending fixed lines, snow anchor construction, expedition gear and its use, camp hardening with snow walls or snow caves, with additional lectures on altitude illness, cold injury, glacier travel and route finding, avalanche hazard evaluation, and a West Buttress route brief.
Day 4 — Day 4, you will finish up remaining training modules before descending back to the waiting van at Paradise and then IMG HQ. We plan to be back to IMG HQ in Ashford by 2-4 pm, as snow and conditions allow. Here you can return rentals, make retail purchases, and share in a closing ceremony with your guides.