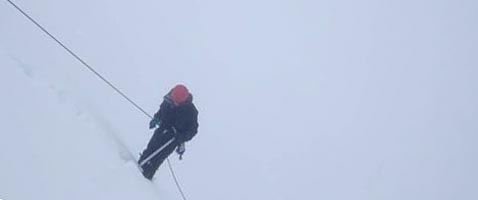 Advanced Mountaineering Day School Itinerary
We begin the day at 8:00 a.m. sharp with a meeting and introductions at our Ashford location.
Any rental needs are taken care of at this time. Once preparations are complete we are shuttled up to Paradise where we begin our hike to the training location. This hike usually takes about an hour and a half to reach the lower Nisqually Glacier. Once at the edge of the glacier, we will rope up and continue to a training site in the center of the glacier. The group will work on "French technique" (flat footed) cramponing skills, belayed climbing and use of ice tools on steeper terrain. We take a short break for lunch during which we discus anchors, belays and other rope management skills.
After lunch we complete our training with practice setting anchor systems, rappelling, lowering from fixed anchors and descending steeper terrain. At end of day we climb back up off the glacier and then continue down to Paradise for the shuttle back to Ashford. Normal return time is 6pm.