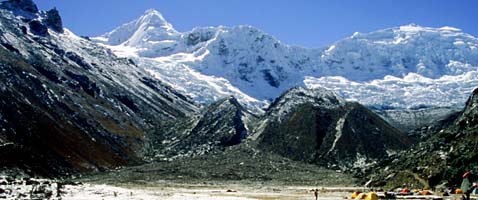 IMG Cordillera Huayhuash Trek Frequently Asked Questions
This information should answer many of your initial questions and also guide you through the next stages of preparing for the expedition. If you have any questions, please feel free to contact us: office@mountainguides.com
How fit do I need to be?
Excellent all-around fitness and previous hiking/trekking/backpacking experience, preferably at altitude is needed for the Cordillera Huayhuash trek. Compared to other treks around the world, the Cordillera Huayhuash is physically challenging because of the consistent longer hiking days with lots of elevation gain and loss as we traverse over the many passes we will encounter. While challenging, the views are incredible along many parts of the trek, so the effort will be worth it with incredible views virtually every day!
How do I get there?
Our team will fly to Lima via an overnight flight, with most trekkers arriving in Lima in the late evening/early morning. There is a benefit for trekkers to arrive around 5AM on this trip, to easily mesh with our transportation, and most participants will take the same flight.
For help with travel arrangements, IMG recommends our travel agency, CTT Destinations:
img@cttdestinations.com
or 800-909-6647. Owner Pirjo DeHart can help you to coordinate your travel plans with the IMG itinerary.
Do I need travel insurance?
IMG invests in insurance coverage for commercial liability and medical and disability insurance for our employees who participate and lead our programs. We cannot insure you for your personal insurance and financial needs, but we do expect you to be as fiscally responsible. We require that you insure yourself against potentially expensive difficulties that may arise. First, Trip Cancellation Insurance may provide financial relief should you be forced to withdraw from the program before it even happens. Next, make sure you have adequate Travel Insurance for coverage should you have a problem that may arise during the trip. Medical care and evacuation in remote locations can be expensive without insurance. For more information, please see our page on Trip Cancellation and Travel Insurance or contact the IMG Office..
What's included in the trip cost?
Cost Includes:
IMG senior guide with Peruvian trekking and climbing experience, will lead the trek along with a local Peruvian experienced trek guide, cooks, drivers, porters/mules, group equipment (kitchen, tents, etc.), climbing permit fees/park fees, airport transfers, ground transportation, lodging starting with your arrival in Lima and during the trek dates in Huaraz. While in Huaraz, 4 nights' accommodation are included in the printed itinerary. We can make a reservation in Lima for you if you wish to come early or stay on after the trip ends at additional cost. Hearty continental breakfasts in our Huaraz hotel are included, and all food during the trek is included (you may want to supplement your provided lunch with snacks).
Cost Does Not Include:
International airfare to/from Peru, Peru visa on arrival (at present, no fee for American or Canadian citizens), taxis, food and lodging should you arrive in Lima or Huaraz early or stay longer than itinerary, alcoholic beverages during the trip, personal shopping and snacks for your drive to and from Huaraz. You may also want to bring along a small assortment of snacks for the trek, as explained in the trek equipment list. Personal trekking equipment. Trip Cancellation and Travel Insurance. Meals in the cities of Lima and Huaraz, except continental breakfast in the hotels as supplied.
How much should I bring to tip the local guides and staff?
Please bring $250 for the local guide and staff tip pool. We will collect the tip pool at the hotel upon arrival in Huaraz, for distribution to all our Peruvian staff throughout the trip. The tip pool provides rewards for our reliable drivers, porters, cooks, local Peruvian guides, kitchen staff at the hotel, and others who help make our program a success, year-after-year. You will be given an opportunity to participate in the tipping process. Your IMG guide will organize the tipping pool, so if you wish to tip your IMG guide, you may do that separately and personally. Thank you in advance for your support of our hardworking and skilled staff who will do their best to provide you an excellent Peruvian experience.
What immunizations will I need?
The following may be recommended for travel to Peru. Consult a travel clinic, and check out the Center for Disease Control Website at
cdc.gov
Tetanus-Diphtheria, Polio, MMR: You should already have these. Do you need a booster?
Meningitis, Hepatitis A and B: Recommended. Ask your physician/travel clinic for advice.
Yellow Fever: Recommended, you may need to show your shot record with the Yellow Fever endorsement.
Cholera: Not a very effective vaccine. Ask your physician/travel clinic for advice.
Rabies and Typhoid: Not a bad idea to be on the safe side, the new vaccines are easy.
Malaria: We are above the Malaria zone on the mountain, but depending on your travel plans and local health department advice, you may want to bring long sleeves and bug juice for evenings in cities; chemoprophylaxis is especially a good idea if you plan to travel to lower elevations in Peru.
NOTE: Although many immunizations say they cover 5 years, they are most effective during years 1 through 3. If you are on the edge of coverage in years 4 or 5, consider a booster.