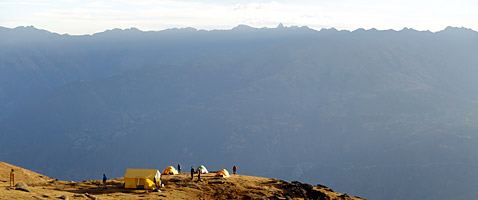 Peru Alpamayo Circuit Trek with International Mountain Guides
Trek with IMG this July in the incredible Cordillera Blanca Mountains of Peru. Enjoy nine days of trekking through the range with spectacular views of icy-clad peaks and passages through serene valleys of alpine tundra. We'll have opportunities for close views of impressive peaks such as Huascaran (22,132') and Chopicalqui (20,847'). Topping off the view list is Alpamayo (19,511'), one of the most beautiful mountains in the world. This is a rugged high-altitude trek. We will not likely see many other trekkers along the way, a benefit for those looking for a reasonable challenge in a stunning alpine environment. One of our many views of Alpamayo
This traditional style trek is suitable for new and experienced trekkers alike and for climbers who wish to delve into a solid high-altitude trekking routine. It's a perfect choice if you've completed our Machu Picchu trek, Kilimanjaro, or if you've backpacked on some challenging overnight trips and are looking for a new adventure.
One of our experienced IMG senior guides will lead the trip, in conjunction with local guides who we've worked with for years. Our trek route varies from casual walking along well defined trails to more rugged sections that will require some light scrambling, all made reasonable with the assistance of your guides. The entire trek is mule supported and the mules do the 'heavy lifting' of group and overnight personal gear, allowing team members to walk along for the entire experience with a light pack, carrying only the essentials for the day.
During the trek we will encounter 6 high passes, with the highest being over 15,700'. We will trek nearly 100 miles in an incredible journey around some of the most beautiful mountains in the world. Camps will vary in altitude from near 12,000' to 14,800' for the length of the trip. Noting this, trekkers will need to be fit, healthy, and rested upon arrival in Huaraz, our base of operations (10,200'). Our hotels and camps will include double-sleeping accommodations (single upon request), and a full dining experience during the trek, complete with dining tent, table, chairs, and of course, some festive music. Our local cooking staff will prepare a whole-foods based cuisine that will nourish the team and energize us for the following day's trek.
This trip begins in Lima, Peru. After an early morning arrival in Lima, we'll being our journey to Huaraz in northern Peru in a private bus, stopping along the way as needed to enjoy the 8-hour scenic drive. Air travel between Lima and Huaraz is possible, but not recommended due to the size of the airport, weather and aircraft load restrictions.
Trip Highlights
A nine-day trek around the Northern Cordillera Blanca with two pre-trek acclimatization hikes. Our trekking is non-technical, but our travels will take us off the beaten track and into a spectacular part of the Peruvian Andes.
Mules and porters will transport a large part of your gear during our trip, to make the experience more enjoyable. A small cook staff will accompany the trek team.
Ample time to comfortably acclimatize to the higher altitude.
Private vehicle with driver for all transfers. Your leaders will meet you at the airport in Lima and transport you by private van/bus directly to Huaraz and back. Trip leaders supervise every step of the journey for your travel security and comfort. Transportation with the group to and from the trailheads is included, in addition to all hotels and lodging during the trip itinerary.
Prerequisites
Excellent all around fitness and previous hiking/trekking/backpacking experience, preferably at altitude is needed for the Alpamayo Circuit trek. Compared to other treks around the world, the Alpamayo Circuit is physically challenging because of the consistent longer hiking days with lots of elevation gain and loss. While challenging, the views are incredible along many parts of the trek, so the effort will be worth it with view pay-offs virtually every day! Please see more about fitness and experience requirements in our Peru Expedition FAQ »
Trekking in Peru with International Mountain Guides
In addition to our IMG leader on this trip, this trek will be accompanied by a local veteran guide knowledgeable of the geography, history and culture of the area. During the trek portion of our program, we will use mules to transport our gear and supplies. This permits us to enjoy the walk each day, as we move along unencumbered, free to take photos and investigate our surroundings. Meals will be served by our cook in a dining tent set up for your comfort during breakfast and dinner.
The mountains of northern Peru, including the Cordillera Blanca, include the most well-known and spectacular peaks in all of the Andes. These mountains include 20 summits over 6,000 meters and a staggering list of peaks over 5,000 meters. High, stunning peaks piercing the sky with beautiful turquoise lakes and alpine meadows surround many of our camps; this is without a doubt one of the most beautiful mountain destinations in the world.
Upon your arrival in Lima from the States, you'll be met by your local guide and driver and ushered onto a private van/bus at the airport. From Lima, your 8-hour drive to Huaraz will allow time to get to know the rest of the team, talk about the upcoming program with your guide, and perhaps catch up on a little sleep.
In Huaraz, you'll check into our nice European-style hotel, get oriented in this hospitable and scenic town and enjoy your first in-country dinner. The guides will be full of useful information and will organize the group's activities over the next two days. Huaraz is located at 10,200 feet in elevation, so this is a crucial time to start the acclimatization process. The first full day is limited to mild exertion only, touring town and trekking above the city. On day two, the guides will take you on an acclimatization hike to one of our favorite local hikes for the day, a gain of 2,000 to 3,000 feet in elevation. Three nights in Huaraz will allow plenty of time to start adjusting to altitude prior to the start of the actual trek.
During the trek itself, you'll trek for 4-8 hours a day, with an average time of around 6 hours, depending on terrain and distance to be covered. Most of your gear will be carried by mule or porter, and you will carry only necessary items for that day's travel on your back: water, snacks, camera, shell clothing and insulating layers. You'll be crossing passes up to 15,700 feet in height, and generally camping at elevations around 12,000' to 14,800'. The scenery is spectacular, and the hiking terrain varies from good trail to cross country grass and scree slopes. The mules usually travel in advance of the team, and camp is normally set up and waiting when you arrive.
Join us on this one of a kind trekking and cultural adventure. It's an experience that will provide memories to last a lifetime!