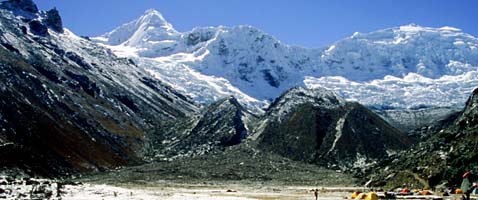 Peru Chopicalqui and Pisco Climbs with International Mountain Guides
Climb a 20,000+' mountain on this expedition in one of the most beautiful ranges in the world. This 12-day expedition will focus its sights on two peaks, Chopicalqui and Pisco, both a few hours' drive north of Huaraz, in Norther Peru, located in the famed Cordillera Blanca Range.
This expedition is appropriate for fit and adventurous climbers with basic to intermediate snow and ice skills. Climbers who have climbed in places like Mexico, Ecuador, Aconcagua, Nepal, or on higher glaciated peaks in the U.S. will find this trip a perfect fit. Those who have attended one of IMG's expedition skills training seminars or multi day climbs on Mt. Rainier may also find this incredible trip will be within their reach. If you're interested in this expedition but not sure if you have the necessary skills, give us call, and we'll help you make an educated decision. Bottom line is, if you're fit, have worn crampons more than a couple of days on a glaciated peak—we're guessing you'll do well on this adventure.
One of IMG's veteran lead guides will lead the trip, working in concert with an IFMGA certified guide from Huaraz. Maximo Henostroza, veteran Huaraz guide, climbed Everest with one of our IMG guides back in 2001. Maximo will coordinate our ground operations for this trip. Maximo knows the mountains of the Cordillera Blanca better than anyone; his father started guiding and working in 'The Blanca' over 50 years ago and Maximo followed in his foot-steps, becoming one of the first fully certified guides in Peru.
Mules will support the climbing group to Camp One of Pisco, and base camp on Chopicalqui, and from there, porters will assist our group to keep our loads to a manageable size and weight. Working together as a team: guides, porters, and climbers, we'll be an efficient crew, pulling together to set up camps and doing whatever is necessary to help us to achieve our best chances of success.
Camps are placed between 12,000' and 17,500' and there is plenty of time planned into the itinerary for proper acclimatization for our ultimate summit, Chopicalqui. Our hotels and camps will include double-sleeping accommodations (single upon request), and a full dining experience during the trek, complete with dining tent, a table full of condiments and tasty goodies, and chairs. Our local cooking staff will prepare a whole-foods based cuisine that will nourish the team and energize us for the following day's trek.
The Chopicalqui Expedition begins in Lima, Peru. After an early arrival in Lima, we'll being our journey to Huaraz in northern Peru in a private bus, stopping along the way as needed to enjoy the 8-hour scenic drive. Air travel between Lima and Huaraz is possible, but not recommended due to the size of the airport, weather and aircraft load restrictions.
Trip Highlights
The pinnacle of the trip is an attempt of Nevado Chopicalqui (20,847'). Climb to over 6,000 meters on this mini-expedition. From the summit you will see dozens of icy-clad peaks- one of the best summit views in the range- and quite possibly the world!
The peak of Nevado Pisco (18,871'), will be used as a pre-Chopicalqui warm-up climb—an incredible ascent in its own right, complete with a steep 1-pitch headwall that will lead our team to a rolling but spectacular climb to the summit.
Trip leaders include both an IMG veteran Senior Guide and a Peruvian IFMGA Certified Guide for the best possible experience and leadership.
Out of the 16-day itinerary, door-to-door from your home, 12 days are spent climbing or trekking—a very high activity to travel ratio!
Mules and porters will transport a large part of your gear during our trip to base camps, which will help make the experience more enjoyable. Porters will be used on the Pisco and Chopicalqui ascents to reduce load weight and size for climbers. Optional carries between camps will be made to further stage gear for overall team success.
A small cook staff will accompany the trek team to base camps, and porters and guides will run the kitchen routine when climbing.
Ample time to comfortably acclimatize to the higher altitude.
Private vehicle with driver for all transfers. Your leaders will meet you at the airport in Lima and transport you by private van/bus directly to Huaraz and back. Trip leaders supervise every step of the journey for your travel security and comfort. Transportation with the group to and from the trailheads is included, in addition to all hotels and lodging during the trip itinerary.
There is a 2 week pre-climb trek available prior to this expedition in the Cordillera Huayhuash. While going on the Huayhuash trek is optional and not required, those climbers who do go on the trek will be very acclimated for the Chopicalqui ascent and will get the chance to fully immerse themselves into the Peruvian trekking and climbing scene!
Prerequisites
Excellent all around fitness and basic mountaineering experience at altitude is necessary, along with some steep ice and snow experience. Expedition experience on other peaks above 15,000 feet is a plus and provides a solid base for this trek. Previous hiking/trekking/backpacking experience is helpful as well. Please see more about fitness and experience requirements in our Peru Expedition FAQ »
Trekking and Climbing in Peru with International Mountain Guides
In addition to the IMG lead guide on this trip, the expedition will be accompanied by a local veteran guide knowledgeable of the geography, history and culture of the area. During the trekking and climbing portion of our program, we will use mules and local porters to transport our gear and supplies. This provides the climbing team and opportunity to move to each camp with a little less effort, and arrive at camp less fatigued; a benefit for those high-altitude climbing days higher on the mountain. In base camp, meals will be served by our cook in a dining tent set up for your comfort during breakfast and dinner. On the mountain, guides and cooks will take care of the cooking duties, but all members of the team will pitch in as necessary.
Please see the

IMG Peru Chopicalqui Expedition PDF for more details.