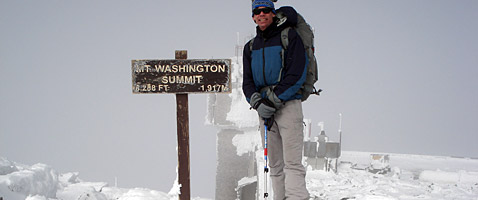 New England Winter Climbing Frequently Asked Questions
This information should answer many of your initial questions and also guide you through the next stages of preparing for the expedition. If you have any questions, please feel free to contact us: office@mountainguides.com
How do I get there?
North Conway is accessible from several airports, the closest being Portland, Maine and Boston, MA. We send out a team roster a couple of weeks in advance and encourage teaming-up to share a rental car or local transportation.
International Mountain Guides has worked for many years with the staff at CTT Destinations to provide professional travel service for participants in our programs. For help with your plans, we urge you to contact Pirjo DeHart at CTT Destinations: 425-831-0367 or pirjo.dehart@cttdestinations.com
Where Do I Stay?
You are responsible for your own lodging on all nights except the camping night on Mt. Washington. There are several hotels in North Conway and surrounding towns, as well as Airbnb's and VRBO's. Participants are encouraged to stay at the Cranmore Mountain Lodge. This classic B & B, built in the 1800's, is located away from the busy roads and traffic noise, yet just a few minutes to North Conway Village's numerous restaurants and shops. The team will use the Lodge as a meeting/gathering place. Climbers registered on IMG programs receive a code for a 10% discount when booking their lodging online, contact Cranmore Lodge directly for details.
Due to the variable nature of mountaineering, return time can vary significantly. If you are spending the night in North Conway, don't forget to make a lodging reservation for the last night of the program. We do not recommend attempting to fly out of Boston the same day you get down from the climb, as the driving time can be extended significantly due to frequent inclement weather.
Please note: Lodging IS NOT included in the cost of the program. Team members are encouraged to share rooms.
What kind of insurance do I need?
Trip cancellation and interruption coverages are strongly recommended as all fees are non-refundable and non-transferrable. Be sure the policy you select covers mountaineering activities. You can find more information on our Travel Insurance page.
What's the weather doing?
What's included in the expedition fee?
Costs Included in Trip Fee:
IMG guides
All training curriculum and instruction
Dinners, breakfasts, and hot drinks for overnight trips
Group equipment including tents, stoves, climbing ropes and hardware, and sleds
Costs Not Included in Trip Fee:
Lodging, with the exception of camping night on Mt. Washington (if applicable)
Food (both snack foods for during our training days and meals for when we are not camping on Mt. Washington)
Personal clothing and climbing equipment found on the Gear List
Transportation to and from training venues, including to Pinkham Notch