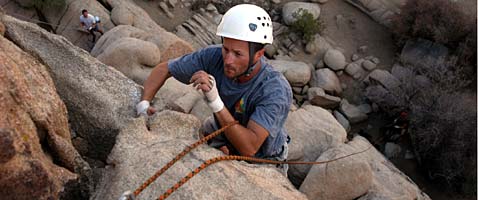 Joshua Tree Frequently Asked Questions
This information should answer many of your initial questions and also guide you through the next stages of preparing for the expedition. If you have any questions, please feel free to contact us: office@mountainguides.com
How do I get there?
Palm Springs is the closest major airport, about an hour's drive away, but LA and Las Vegas are viable alternatives. Ontario is another consideration. Only 50 miles further away than Palm Springs, airline tickets are much cheaper. Once the group is finalized, a team roster will be sent out, and participants are encouraged to car pool.
From Palm Springs, take Interstate 10 east to highway 62. The town of Yucca Valley is the last place to find a major grocery store to purchase groceries. Follow 62 to the town of Joshua Tree. Joshua Tree is the final stopping point to pick up needed items such as food, water and climbing gear. The local climbing store is Nomad Ventures and it has all the necessary climbing gear you might need. It is located on Park Boulevard, the main intersection in town, which leads to the West Entrance Station. There is a fee to enter the park, a weekly pass is $10 per vehicle. From the west Entrance, drive 9 miles to Hidden Valley Campground, and then on several miles east to Sheep Pass Campground. The group will be staying in one of the group campsites.
International Mountain Guides has worked for many years with the staff at CTT Destinations to provide professional travel service for participants in our programs. For help with your plans, we urge you to contact Pirjo DeHart at CTT Destinations: 425-831-0367 or pirjo.dehart@cttdestinations.com
What kind of insurance do I need?
We invest in insurance coverage for commercial liability and medical and disability insurance for our employees while participating on our programs. We cannot insure you for your personal needs, but we do expect you to be as fiscally responsible as we are. We require that you insure yourself against potentially expensive difficulties that may arise. First, Trip Cancellation Insurance may provide financial relief should you be forced to withdraw from the program before it even happens. Next, make sure you have adequate Travel Insurance for coverage should you have a problem during the trip. Medical care and evacuation in remote locations can be expensive. For more information, please see our page on Trip Cancellation and Travel Insurance.
What about camping/lodging/food?
Reservations will be made for the group to camp in a group campsite for each of the nights of the program, including the night prior to the starting date. Participants will be encouraged to share tents and cooking stoves, and the team may choose to drive out of the park for dinner occasionally. Keep your camping supplies simple, IMG can provide tents for rent if you require one. You will be responsible for your own meals during the program. It will probably be easiest to pick up your food on the way into the Park. Bring plenty of non-perishable snacks for lunch and simple breakfast food (cold or hot cereal and hot drinks). You may choose to bring dinners to cook at camp, or join the group for a trip into a restaurant in town.
Some participants will prefer to stay at a local motel just out of the park each night. The nearest motel is probably the High Desert Motel in Joshua Tree. Other options include a Best Western (the nicest looking place around) and a Motel 6 in 29 Palms, and there are a number of motels in Yucca Valley including a Super 8. Climbers who choose this option must be prepared to arrive each morning to meet the group at the agreed upon starting time and place.
What gear will I need?
Joshua Tree is desert terrain, so plan a getting gritty and dirty after a day of climbing. Shower facilities are available in Joshua Tree for $3.00. Bring your own towel. Bring several changes of t-shirts and climbing pants. The rock is fairly course and rough textured, so durable climbing wear is a must. The weather can vary from very warm during the midday to breezy and chilly at night. A climbing helmet, a harness and a pair of rock shoes are the primary pieces of required specialized equipment. Rock shoes are available for rent from IMG and from Nomad Ventures in Joshua Tree. Cost is $7.50 per day. Please see the Joshua Tree Rock Climbing Gear List for more specifics.