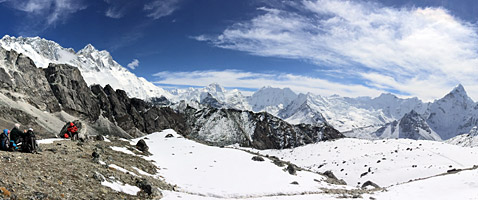 2018 IMG Private Nepal Trek with
Island and Mera Peak Climbs
by IMG Guide Nathan Berry
Now this was a special trip. And I mean special! Four weeks to trek and climb in the Khumbu Valley, with plans to cover multiple passes and many 6,000-meter peaks. A spectacular autumn itinerary in Nepal. The idea here was to head north to Island Peak after completing the Gokyo Loop Trek over Cho La Pass. Then, after climbing Island Peak, we planned to climb the rarely sent Amphu Lapsta Pass, followed by a 2-day trek through the hidden gem of the Hongu Valley near Baruntse Base Camp, before reaching Mera Peak and climbing that, too! The final leg of the trip would have us trek from Khare, where Mera base camp is located, back to Lukla. A giant clockwise loop through some of the most famous, noteworthy locations in the entire Khumbu Valley. Special indeed.
Kathmandu: On day one our team woke up at the 5-star Hyatt Hotel in eastern Kathmandu, within walking distance of the holy Buddhist temple Bouddhanath. The Hyatt is one of the nicest hotels in all of Kathmandu. We spent our first morning having some black Dilmah tea on the rear balcony around 9am before checking gear. The nice thing about Kathmandu is that the historic bazaar neighborhood of Thamel has multiple high-quality gear shops, including a real Outdoor Research store. The rest of the afternoon folks were free to explore the mysteries of the great city. I personally recommend the Monkey Temple if you have time. Pre-dawn is the best time to see the monkeys there.
Lukla: The next morning at 6am Mr. Mohan Kumar Kafle arrived to pick us up and bring us to the airport for our flight into Lukla. The weather could not have been better, and we were able to catch the first flight out. That doesn't always happen, of course, but we were happy that our trip got off to such a great start. The plane flight went up to an altitude of 12,500 feet before landing on the famous STOL (short take-off and landing) airstrip in Lukla at 9,387 feet. We made it to Lukla in about 45 minutes; just in time for a great Sherpa breakfast at the Paradise Lodge. At the Lodge, we met up with Tashi Palden Sherpa and Phinjo Sherpa, in addition to our 3 great porters, led by Rai Kulung Depraj. These guys gathered up our bags and were quickly on their way to Phakding. By 10am we were on our way toward Phakding which would take us about 4 hours!
Phakding: We stayed at the Yeti Mountain Home in Phakding. These Yeti Homes are some of the nicest accommodations anywhere in the Khumbu and you can find them in multiple villages. They aren't cheap, but if you want your own bathroom with a mirror, shower, and western-style toilets, not to mention cell phone chargers (and even heated sheets), look no further. We now had a bigger day ahead of us, as we would trek up Namche Hill and over the swinging Hillary Bridge. A good 6-7 hour day broken up halfway with a stop for lunch near Jorsalle - the gateway to Sagarmatha National Park.
Namche Bazaar: Normally, IMG teams stay at the Khumbu Lodge, run by Pemba and his wife Mingma. They have known IMG for a long time and are very friendly and accommodating. They also serve excellent food and maintain a kind and warm staff. Say hi to Rinji! On our trip we stayed in the Khumbu Lodge Apartments, owned by the same family and located just around the corner from the main Lodge. The advantage here is that you have your own water closet, inside your room, instead of a European style shared toilet facility, albeit for a few dollars more. Our plan was to base out of Namche for 3 days in order to visit a few nearby villages and to ensure a good acclimatization process. On day 4 we woke up at 11,300 feet in Namche and enjoyed good coffee, buttered toast with jam, great eggs. I also had a nice big bowl of oatmeal (yeah, ok it's not for everybody). We then set out for a good hike up to 12,600 feet and took in thrilling views of Everest and Lhotse, stopping at the Japanese-styled Hotel Everest View for some milk tea and, yes, a yak steak for lunch. After lunch we trekked over to Khumjung, where we toured the Hillary School. This is the only K-12 school in the Khumbu, and many of our IMG Sherpa send their children here. True to its name, the School was funded by Sir Edmund Hillary. From Khumjung we hiked about 30 minutes west over to its neighboring village, Khunde, where the main birthing center and hospital in the Khumbu Valley is located. We took a tour of the hospital and spoke with the doctor. We found that taking some extra time to get to know the land of the Sherpa people, as in their schools and libraries and medical facilities, brought us in touch with more people and gave us a closer look at another way of life. This experience was very rewarding. After our tour that day, we completed our loop hike by heading back to Namche in time for dinner. The next day being a rest day, we caught a movie at 7pm at the Liquid Bar (the owner takes movie requests and plays a new one every night) and enjoyed a beer.
Namche: We took a short uphill walk to the Namche Museum, where we learned a bit about the history and geology of the Khumbu Valley and its people. We then walked over to the Sherpa Museum, where you can go inside of a replica Sherpa home to see how many families still live to this day, while also visiting an exhibit of the Sherpa Mountaineering Hall of Fame. Many of our IMG Sherpa friends have their photos on the wall of this museum. The remainder of the day we decided to shower and rest in Namche in order to prepare for our big day the coming up tomorrow.
Phortse: The trek from Namche to Phortse had us excited. Many of our IMG Sherpa friends are from Phortse, including our guides Tashi Palden and Phinjo Sherpa. Our team received a warm welcome. There's something comforting about heading home, isn't there? The trek took 5 or so hours and involved walking up to 13,000 feet, to the expansive viewpoint in Mong where we had lunch and raked in views of Ama Dablam and Everest. After lunch we trekked down about a thousand feet to Phortse Tanga. A Tanga is a narrowing, tightening gap in a river valley. Here lay the home and small shop of Tashi Palden Sherpa and his family. Our porters linked up with us here and some of us imbibed the traditional Sherpa drink of Chang, while others had a nice hot cup of tea. Such a great homecoming for Tashi. After our break, we hiked a few hundred feet back uphill to 12,500 feet and the lovely climbing town of Phortse, where we stayed at the Thamserku View Lodge, owned by the family of IMG climbing Sherpa Fura. After a hearty bowl of Sherpa stew for dinner, we planned our tour the village the following day.
(Mrs Palden Sherpa)
Phortse: Day 7: Along with some good rock to climb, there are several things worth seeing in Phortse itself. After breakfast, we hiked up to the monastery (gompa in Nepali). While the exterior of the gompa was damaged during the 2015 earthquake, the interior is intact. And the art on the walls is extraordinarily beautiful. Buddhist Thangka paintings, depicting the Boddhisattvas and the Wheel of Life among other things cover these walls. We took our time here and then headed uphill to a viewpoint overlooking the Imja River and the hill town of Tengboche, where sits the largest monastery in the Khumbu Valley. We then paid a visit to the local elementary school, library, and the world-famous Khumbu Climbing Center. Many of our IMG Sherpa are instructors there at the KCC. A new structure housing the KCC is currently being built. For lunch we stopped by the lodge of Phinjo Sherpa, a longtime IMG climbing Sherpa and the leader of our trip. His wife prepared delicious French fries made from Phortse potatoes. Potatoes are the staple crop of the Khumbu, along with buckwheat. Delicious.
Machermo: Day 8: Here is where we started feeling the altitude and colder temperatures. Machermo is a small village on the way to Gokyo and it consists mainly of lodges for the hundreds of trekkers passing through each year. Machermo sits at an elevation of about 14,300 feet, right underneath the jagged, pointy Machermo Peak (19,000 plus feet). The walk from Phortse took about 4-5 hours. We arrived in midafternoon and were greeted with cups of fresh warm tea and a cozy fire. The next day we were excited to be heading up to Gokyo!
Gokyo: Days 9, 10, and 11: Gokyo is a beautiful lakeside town situated around 15,500 feet. The famous trekking pass, Renjo La, is visible above the town, as is the trekking peak, Gokyo Ri. There are several nice accommodations in Gokyo and we were happy with ours, the Fitzroy Inn, being situated a short walk from the lake and right beside a bakery, not to mention great views of Cho Oyu. Since there are several great hikes out of Gokyo, we decided to spend one of our contingency days here and take a little extra time to enjoy the area. On day 10, we spent the day hiking to 5th Lake. A relatively flat hike that takes about 2.5 hours one way, you pass multiple glacial lakes and can take in views of Cho Oyu, Cholatse, and a host of 7,000-meter peaks situated along the Tibetan border. Interestingly, we spotted two yak carcasses — a nice meal for some local snow leopards. At 5th Lake, we took a brief nap in the sunlight, ate a packed lunch, then hiked up a small hill for an Everest view. Day 11, we woke to an early 6am breakfast and took a few hours to hike up Gokyo Ri (17,500 feet). The views of Everest from on top of Gokyo Ri are truly inspiring. We soaked in the sun, took loads of photos, and made it back to town for lunch. We made sure to stop by the bakery for some cappuccinos and chocolate croissants in the afternoon.
Thagnak: Day 12: Today wasn't a very long trek, but it was an interesting one. We had the opportunity to cross the Ngozumpa Glacier, the longest glacier in the world. While mostly a dry glacier, there are a number of tarns (glacial lakes without inlets or outlets) along the way. It's a bit of a maze in there! After a 3-hour hike across the glacier, we made it to Thagnak. This is a small village at the base Cho La (Pass) that consists of a few lodges. A nice yet rustic place to base from prior to the 7-hour crossing of the Pass that was scheduled for tomorrow.
Cho La to Dzongla: Day 13: Since the word "La" in Sherpa language means Pass, saying "Cho La Pass" is definitely redundant, as I learned. But there is nothing redundant about crossing it — it's just sensational. We set out early with a packed lunch that the lodge cooks had given us for the climb, and we hiked out of a frozen world into the gorgeous morning sunlight to a good rest spot, from where we could see the Pass. Everything in the mountains from a distance looks steeper than it really is. And man did it look steep! We dropped down a few hundred feet before going for it. It's pretty 2nd class terrain there, with the main concern being descending hikers above you knocking rocks down. There might be a 3rd class move or two in there. Topping out is a thrill and you really feel like you're in the mountains; it has a high alpine feel, with all the rocks and glaciers. We made our way down the other side of the Pass taking out our Yak Trax for this descent, as the glacier is dry and textured but not very steep. We really enjoyed the descent, as it has a wild and rugged feel with mind-blowing views of Ama Dablam in the clouds the entire way down. By midafternoon we'd made it to Dzongla, just in time for some Tibetan salt and butter tea. Mmmm!
Dingboche: Day 14: Dzongla is similar to Thagnak, in the sense of being a basic village. You will find the bare essentials in Dzongla, situated at about 16,000 feet. We woke to chilly temps and the same mind-blowing views of Ama Dablam's West Face. We headed downhill and caught stellar views of Lobuche to the North, Pheriche to the East and Tabuche Peak rising in mighty fashion to our South. After about 4-5 hours of mostly downhill travel, we reached Dingboche, situated around 14,200 feet. This was the lowest elevation we'd been at in a week, and it felt good! Mild altitude discomforts vanished, and we enjoyed the best night's sleep we'd had in over a week. Dingboche is strewn with bakeries, and small shops, and we made sure to stop in and have a bite.
Chhukung and Chhukung Ri: Days 15 and 16: We took a leisurely morning in Dingboche, making sure that the morning winds dried our laundry hanging on the lines outside. We departed around noon for Chhukung. Back up in altitude we went! The hike to Chhukung takes less than 3 hours and is a very gradual incline of 1,300 feet. The lodge there, which most of the Island Peak climbers use, is quite large and feels palatial in comparison with the smaller tea houses that we'd been staying in up to that point. In the morning we woke a bit early to hike up Chhukung Ri. This is a great acclimatization hike. If you head left near the crest, which most people do, you get to about 17,700 feet. There is an option to head right as well, and get above 18,000 feet, though the quality of the rock diminishes if you head that way. In either case, you are treated to superb views of Nuptse and Lhotse and their respective glaciers. We took a warm hike back to the lodge in time for lunch and then used the afternoon to send out some final text messages and photos, as we wouldn't have Wi-Fi for the next several days while we climbed Island Peak.
Island Peak Base Camp: Day 17 and 18 (Training day): The trek from Chhukung to Island Peak Base Camp takes about 4 hours and includes 1,400 feet of gradual uphill travel. Our cook staff had already setup camp for us at Island Peak. The staff then trekked back to our team with cups and a thermos of hot orange. Island Peak Base Camp was quite clean, and IMG's tents were setup at the northern end of the encampment, putting us closer in proximity to high camp than some other groups. The dining tent was spacious with endless supplies of hot water and good snacks. Not to mention plenty of food at meal times. The next morning, I setup a fixed line on a hill overlooking Imja Lake and we covered cramponing, fixed line ascension, and rope travel, in addition to refreshing ice axe techniques. By the time the afternoon rolled around, we were packing up in preparation for high camp and then the summit!
Island Peak High Camp: Day 19: High camp on Island Peak (Imja Tse in Sherpa language) is situated on rocks at 18,100 feet. Our cooks set up a nice cook tent, and the rocky platforms were plenty spacious enough to have flat ground to sleep on. The hike up there is like hiking up Chhukung Ri or Gokyo Ri. It took 2.5 hours and our priorities once there were eat, drink, and go to sleep!
Island Peak summit day: Day 20: We woke at 1am to still winds and surprisingly warm temps on summit morning. After a hearty amount of oatmeal, we climbed up about 900 feet of rocky 2nd class terrain. Using a rope is not necessary here, but we had one just in case. The temps dropped the higher we climbed, and it was quite dark in the rocky section. Once we reached crampon point, we took a chilly break then headed up the glacier. The climbing here becomes quite enjoyable and varied with some fixed lines, some roped-up glacier travel, followed by some cool ladders. It's like an alpine obstacle course. Ever varied with plenty of interesting angles. After 1.5 hours of climbing in crampons, we reached a nice snowy plateau beneath the summit ridge. Here the sun was rising, and we couldn't wait for the warmth of its rays. We spent close to 2 hours on the fixed lines, working our way behind other parties en route to the tiny, exposed summit of 20,250-foot Island Peak. We had 2G cellphone reception on the summit and we called it in! The descent off the top involves 4 rappels and a bit of downclimbing. We stopped by high camp for an hour nap around noon before returning to base camp prior to dinner. What a great, full day.
Island Peak Base Camp and Rest: Day 21: On this day, none of us had a lot of inclination to pack up and start hiking again, so we laid low and rested up and planned our next move. The nice thing about a long trip like this is that you plan in several contingency days and can use them to stay flexible and change plans if need be. Maybe weather rolls in, maybe someone isn't feeling up to par, maybe you just want to do something else. In our case, climbing Amphu Lapsta (19,200 feet) right in between Island and Mera Peaks suddenly looked more daunting in person than on paper. So, we came up with a plan for Tashi Palden to hike with 3 of us back to Dingboche, where the following day they would board a helicopter and fly to Lukla! Then the next day they would fly to Khare (16,700 feet) in the Hinku Valley and meet us at Mera Lodge.
Amphu Lapsta to Seto Pokhari: Day 22: Phinjo, myself, and three of our porters needed to get all of the climbing gear to Mera Pass, so we decided to make this a hard 2 day push up and over the Pass. This was arguably the hardest day of the trip, as it took a good 8 hours and involved a technical pitch of rock climbing followed by a broken up and slightly steep glacier. We belayed the porters, loaded down as they were with so many duffels! I tagged along behind the lightning fast Phinjo Sherpa, as we covered over 11 miles. We even stopped into Baruntse Base Camp where some nice folks invited us in for biscuits and tea. We stopped for the night at a tiny husband and wife owned tea house right alongside the Hongu River. We enjoyed a huge plate of dal baht (lentils and rice) and were impressed to learn that the ten cans of San Miguel beer in stock were selling for 15 bucks a can. Needless to say, a bit over our budget there.
Seto Pokhari to Khare via Khongma Dingma: Day 23: The next morning we got up at 6 and dined on a package of Oaties biscuits and some tea, as we had to make haste en route to Mera La. We stopped at 9am at Khongma Dingma for a full meal ("dal baht power, 24 hour", as they say), after enjoying a brisk but beautiful morning. We saw no one that morning in the rarely traveled valley until we reached Khongma Dingma, a two-lodge village, with another small tea house currently under construction. From there, it was time to head back uphill 2,000 feet or so until we reached Mera La. We stopped in for tea at the tea house there, checked out the scene, and linked back up with the 3-porter team before heading down the glacier to Khare. It had been another hard day, covering almost 10 miles over 7 hours in some of the world's most rugged terrain. It almost goes without saying, but we ate well that night.
Khare to Mera Base Camp: Day 24: Back in Wifi world! For the first time in 9 days, we now had communication with the outside world. Similar to Everest Link WiFi, in the Mera Valley you can purchase Mera Link cards. Which we did. The rest of our team arrived in high style on a helicopter just after sunrise, and we were glad to see them happily rested and feeling great about our upcoming Mera Peak climb. After a full breakfast, including lattes, we hiked up ahead of the crowds, in good morning weather, to Mera PeakBase Camp. The cook tent was already setup for us, as were our sleeping tents. All we had to do was simply move in.
Mera Peak High Camp: Day 25: While some parties climb Mera Peak in a day from Base Camp, we decided to make use of the High Camp at 19,000 feet. The glacial climb from Base Camp to High Camp can take a good 4 hours or more, and then another 4 hours to the summit. So, we decided to essentially climb half the mountain, and get some solid rest, before going for it the following day. To use this strategy, you must have a strong sense of the weather staying stable, and folks need to be well acclimated. The Peak is big, at 21,247 feet. Another key point to using the High Camp is that it's crowded. There is a fixed cook tent and some fixed tents, but the further into the Autumn climbing season you get, the more likely these tents are to be filled up and the greater your odds become of setting up your own tent on the glacier. In any case, we had a great meal prepared for us at high camp and prepped for our final big climb of the trip!
Mera Peak summit day to base camp: Day 26: We woke on summit morning around 2am, had breakfast served to us in our tents by the wonderful cook staff there, and then we went for it! Mera Peak, being so big, is a cold and windy place. We made sure to keep our pockets stuffed full of snacks, and the temps were cold enough that we climbed in our big puffy coats until the sun came up. The climb itself is relatively tame, with one long hill, sustained at 25 degrees or so for maybe 800 feet. The summit ridge can be steep enough to setup a fixed line, but the boot pack was good enough that we short-roped up it. One of the real treats about this climb is the panoramic views of Kangchenjunga, Makalu, Everest, Lhotse and Cho Oyu! The summit was a bit too cold and windy to hang out on for long, so we passed around congratulations, too a few photos and made our descent. It took less than 2 hours to make it back to High Camp, where we tossed down some good garlic soup and took an hour nap. After that, we packed it up and descended to Base Camp. A long day that didn't sacrifice hot, well-cooked meals. A big thanks to our cooks there!
Khare to Thagnak and departure: Day 27: Finally the day had come where our team was to part ways. We hiked the 1,000 feet from Mera Peak Base Camp back down to Khare, where I met Dawa Nuru Sherpa, a longtime IMG climbing Sherpa and a friend to all. He was there with two other climbers with whom we were to guide Mera Peak once more. The rest of our team, led by Phinjo and Tashi Palden, enjoyed some espresso and lunch, before heading 2,000 feet downhill and down valley to Thagnak. Yes, there are a few villages with that name. We said our goodbyes after spending one incredibly exciting, eventful month together. I wouldn't be able to spend the last week of their trip with them, but I said goodbye to Paul, and Donna, and Christine, and Phinjo, and Tashi, and to our 3 porters, but assuredly not for the last time. The celebration dinner would have to wait!
Thank you to the Fischer Family (Paul, Donna, and Christine) for being such wonderful companions on such a memorable overseas climbing adventure.
— Nathan Berry, IMG Guide