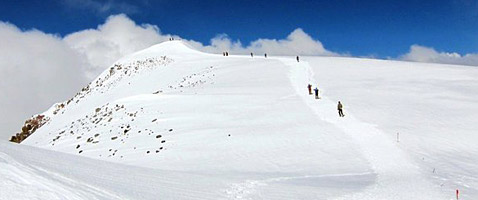 Elbrus Climb Frequently Asked Questions
This information should answer many of your initial questions and also guide you through the next stages of preparing for the expedition. If you have any questions, please feel free to contact us: This e-mail address is being protected from spam bots, you need javascript enabled to view it
What is the route like?
Elbrus itself is a relatively straight-forward glacier climb. Several thousand feet of glacial snow and ice can be expected. We will also do a couple of days of training and climbing in the Caucasus Mountains. These will involve glacial snow and ice and perhaps some rock scrambling. These are considered alpine climbs of an intermediate degree of difficulty.
How should I train?
Remember that good physical conditioning is always a necessity for high altitude climbing. All of these climbs involve several thousand feet of climbing and require 10-12 hours of climbing or more. Follow a conditioning program that will strengthen your legs, heart and lungs. Any hiking or climbing you can do before the trip is of great benefit. At home, I recommend stair climbing, bike riding and running hills. Conditioning is a process that should continue throughout the year.
What skills do I need?
Prior knowledge of cramponing, ice ax arrest and rope team travel are REQUIRED. Everyone must have these REQUIRED climbing skills.
Is a visa required?
Yes, a visa, stamped into your passport in advance, is required for entrance into Russia. IMG will obtain the visa "invitation" from Russia, forward to team members, and then help guide you through the actual process of obtaining your visa for Russia.
How do I get there?
All flight arrangements should be handled through CTT Destinations. They know our programs and it is so much easier when you work with them. Flights are typically in short supply so it is very important that everyone makes their reservations NOW. For help with your plans, we urge you to contact Pirjo at CTT Destinations: 800-909-6647 or img@cttdestinations.com
We will all meet in Amsterdam at the departure gate for our flight to St. Petersburg. Pirjo at CTT Destinations has the latest flight information. We want everyone on this flight if at all possible. Our return flight from Moscow will also be through Amsterdam. You are also responsible for your overnight in Amsterdam. CTT Destinations can easily make those arrangements for you.
CTT Destinations will also make the reservations for your flight from St. Petersburg to Mineralnye Vody to Moscow. They have all that flight information and will take good care of you. They are aware of the logistic difficulties that can exist within Russia and closely monitor all our connections.
Call CTT Destinations and ask for Pirjo.
What kind of insurance do I need?
We invest in insurance coverage for commercial liability and medical and disability insurance for our employees while participating on our programs. We cannot insure you for your personal needs, but we do expect you to be as fiscally responsible as we are. We require that you insure yourself against potentially expensive difficulties that may arise. First, Trip Cancellation Insurance may provide financial relief should you be forced to withdraw from the program before it even happens. Next, make sure you have adequate Travel Insurance for coverage should you have a problem during the trip. Medical care and evacuation in remote locations can be expensive. For more information, please see our page on Trip Cancellation and Travel Insurance.
We again remind you that no insurance of any kind is provided for trip participants.
What immunizations will I need?
No immunizations are currently required to enter Russia. It is recommended that you consider the following:
Tetanus/Diphtheria: There is no natural immunity to the tetanus toxin and since it is found throughout the world, immunization is a universal recommendation regardless of age. A combined tetanus/ diphtheria booster is available, good for ten years.


Hepatitis Vaccine: New vaccines are available for both hepatitis A and B.
Please consult your physician or local health department for their recommendations.
You should also ask your physician for a prescription for a course of the antibiotic azithromycin ("Z-Pak"). Please consider this to be part of your required equipment.
We recommend that you visit the travel clinic at a major University Hospital or your local Public Health Department for the most up to date info on travel requirements, or check the Center for Disease Control Website at www.cdc.gov.
What's included in the expedition fee?
Costs Included in Trip Fee:
guide fees including our Russian staff
all sightseeing in Russia
double accommodations in hotels
shared accommodations in huts
group transportation
group equipment including stoves and fuel, ropes, cooking gear, group first aid kit, technical climbing equipment, radios, etc.
meals while climbing (except snack foods)
most restaurant meals in Russia.
Costs Not Included in Trip Fee:
international airfare and the flight to/from Mineralnye Vody
visa fees
excess baggage fees
personal equipment
items of a personal nature
hotels and meals in Amsterdam