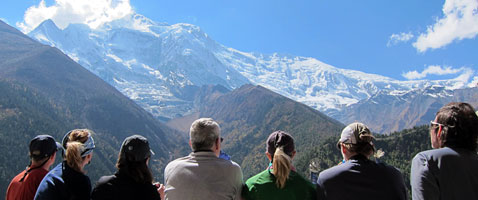 Chulu Peak Climb and Annapurna Nepal Trek with International Mountain Guides
You had a blast on Rainier and you're now wondering what's next?
Come join us in Nepal for our new Chulu Peak climb and training program! Be a part of an international expedition, see some of the most beautiful parts of Nepal, receive multiple days of world class mountaineering instruction from our IMG staff, and have a crack at a 21,000 ft peak. This program will offer something for every climber.
Going abroad is half the fun of international climbing. Though the climbing itself is brilliant, there is nothing like landing in Kathmandu and experiencing the hustle and bustle of one of the most interesting cities in the world. Then, we are off to sleepy Pokhara, and onto to the famous Annapurna circuit trail, considered as one of the most beautiful treks on the planet.
But we didn't come here to just go trekking. The Chulu area offers climbers the opportunity to experience a Himalayan gem, and to get some big mountain practice, even if you do not have a big mountaineering resume. We spend several days conducting training and instruction before heading up to high camp for a warmup climb on Chulu Far East (6059m; 19,880ft). Then, after a rest, we go back up to tag Chulu East (6584m; 21,595ft). These beautiful peaks are perfect goals for fun high altitude training climbs. The terrain is varied and interesting. Not too easy, not too hard.
Our IMG staff will work with you on your technical climbing skills, as well as teaching you the tricks for going to high altitude. This is a fun climb, perfect for novices (after a few days of training) and experienced mountaineers alike. After a trip like this you should feel confident on any of our mid level IMG programs, like Denali, Aconcagua, or Cotopaxi.
Add to this a magnificent trek around the famous Annapurna Circuit. We cover 70 miles on our journey via the Thorung La, one of the world's classic high trekking passes (17,769 ft; 5416 meters). This trip is also a lot of fun for non-climbing spouses, who want to enjoy a great trek and soak up the Base Camp life for a few days, without climbing. We conduct this program as a classic camping trek with our own staff of sherpas, porters, cooks, and helpers. This is a great way to trek in comfort during the popular autumn season and see both the beauty of Nepal and experience the diversity of its culture.
For Trekkers short on time, we also have a Hybrid Trek option, that combines the best of both the classic camping trek and the sherpa led lodge style trek. Go with the climbing team as far as Humre (Day 9), then split off with our crack sherpas and head on over the Thorung La pass and finish back to Kathmandu on Day 16. Add a couple travel days on each end and you have a great three week trip!
Leading the Chulu Peak Expedition program will be an IMG senior guide.
Hope you can join us!
Expedition Organization and Leadership
International Mountain Guides (IMG)
IMG is the oldest and most respected high-altitude climbing service in the world and its Himalayan mountaineering programs are organized and directed by Eric Simonson. Their teams include a group of professionals and Sherpas who are the best in the business. Since 1990, we have conducted over 60 Himalayan 8000 meter expeditions and over 800 IMG team members have summited the world's classic 8,000-meter peaks, including Everest, Lhotse, Cho Oyu and Shishapangma.
IMG's Philosophy
IMG leads the way! Our goal is to minimize risk while helping as many members as possible reach their goal, and we invest in the logistics and manpower to make this possible. We will not sit back and let other teams do the work. Invariably, our IMG Sherpas are part of the rope fixing efforts and the first team to the summit, preparing the route for future summit bids. We value our reputation as one of the premiere international climbing companies. If you would like to join a world-class team on Everest, we encourage you to contact us to discuss your goals and qualifications for membership in the IMG Everest team!
Ang Jangbu and the IMG Sherpa Team
A veteran of dozens of expeditions and an Everest summiter, Ang Jangbu has worked on every IMG Himalayan program since 1991 and is a very popular leader. Ang Jangbu Sherpa and his staff put together one of the very best Sherpa teams for IMG. We are proud to have a group of Sherpas working for us who are among the best paid, best led, best equipped, and best trained in the business.
Eben Reckord
Leading the 2012 Chulu Expedition is IMG senior guide Eben Reckord. Eben is a veteran of guided climbs in Alaska, South America, Tibet, and Nepal (including summiting Mt. Everest). He has also visited the Annapurna area and hiked the entire circuit. Based on all the happy customers we have had over the years, we are sure you will enjoy trekking and climbing with Eben.
References
Joining a high-altitude trek or expedition is a serious decision. You should be completely confident in the organization and leadership before you make that decision. Many of you have climbed with us before, and because your experience with us was good, you're considering another climb with us. For those of you who haven't climbed with us before, we strongly encourage you to interview us thoroughly and also talk to our past clients. When you're ready to make the decision, we'll be happy to provide you with a complete list of references. Please also browse comments online from our trekkers and climbers.