2007 Cho Oyu Expedition Coverage
Led by: Mike Hamill, Ang Jangbu Sherpa & Eric Stevenson
Expedition directed by: Eric Simonson
Sign up for email updates »
October 2, 2007 • Climbers head for Kathmandu; Expedition is Over
IMG Leader Mike Hamill reports that the team finished packing, the yaks arrived on schedule, the team has left the mountain and is heading for the Tibet border town of Zhangmu today. Tomorrow they cross the Friendship Bridge and enter Nepal at Kodari. From there it is another three or four hours of road to Kathmandu. The drive back to Nepal via the famous gorge road is a spectacular way to end the trip, crossing the Himalayas and descending from over 17,000 feet at the Tsongla Pass to less than 3,000 feet below Kodari. We'll look forward to hearing from them when they reach Kathmandu.
This will be our last dispatch. Thanks for following the Cho Oyu expedition and their adventure!
—Eric Simonson, IMG Director
September 30, 2007 • Climbers Prepare to Depart
IMG Leader Mike Hamill reports from ABC:
Everyone is now down off the mountain. We were going to spend another night at C2 and C1 but it started getting so bad that I was worried about losing tents and getting trapped by wind loaded slopes below so I made the call for both groups to go down. Himex's C3 was buried in an avalanche (note: this camp was in the bowl to the climbers left of the more commonly used C3 site where IMG was. —Eric) and his Sherpas tried to get up there that day but turned around. All of the other teams went down from C2 the same day we did.
AAI's and IMG's Sherpas got to C3 today and recovered all of our gear, but our tents at C3 were severely damaged. The entire mountain has now been cleared. So, to date, the only teams to summit were the Singaporean ladies, a Basque team, and a few Chinese the day after the Singaporeans, and Mountain Madness. It's a shame the weather was so poor because we have a strong group this year and I think just about everyone remaining could've made it up. Jangbu is at basecamp with a couple Sherpas packing up BC. All groups are heading out together the same day (probably the 3rd).
—Mike Hamill, Expedition Leader
We'll let you know if there are any further developments. Sounds like they gave it a good try — but the weather just didn't let it happen. Better safe than sorry!!
—Eric Simonson, IMG Director
September 29, 2007 • Climbers Retreat
Ang Jangbu reports that they made the decision to retreat at about 1pm, after the snowfall continued unabatted all morning. Everyone is now descending. Sherpas will try to go back up tomorrow for gear. We'll keep you osted.
—Eric Simonson, IMG Director
September 28, 2007 • Weather Marginal
Ang Jangbu reports that overnight the weather did not improve and that the plan is for all climbers to hold position today. Some of the Sherpas are going up to Camp 3 to check on the camp and the route conditions. The forecast is essentially unchanged: still quite reasonable, but we have yet to see the local clearing we were hoping for. We'll keep you posted on how the days goes.
—Eric Simonson, IMG Director
September 28, 2007 • Climbers Move Up
Ang Jangbu reports from ABC that all of the first team made it to Camp 2. The Sherpas went ahead to dig out this camp and replace a couple tents that were destroyed in the storm during the past week. The second team all made it to Camp 1 OK. The weather report remains reasonable — see the report and weather map posted below.
However, on the mountain it has been stormy all day with snow, but Jangbu thinks it is starting to taper off in the evening. Hopefully tomorrow will be good and everyone can move up another camp. We'll keep you posted!
—Eric Simonson, IMG Director
September 27, 2007 • Cho Oyu Weather Forecast
Our custom forecaster Michael Fagin (www.everestweather.com) says that the forecast for summit winds is in the 15 to 30 knots range for the next few days. See the position of the jet stream in this map.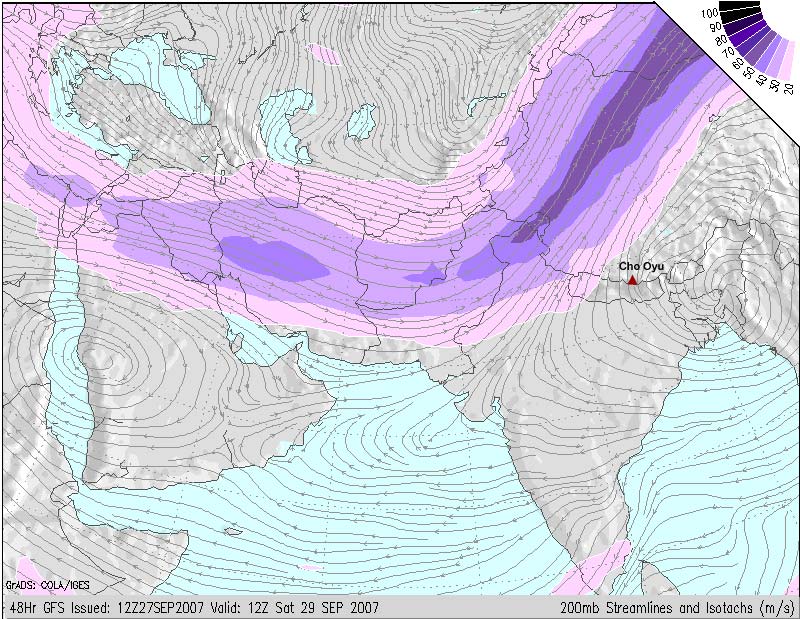 The September 27, 2007 weather forecast for Cho Oyu
The key is in meters per second, so 10 m/s=20 knots. (Map and wind forecast credit to the National Centers for Environmental Prediction). This is an acceptable forecast for the summit bids!
—Eric Simonson, IMG Director
September 26, 2007 • Summit Bids Start
Mike Hamill and Ang Jangbu report that the weather has improved and the summit bids started today. Six sherpas along with Mike Hamill and the Yellow team (with Mike, Sandy, and Brad from the Raja team) are on their way to Camp 1 today (Sept. 27th in Tibet) with hope to summit on the 30th. Eric Stevenson and the Green team (along with Walter's team and more sherpas) leave tomorrow planning to summit on the 1st. This is the big push, so we'll keep our fingers crossed that the weather holds!
—Eric Simonson, IMG Director
September 26, 2007 • Storm Subsides
IMG Leader Mike Hamill reports that the snowfall produced by moisture from the tropical storm in the Bay of Bengal that brushed the Himalayas is now subsiding and they weather has improved.
IMG fared pretty well, losing only one tent at Camp 1 from high winds during the storm. The team now needs to wait a bit longer to let the fresh snow settle, so launching the summit attempts is still delayed. We'll keep you posted!
—Eric Simonson, IMG Director
September 24, 2007 • Climbers Waiting for Weather to Improve
Our custom weather forecaster Michael Fagin in Seattle hit the forecast perfectly when he said that a tropical storm in the Bay of Bnegal would brush the Himalayas. Indeed, today, it is snowing and blowing and Mike Hamill at ABC reports that the summit bids have been delayed. Snowfall will start to diminish tomorrow. The current plan is to start the summit bids on the 25th and 26th, hoping to summit on the 28th and 29th. For the summit bids the schedule would be to go to C1 the first day, C2 the second, C3 the third, reach the on the fourth day and then descend back to C2, and descend back to ABC the fifth day.
—Eric Simonson, IMG Director
September 23, 2007 • Singapore Team Reaches Summit!
We are pleased to announce that the Singapore Women's Team, that IMG was doing logistics for, has reached the summit.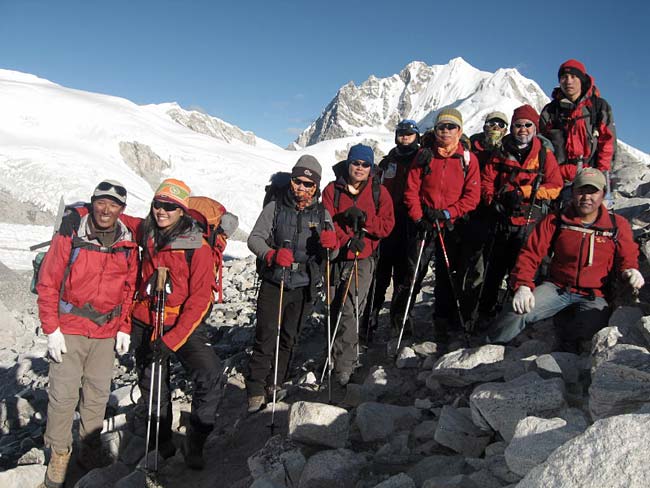 The Singapore Women's Team of IMG's Cho Oyu Expedition
Congratulations to the climbers: Jane, Joanne, Li Hui, Yi Hui who are climbing with Kami, Mingma Tenzing, Marma Rita, and Nima Karma. Also climbing with them and reaching the summit were Dr. Mok with Phinjo Dorje and Chu (from the Raja group) climbing with Dasona. Mike reports that the IMG teams are in position to start their summit bids as soon as the weather report looks favorable.
—Eric Simonson, IMG Director
September 22, 2007 • Climbers Ready for Summit Bids
IMG Leader Mike Hamill reports from ABC that the climbers are preparing to start the summit bids. The Sherpas fixed from the Yellow Band (above Camp 3) to almost the summit plateau this morning and are back at C3. The fixing team was Mimgma Tenzing, Karma Rita, Nima Karma, and Phinjo Dorjee. The Singapore Women are moving to Camp 3 today and plan to make their summit bid tomorrow. Right now the weather is good, but we have been watching a tropical storm in the Bay of Bengal that may brush the Himalayas in the next few days, so it is likely that the Yellow, Green, and Raja team may push their summit bids back a day or two. Walter's group is headed to C2 to sleep today and should be back at ABC tomorrow. Everything is going smoothly and the teams are all set to climb.
—Eric Simonson, IMG Director
September 18, 2007 • First Team Climbers return from Camp 2
Ang Jangbu reports:
The first team came down from C1 to ABC for lunch and the second team came down from C2 to C1. They will be coming to ABC tomorrow. Four members of the Singapore Raja team with Panuru and Samduk Dorje are at camp 2 tonight. Walter and Renate came down from 1 to ABC this afternoon and the other two are spending a second night at 1. We now have 25 Oxygen bottles at C2 and we have 11 more sherpas carrying tomorrow. If weather permits, we will send 4 sherpas to C2 to sleep on 21st to fix the Yellow Band on 22nd and 10 more sherpas to C1 same day to establish camp 3 on the 22nd.
We'll keep you posted!
—Eric Simonson, IMG Director
September 16, 2007 • Acclimatization Rotations in Full Swing
IMG Leader Ang Jangbu is back to ABC from his trip to the border with the trekkers, and he reports that Eric, Danuru, and Phunuru and the first team are on their way to camp 2 right now and second team with Mike, Mingma Tenzing and Phinjo Dorje are on their way to camp 1 today on their camp 2 rotation. The Singapore Women's team are in Nyalam resting and coming back to Base Camp tomorrow. The rest of the Raja team and Walter team are at ABC, and some of them might head up tomorrow. Seven Sherpas carried to Camp 2 today and we have nine more carrying tomorrow.
—Eric Simonson, IMG Director
September 14, 2007 • IMG Cho Oyu team ready to climb!
IMG Leader Mike Hamill reports that everything is going well with the IMG groups. The Singapore woman have completed their acclimatization rotation to Camp 2 and and have retreated to Nylam for a couple days of R and R. Gerrardo and Greg headed for Camp 1 today. Yellow team heads to C1 in the morning and Green the following day. Raja's group went to C1 today and will be back tomorrow. Walter's group hiked to Camp 1 today. We'll keep you posted!
—Eric Simonson, IMG Director
September 10, 2007 • Expedition Puja in Base Camp; Trekkers Head for Home; Climbers Begin Climbing
IMG Leader Mike Hamill reports from ABC:
We had our Puja yesterday on a beautiful day. Mimgma Tzering, Mingma Tenzing, and Phinjo performed the ceremony for us. Both Singaporean teams joined us and enjoyed the festivities as well as the offerings of soda, and Tsampa. We followed up the puja with a team meeting regarding our first rotation beginning today. Then we went through fixed line ascension and rappelling as a review for the more technical climbing on the upper mountain. The Sherpas will finish putting up the fixed line to C2 today and tomorrow, while carrying loads of tents, oxygen bottles, and various other supplies.
From this point forward we will be climbing in two teams separated by one day. The Yellow team (first team) left this morning for C1 and will spend the night there before hiking up towards the ice cliff the following morning, and then back to ABC. The Yellow team consists of Clive, Marcus, Jim, Miguel, Gerrardo, Jill, Larry, and Greg. They are all feeling well and looking forward to finally getting some climbing in. The Green team will depart for C1 tomorrow morning and will keep the same schedule as the Yellow team. The Green team consists of Trent, Tanya, Sylvia, Zijah, Fiko, Naim, Kristine, Andy, Wes, and Keri. They are also feeling very well and looking forward to the trip to C1.
The trekkers left today with Ang Jangbu. They will head to Rongbuk Everest Basecamp before making the drive back to Kathmandu via Zhangmu and the Friendship bridge. The Singaporean Women's team left for C1 today. They plan to spend one night at C1 and two nights at C2 before descending. The other Singapore team (Raja Bose group) is taking a hike to C1 one today to acclimitize, before returning to ABC to sleep. Walter Laserer's team will arrive at ABC today and get settled in, before beginnning their rotations up the mountain.
—Mike and Jangbu, IMG Expedition Leaders
September 5, 2007 • Climbers Reach ABC
IMG Leader Mike Hamill reports that the team has successfully reached Advanced Base Camp (over 18,000 feet) and that they are doing well. The IMG Sherpas have done a good job getting everything set up for them and the camp is looking good.
—Eric Simonson, IMG Director
September 2, 2007 • Team Leaves Base Camp
IMG Leaders Mike Hamill and Ang Jangbu report:
We arrived in basecamp the day before yesterday and all is well. We were the only ones here when we arrived but now there is a Basque team and the Singapore team pulled in this morning. Our team is doing well and we did an acclimitization hike up to about 18,000ft and everyone felt good with the altitude. We are cleaning up and packing up for the trek to Interim Camp tomorrow, and then up to ABC the next day.
Camp 1 is now established and yesterday Da Nuru, Phunuru, and Mingma Tenzing fixed the direct route up the ice cliff, and 12 Sherpas carried again today.
We celebrated Gerardo's Birthday on the 31st and Sylvia's today, the 2nd. We took a team photo today but the peak was hidden. We'll get some better shots at ABC and send them.
—Mike and Jangbu, IMG Expedition Leaders
August 29, 2007 • Team Reaches Tingri
IMG Leaders Mike Hamill and Ang Jangbu report that the IMG main group has now reached Tingri, after crossing the Tibet Plateau from Lhasa. So far everyone is doing well and there have been no problems. En route they visited the 3rd and 2nd largest cities in Tibet, Gyantse and Shigatse, and saw lots of sights along the way. Mike reports that the road is now 99% paved — what a change from the old days when it was bumpy and dusty the whole way!
Jangbu descended from Base Camp to meet Mike and the IMG team at Tingri. He reports that 21 IMG Sherpas will go tomorrow to Camp 1 and start setting up that camp. IMG is still the first team on the mountain!!
Tomorrow the IMG team will take an acclimatization day in Tingri, with a hike planned up a nearby hill that gives great views of Everest and Cho Oyu. They plan to go to Base Camp on the 31st. The Singapore climbers are now taking acclimatization days in Nyalam, after having successfully crossed the border at Zhangmu on their overland trip to Base Camp. They are scheduled to arrive to Tingri on the 31st.
We'll keep you posted!
—Eric Simonson, IMG Director
August 25, 2007 • Main Group Reaches Lhasa; Sherpas Establish ABC
IMG Leader Ang Jangbu Sherpa reports from Cho Oyu Base Camp (about 15,000 feet) that the lead team of 25 Sherpas and 8 Tibetans has finished establishing that camp and is now starting to move gear to Advanced Base Camp (about 18,000 feet) . Yesterday, 14 sherpas and 50 yaks made the first trip to ABC to start getting this next camp set up. Their goal is to have BC and ABC all set up and ready to go when climbers start to arrive. Then, they can shift their focus to starting to build the route and camps on the upper mountain.
IMG Leader Mike Hamill, traveling with the main IMG group, reached Lhasa today (11,000 feet) after a short flight from Kathmandu. The group will spend two nights in Lhasa, with time to visit the Potala (home of the Dalai Lama), Johkang (most famous and revered temple), and Barkor (local market) before starting their travel across the Tibet plateau. This year IMG is also providing logistic support for several other teams. The first (from Singapore) is traveling with the Sherpas and the second (also from Singapore) just arrived to Kathmandu and will be traveling to Base Camp this next week. So far everything is going well. We'll keep you posted!
—Eric Simonson, IMG Director
August 24, 2007 • Team Reaches Kathmandu
After months of preparations, the 2007 IMG Autumn Cho Oyu expedition has finally begun to the world's sixth highest peak, 8201 meters, nearly 27,000 feet! Our team of IMG climbers and trekkers have now reached Kathmandu and everything is going well.
IMG Leader Mike Hamill and Assistant Leader Eric Stevenson are with the IMG climbers and trekkers in Kathmandu. Tomorrow the team will get their Chinese visas and on the 25th they fly to Lhasa to begin their overland trip to Base Camp across the Tibetan Plateau. We expect them to arrive at BC about the end of August.
IMG Leader Ang Jangbu and the Sherpa team are already at Base Camp — they left last week and traveled overland via the road to Tingri, Tibet. They are now getting the Base Camp set up and will then move to Advanced Base Camp and start getting that set up too. They are the first team to Cho Oyu this season, ensuring that we will get first pick of the best camp sites!
Several people have asked about the weather and conditions in Tibet currently, especially given the extent of the monsoon flooding in parts of India. The answer is — the monsoon is still progressing normally and Tibet is nice and green. We expect the monsoon to end later in September in time for the summit bids. The road to Tingri was muddy in places for the Sherpas and their jeeps and three trucks carrying the expedition equipment, but there were not any washouts. The Chinese have been working hard on the road from Lhasa to Tingri the last few years, much of this in now paved, and we do not expect any problems for the team members coming from Lhasa.
We'll look forward to keeping you posted as team travels to Cho Oyu.
—Eric Simonson, IMG Director