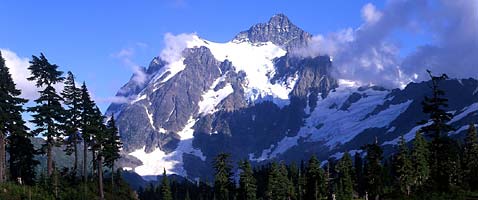 TaiChi 5-day Mt. Baker Climb with International Mountain Guides
IMG's Introduction to TaiChi, Qigong and Climbing Seminar is an introductory mountaineering skills course that includes exploring the foundational principles and philosophy of TaiChi and Qigong in two main contexts:
How TaiChi relates to climbing and mountaineering
How TaiChi and climbing relate to life
5-day Mt. Baker Climb
Using the mountain (Kulshan/Baker) as our classroom will provide an ideal real world laboratory for our inquiries. The 5-day itinerary will allow us to target our summit bid, while using extra time to further explore Taichi, Qigong and climbing related material. Your guides have the flexibility to determine the current skillsets and intentions of all of the participants and adjust the content as necessary to give you the best experience possible.
Your Guide
The trip will be led by IMG Lead Guide and Mt. Rainier Supervisor, Nickel Wood, with the following relevant credentials: Lead Guide with 12+ years of experience guiding rock, ice, alpine, glacier, and high-altitude climbing. Wilderness First-Responder, RYT-200 Yoga Teacher, 4 years of Study of TaiChi and Qigong and recently completed a 75-hour comprehensive Introduction to TaiChi and learned the Yang 24 form from Grandmaster Ding Mingye at Lexington Healing Arts Academy in Lexington, KY.
Easton Glacier Mt. Baker Climb
We'll ascend the Easton Glacier on the south side of the mountain. This relatively moderate route with slopes up to 30 degrees has few technical difficulties. The summit crater provides a spectacular view of the surrounding Cascade Range. Mt. Baker is the perfect introduction to roped glacier travel and one of the classic summits in the North Cascades.
The climb begins with a beautiful hike through pristine forest to the base of the glacier, then continues up into the alpine zone and finally to the summit. Mt. Baker is the fourth highest peak in the Northwest at 10,781' (3286m). The views from the upper mountain stretch north up to Canada, west over to the San Juan Islands, and east to Mount Shuksan and the entirety of the rugged and glaciated North Cascades. Mount Baker is home to the second largest glacier system in the lower 48 States, second only to Mt. Rainier. Mt. Baker now holds the world record for annual snow fall, 95 total feet in 1998!
For any inquiries, email office@mountainguides.com or call 360.569.2609. We're happy to answer questions and/or put you in touch with one of our female guides.
Prerequisites
There are no prerequisites for the Mt. Baker TaiChi Seminar. All participants must be in very good physical condition. For several months prior to the start of the climb, training should include long, slow, distance runs over hilly terrain, an hour or more in duration, and at least one outing per week carrying a heavy pack (45-50 pounds) up and down steep hills or stairs. These sessions should gain 2-3,000' over three or more hours.