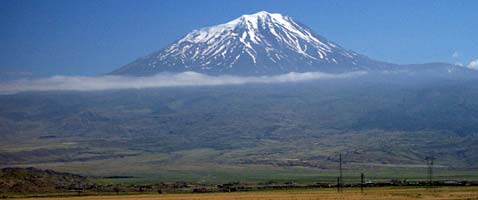 Climbing Mt. Ararat, Turkey
by Eric Simonson
I had a great trip to Ararat (16945 ft/5165 m) this summer with some good friends who enjoy adventuring. Ararat is a big volcano in the northeast corner of Turkey, while Anthony and Louis are from Hong Kong and enjoying traveling the world.
We met in Istanbul, where we had a day to see the sights. Then, we flew across Turkey to Van, and transferred to Dogubeyazit, near to the Iranian border. The Kurdish people were friendly to us, and the food (lamb kebabs) was fantastic.
The next day we started the climb, hiking up to the well named "Green Camp" (10955 ft/3340 m), situated in a beautiful grassy meadow by a stream (we were supported by horses for the duffels). Next day is an acclimatization hike to the Camp 2 at (13448 ft/4100 m), then back to Green Camp. Then we ascend to the Camp 2 and spend the night, with a pre-dawn start the next morning.
We had a fine summit day with some rough trail, scrambling and rocks, then finally a good stretch of well frozen snow on the glacier which made us glad we had our crampons and ski poles. We made it back to Green Camp that day, then got up early the next morning and made it to Dogubeyazit in time for lunch at the kebab restaurant.
After an afternoon of easy sightseeing to the Pasha Palace, "Noah's Ark", the Iranian Border, and the local carpet shop, and a nice dinner, we were ready for bed. The next day we got up early and made it to Van for a late breakfast in the "breakfast street". Then we headed over to check out the Van Castle (dating to 900BC), followed by a boat ride to a really interesting 10th-century Armenian Church on Akdamar Island in Lake Van.
Flying back to Istanbul the next day I was already thinking about wanting to come back! That will be eight days in early July 2008. Please email me (eric@mountainguides.com) if you are interested in joining me!
—Eric Simonson, IMG Director