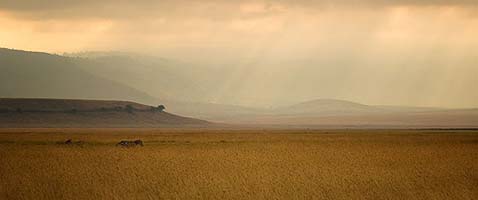 Kilimanjaro Tanzanian Safari
Over the years International Mountain Guides has adapted our safari experience to keep pace with the interests of our clients by running unique, quality safaris in both traditional lodges and mobile tented camps. We offer these safaris in conjunction with our Kilimanjaro climbs as a way to celebrate a job well done on the mountain and provide an opportunity to experience the "wild" side of East Africa with world-class game viewing. Please be sure to visit our Kilimanjaro Climb page as well as the Kilimanjaro FAQ page for more information. Feel free to get in touch should you have questions. We look forward to you joining us for a Tanzanian adventure!
UNIQUE "HYBRID" STYLE
— The traditional "bush" experience plus luxury lodging
We spend four days, three nights on an especially designed "hybrid" itinerary. Our teams will stay two nights in a traditional "bush" safari with

deluxe tents (except for the December trip, see below). Following our evenings under the stars, we stay a final evening at one of Tanzania's

premium lodges/plantations. With this "hybrid" camp/lodge tour, you'll enjoy restful evenings in the heart of the bush around the campfire as well as fine African hospitality and dining in a hotel setting. Our clients have found that staying in the tented camps is very comfortable, with the added benefit of the real sights and sounds of nature all around. We often refer to this as "glamping!" We explain more about the camp amenities below. At

the lodge, we'll spend our final night of safari celebrating, sharing photos and maybe even sending a quick email to friends back home before we depart. The tent camps and lodge are complimentary to the Tanzanian experience as a whole, providing the best authentic and natural safari offered in conjunction with a climb of Kilimanjaro.
The IMG expedition to Africa was far and away the best run trip I've ever had. Not a detail was lacking, and it all added to the overall enjoyment of the experience. I want to thank you for the opportunity to have been a part of an IMG team...

SPECTACULAR GAME PARKS
— Serengeti and Ngorongoro
During our "hunt" to photograph the "Big 5" (African lion, African elephant, Cape buffalo, African leopard and White/Black rhinoceros), we'll spend time in some of Tanzania's most popular National Parks and Conservation Areas. We'll start by flying to the Serengeti from Arusha, touching down in the heart of the grass plains. With the Seronera River close by, our safari drivers will bring us in close to the action. During our first afternoon game drive we typically see at least 3 out of 5 of the "big ones!" Our experienced and knowledgeable drivers work hard at spotting wildlife. Most teams easily get great views of their favorite game animals. Remember to bring a good camera! Because our itinerary is progressive and flows with the seasonal migrations, we may then move toward the Ndutu area where we'll see even more new sites and animals. As we travel, we'll visit the Olduvai Gorge and learn the rich history describing the ancient people who once lived there. If teams are interested, they may choose to add a visit to a local Massai village (additional cost). Each day is a true adventure! Finally we'll head to the Ngorongoro Crater to visit this World Heritage Site and the teaming wildlife that thrives year round in the midst of this giant and breathtaking caldera. (Safari plans are subject to change.)
THE SERENGETI MIGRATION
— When to safari?
We choose to visit Tanzania when there is optimal climbing weather for Kilimanjaro, but that doesn't mean that you'll be missing out on great times to view game in the bush. January to March, the days are hot, sunny and fairly dry. You'll find that the wildebeest are calving in the Southern plains and that the

"Great Migration" will be passing near the Ngorongoro area setting us up for spectacular photos of these immense herds. The herds will follow a clockwise rotation and by June and July will have moved west and north. We'll continue to be in the heart of the action as the wildebeest and other herds of elephants and zebras continue their annual pilgrimage. August and September are much drier, but there is still excellent game viewing in the Central Serengeti and year-round in the Ngorongoro Crater. When we return to Tanzania in December, the herds will again be circling towards the Southern plains and the entire cycle will begin once more!
IMG was above and beyond my expectations. This has truly become the trip of a lifetime... The safari was excellent, and the first night in the tents was incredible. To camp in the middle of the Serengeti with the sounds of the animals right outside will be a memory unparalleled! I cannot stress to you enough how amazing it was... All of our other accommodations were fantastic as well and all the staff we encountered were professional and courteous. Thank you for all of your hard planning and making sure IMG's services surpassed our hopes. Tanzania will always be a place of mystery and challenge and family. I will always want to return.

ECO-FRIENDLY & COMFORTABLE
— "Glamping" leaves a small footprint but has top comforts
Mobile safaris have continued to be a huge hit for our clients! We think you'll truly enjoy this genuine African safari as much as we do. What's great about these seasonal camps is that we'll be moving camp to prime locations as the herds migrate. This is the type of flexibility that you want. "Glamping" allows us to choose the best places to camp in the parks; right in the middle of (yet safely away from) the action.
Our tented camps are an eco-friendly alternative and low-impact way in which to responsibly travel. As on Kilimanjaro, your IMG guide will encourage "leave no trace" philosophy while at camp and in the

safari vehicles. Solar recharging stations and lighting are just some additional environmental benefits. Camp showers and toilets are also energy efficient. These are all great features, but don't worry. You won't have to sacrifice comfort to benefit nature.
Each two person tent has an "en-suite" bathroom. There are two

"rooms" in each tent. In the sleeping portion of the tent, you'll each have your own bed that is quite warm and cozy with a nice pillow and duvet. A night stand with a table lamp, bottled water and a mirror is provided. The separate "bathroom" portion of the tent includes the shower and an earth-friendly "camping toilet." Other linens are provided, including one bath towel and one hand towel for each guest. For "camping" this is all very comfortable — even luxurious.
At camp there is a daily "bag shower" for each person. The camp staff warms water for each person (about 30 liters) and fills a shower bag that hangs outside of your tent "bathroom." The shower head is manual. It is easy to have a nice shower by turning on and off the water between soaping up and rinsing off. There is plenty of water with this method, so it is easy to get clean after a long day in the safari vehicles!
Nighttime is unique in the bush. You'll hear the quiet sounds of many animals in the distance, but this should not be alarming. The camp feels secure and the predators would rather stay away than come near. The camp staff puts out kerosene lamps in the front of each tent so it is easy to find your way inside. This also keeps the animals away. After dinner the staff is happy to escort you the short distance from the dinner tent to your sleeping tent. Many times there is a

campfire going in the evening and this too is a deterrent. Our safari staff has never had a problem with predators. With the abundant number of gazelles and other prey, there's little reason for these animals to enter camp. Under the canvas of a starlit night and the far-off animal calls, you'll rest easy and enjoy the tranquility that this type of authentic safari offers.
As with the rest of the creature comforts at camp, the food is not "typical" to camping. There is a first class meal service in the dining tent with plenty of food. Dinner generally consists of three delicious courses, each with an African flair. The lounge area also affords a well-stocked bar, maps and reference books, and a selection of board-games to peruse during your free time. If given advanced notice at sign-up, our chef can accommodate many dietary restrictions. Please let us know if you have any special dietary concerns.
IMG exceeded all my expectations from speaking with Clarissa before I even booked my trip, to having Chris as an awesome, caring, knowledgeable guide on the mountain, to the well-organized safari... The African guides and porters were hardworking and engaging. The safari guides and arrangements were perfect... What a spectacular team you have...

DECEMBER ITINERARY
International Mountain Guide's December trip will continue to use the

safari lodges and fixed camps in the shortgrass plains of the Serengeti, Ndutu and Ngorongoro areas since there is a greater chance of rain at this time of the year (still is OK to climb) and also this is where the giant herds of wildebeest and zebra start to gather at this time of the year. The same attention to detail and quality that clients experience other times of year is extended to the lodge safari in December. Early confirmation is necessary during this very popular and festive time in Tanzania. You can't compare celebrating Christmas and New Year's Eve in Tanzania with the warm hospitality of our African hosts and the joyous atmosphere of the special Holiday season. Don't forget to sign-up early!
GENERAL SAFARI NOTES
Casual, loose, cool and comfortable clothes are perfect. You will get hot and dusty. Cotton is OK. Our safari camps are deluxe, so leave your "mountain" clothes behind. We don't have much time to do laundry between the climb and safari so bring enough clothes for both. You'll be able to leave a duffle at the hotel with your extra climbing gear. A light jacket or sweater can come in handy during the evenings. Our longtime African outfitters use 4WD Land Rovers or Land Cruisers for the safari, with "pop top" roofs, that allow participants to stand up for viewing and photography. The drivers do a great job of finding the critters for some world-class game viewing. For the airport transfers, our local operators often use a Coaster type bus. Seat belt use is uncommon in Africa, and they may not be available on these vehicles.
AVAILABITY AND PRICING
Be sure to plan ahead and book your climb (and safari!) early. Space is limited and we aim to keep our group sizes reasonable. If you're climbing Kilimanjaro with us, but your spouse or partner isn't interested in the climb, we'd still be happy to have them join the team for the safari. Please visit the Kilimanjaro main page for program dates and pricing details.
From the initial contact, through the whole trip planning process, to the expedition itself, everything was highly professional and first class in every respect. It appears that you set the standard in guided mountaineering, and I thank you for making possible this once in a lifetime experience for my son and me...