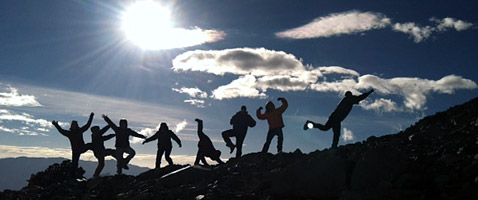 Aconcagua Climb with International Mountain Guides
International Mountain Guides (IMG) is the oldest and most respected high-altitude guide service in the world, successfully operating since 1975, and is American Mountain Guides Association accredited. IMG's principals, Phil Ershler, Eric Simonson, and George Dunn, have lead and organized over 300 expeditions world wide. Each is an AMGA certified alpine guide with Himalayan experience including Mt. Everest, K2, Kanchenjunga, Shishapangma, and Cho Oyu. IMG's Aconcagua programs are organized and directed by Phil Ershler. Phil has lead and organized literally hundreds of international expeditions including over 20 to Aconcagua.
In choosing International Mountain Guides for your Aconcagua climb, you are choosing the highest quality expedition, the most capable and qualified guides, and a highly personalized guide service that strives to limit risk and maximize success as our two main priorities. Of course we'll have some fun, too!
International Mountain Guides has been guiding on Aconcagua continuously for longer than any other guide service. In fact we were one of the first companies to pioneer the Relinchos Valley route more than twenty years ago when there was almost no one on Aconcagua. We also had some of the first guides in the Guanacos Valley almost a decade ago and ever since.
Over the course of more than 20 years IMG has had one of the highest, if not the highest success rates for reaching the top. We are pleased to announce we had a nearly 80% success rate on Aconcagua last year; this is approximately twice the summit success rate for all Aconcagua climbers, and substantially higher than other guide services. The reason our success rate is so high is not an accident. We intentionally do not run dozens of Aconcagua expeditions a year, nor do we run hundreds of clients through our program. We focus on a personalized, professional experience. We want to build a relationship with our clients and give them the best possible service, with the highest chance of success. Also, our guides simply love to summit! There IS a difference between our expeditions and those of other guide services. We welcome you to look more closely at what we offer and see why we are the company for you »
We have an impeccable record of client care and an unmatched success rate due to the expertise and professionalism of our IMG leadership and guides. We feel that our guides are an integral part of our program and help to create an unforgettable experience for you. Thus, IMG employs only world-class guides who adhere to strict American and International guiding standards. IMG is an American Mountain Guides Association (AMGA) accredited guide service.
Why Choose IMG?
Climbing Aconcagua is serious business. We are very proud of the way we conduct ourselves, and feel that we provide the best package available. We encourage you to contact us personally to discuss the details of our program. We know we are not the cheapest deal around, and we don't want to be. We spend more providing the best personnel, equipment, logistics and risk mitigation — things that many lower-cost programs cannot afford and do not have. We don't cut corners. However, we feel we provide the best value on the mountain, without question. We invite you to shop around and compare the quality of service with the price. There is a difference between our expeditions and the expeditions of our competitors and an enormous difference between us and local outfitters. Please consider the following »
Aconcagua: The Stone Sentinel
Aconcagua is truly one of the great mountains of the world. At 22,840 feet (6962m) tall it is the highest mountain in the western hemisphere, and the tallest peak in the world outside of the Himalayas. It lies on the border between Argentina and Chile, gazing out over the southern Andean mountain range. The climate in this range is typically hot and arid in the summer which makes for comfortable and stable climbing weather.
Aconcagua is located several hours to the west of the beautiful city of Mendoza, Argentina, and only a few hours east of the bustling sprawl of Santiago, Chile. Mendoza generally serves as the start and finish point for Aconcagua expeditions. It is a unique and charming city that has all the amenities needed for a great stay. Mendoza is very European in appearance with cafes lining the streets, and beautiful plazas with trees dispersed throughout.
Although there is no proof that the Incans ever summited Aconcagua it is generally acknowledged that they have at least been very high on the mountain. There is evidence of the Incas being at the top of many high Andean mountains and a well preserved mummy was found at 17,060 feet along Aconcagua's Southwest Ridge. However, the first non-native expeditions to the mountain didn't begin until 1833 when a prominent German alpinist named Paul Gussfeldt made an unsuccessful attempt. The first successful summit didn't come until in 1896-97 a team under the leadership of Edward FitzGerald placed one climber at the top of the peak. This was the renowned Swiss mountain guide Matthias Zurbriggen.
The Great South Face of Aconcagua later fell to a French expedition under the leadership of Rene Ferlet in 1954, not long after the French summited the first of the 8000 meter peaks, Annapurna.
Today, thousands of climbers make summit attempts on Aconcagua every year. The shear size and exotic location of this giant attracts adventurers from the far reaches of the globe. Aconcagua is a massive peak that will continue to attract many.
The Route
Both our expeditions this year will ascend the mountain via a new variation on the False Polish that IMG helped develop. The Guanacos route is closed indefinitely so we have chosen a different route with possibly more to offer. Come join us on our newly pioneered Guanacos Variation of the False Polish.
Last year the Park Service decided to close the Guanacos route to all climber traffic, guided and not for environmental reasons. After discussing this in depth with park officials it is clear that the route will not be reopened. I have noticed that other guide services are still advertising the route in hopes of it reopening and misleading clientele. In response to the route closure we have developed a new variation. This new route opened in part by IMG guides, approaches through the False Polish camp I and traverses over to the higher camp on the guanacos route. Many that have been on both routes say this is perhaps a better option then the Guanacos itself.
Our Variation of the False Polish approaches the mountain through the Vacas and Relinchos Valleys and uses the first camp on the False Polish. From here it traverses over to the higher camps on the Guanacos route, and uses one more camp then the typical False Polish climb. This route is much less crowded and cleaner. It incorporates shorter days and better climbing terrain than the False Polish. The final camp is higher than the False Polish High Camp which makes for a more "do-able" summit day. We finish by traversing the mountain and descending the normal route to Plaza de Mulas. This allows us to see a different side of the mountain, have an easier descent, and have a shorter hike back out to the road, thus taking off a day off the descent. This new variation offers you the best of climbing on Aconcagua; less people, a cleaner route, shorter days, better terrain, more variation on scenery, and a shorter/easier descent.
Expedition Prerequisites and Logistics
Aconcagua is always VERY DEMANDING physically, but we have a route that is not technically difficult. No one should underestimate the physical difficulty of this trip. Knowledge of the ice ax arrest, cramponing and rope are still required.
We have worked with the same local operator since 1981. He does an excellent job handling all our ground logistics. We will be met at the airport in Mendoza and, after securing our climbing permit, we head directly to our hotel near the base of the mountain. We will be there for one full day and two nights. This gives us the opportunity to begin our acclimatization and time to go through our equipment and organize mule loads.
References
Joining a high-altitude expedition is a serious decision. You should be completely confident in the organization and leadership before you make that decision. Many of you have climbed with us before elsewhere in the world, and because your experience was good, you've decided to join us again. For those of you who haven't climbed with us before, we strongly encourage you to interview us thoroughly and also talk to our past customers. We are happy to provide you with a complete list of references, and the meantime, please browse our featured client comments »