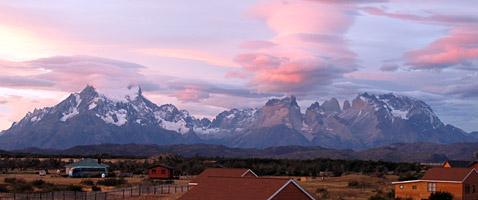 Trek the Torres del Paine Region of Patagonia with International Mountain Guides
Trekking in Patagonia is on any outdoor enthusiasts bucket list, and for good reason, it encompasses some of Earth's most spectacular scenery in one location. Huge granite peaks, massive glaciers, and turquoise lakes are just a few of the highlights of this trek.
Our trek starts out at the main entrance to Torres del Paine National Park, and once in the park we'll get right to it. Day one of the trek takes us up the Ascencio Valley along the wild river by the same name, to the base of Las Torres (Spanish for The Towers). The three spectacular granite Towers: Torre D'Agostini (2,850m), Torre Central (2,800m), and Torre Norte (2,600m), are the centerpiece of Torres del Paine National Park. Jaws drop as the towers appear as if from nowhere. We'll spend our first of two nights in this area to maximize viewing and photo taking opportunities.
After enjoying the views of Las Torres we'll make our way west exploring both the Bader Valley (aka The Forgotten Valley) and the French Valley, famous for the hanging glaciers and an amphitheater of granite walls and spires at the head of the valley. Along the way we'll get a peek at some hanging glaciers, glacial lagoons and the occasional condor flying high above it all.
The final day of the trek is spent trekking alongside the Grey Glacier, a massive expanse of ice measuring 17 miles long and encompassing over 104 square miles!
The trek culminates with our ride in the Grey II boat en route back to reality, but not without cruising right up next to the toe of the glacier sipping our fresh pisco sours chilled by glacial ice pulled directly out of Lago Grey.
Our long days on the trail are rewarded by comfortable nights sleeping in the refugios (huts) along the trail. A nice clean bed eliminates the need to worry about a rock in your back ruining your sleep! And hot showers at the end of the day takes care of the rest.
And with breakfasts, lunches and dinners included while trekking, all you'll need is a few bucks at the end of the day for a glass of wine or a Coke.