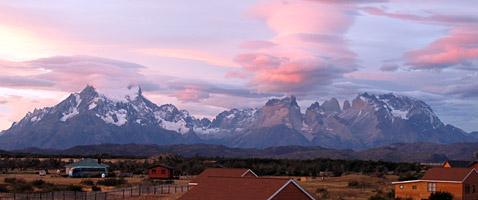 Trek the Torres del Paine Region of Patagonia with International Mountain Guides
Patagonia is simply a trekkers dream. On this trek we'll enjoy long days on the trail taking in spectacular views of Los Torres, The Silence Valley, Los Cuernos, The Bader Valley, The French Valley and the spectacular Grey Glacier.
After meeting up in Punta Arenas we get started with a visit to the Penguin Reserve on our way to Puerto Natales, the gateway town to Torres del Paine National Park. Once in Natales we'll do a gear check, explore the town a bit and get to know each other a little.
The trek itself starts out at the main entrance of Torres del Paine National Park. Once in the park we'll get right to it. Day one of the trek takes us up the Ascencio Valley along the Ascencio River, to the base of Las Torres (Spanish for The Towers). The three spectacular granite Towers: Torre D'Agostini (2,850m), Torre Central (2,800m), and Torre Norte (2,600m), are the centerpiece of Torres del Paine National Park. Jaws drop as the towers appear as if from nowhere. We'll spend our first of two nights in this area to maximize opportunities to see these towers.
After enjoying the views of Los Torres, and trekking up into the Silence Valley, we'll make our way west towards Los Cuernos. We'll spend a day in the Bader Valley and then it's onto the French Valley, famous for the hanging glaciers and an amphitheater of granite walls and spires at the head of the valley.
After the French Valley it's on to another highlight of the park, The Grey Glacier. The trek from the Paine Grande refugio to the Grey Refugio takes us along Lago Grey (Grey Lake) which is littered with icebergs that have recently calved off of Grey Glacier. Once at the hut we'll head down to Iceberg Beach, and spend a day trekking alongside the glacier. If the weather cooperates we'll hop in some sea kayaks for a 2-3 hour tour up next to some icebergs and the glacier itself.
Our eight days on the trail culminates with a ride across Lago Grey on the Grey II boat where we'll enjoy a Pisco Sour chilled by fresh glacier ice.