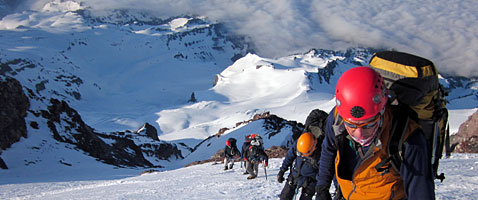 Mt. Rainier Fuhrer Finger Route Summit Climb
The Fuhrer Finger climb is a good choice for an intermediate level climb and mountaineering training curriculum. This program is for anyone with prior alpine climbing experience looking for a more challenging route and skill training on Mt. Rainier. If you are very fit and looking to push yourself physically and technically on a climb other than the standard route this program is for you. This is a small group climb, limited to 4 climbers and 2 IMG guides.
Climbers on this program have often climbed either the Emmons, the Kautz or the Disappointment Cleaver routes on Mt. Rainier and have mastered skills in the mountaineering training curriculum on those programs. They must be confident cramponing in firm glacier conditions on moderate slopes and ready to learn more advanced skills for dealing with steeper terrain. This is a challenging climb that ascends the steep Fuhrer Finger, a more direct line up the south side of the mountain. The climb gets you away from the majority of the climbers in the Camp Muir corridor. It is normal to not see another party on the route. The crux of the route, the finger itself, is a narrow chute that necks down to a few hundred feet across. The steepest part of the chute is 40-50 degrees in angle. Above, the upper mountain eases off and the final 2,000 feet are a more typical 20 degree slope. Hazards on this route include the potential for isolated rock or ice fall during warming conditions and we climb the exposed part of the chute rapidly to avoid prolonged exposure. The 5-day program curriculum allows enough time to train and complete the climb comfortably, but if you have not climbed on steeper glacier slopes before, we strongly recommend choosing another route as your first attempt of Mt. Rainier. If you are looking for something more physically challenging, a chance to improve your technical skills and get off the beaten track, then the Fuhrer Finger route is an excellent program.
We employ a light and efficient philosophy for climbing on Mt. Rainier. We will help you pare down your personal climbing gear during a pre-climb gear check to minimize weight and make certain you bring only the essentials up the mountain.
In addition to the continuous daily training on the climb we have added a half day pre-climb orientation and instructional meeting at IMG's Headquarters in Ashford, just outside the park. We incorporate the bulk of the training en route during each day of the ascent. This increases acclimatization, minimizes total days for the trip and allows for training to be conducted on the mountain in real conditions all the way to summit and back.
Climbing with a 2:1 client-to-guide ratio provides a superior level of support and safety. Our group of 4 climbers and 2 guides is a perfect sized team. IMG provides breakfasts and dinners for the group on the mountain for your convenience and comfort.
Prerequisite
A review of basic climbing skills is incorporated into this program's itinerary. However, we expect that participants have previous climbing experience and are fit and ready to learn more advanced skills while participating in this more strenuous effort.
All participants must have prior alpine climbing experience either on Rainier or on other major glaciated peaks, and be familiar with basic mountaineering skills including cramponing in firm ice and snow conditions. Past experience on multi day backpacking trips is also highly recommended. This is a strenuous and more technically demanding summit climb, not for first time climbers.
Training and Fitness
Mt. Rainier, at 14,410ft, is one of the largest and most challenging endurance climbs in the United States. It is the most imposing glaciated peak in the lower 48 States and has long been a premier training ground for climbs such as Denali, Aconcagua and the Himalayas. An attempt of Mt. Rainier is a serious endeavor and one that demands good physical fitness. To learn more about training for this climb, please read our Training Suggestions for Mt. Rainier »